Pope Francis says the EU 'risks dying'
The pontiff called for greater European solidarity as an 'antidote to modern forms of populism'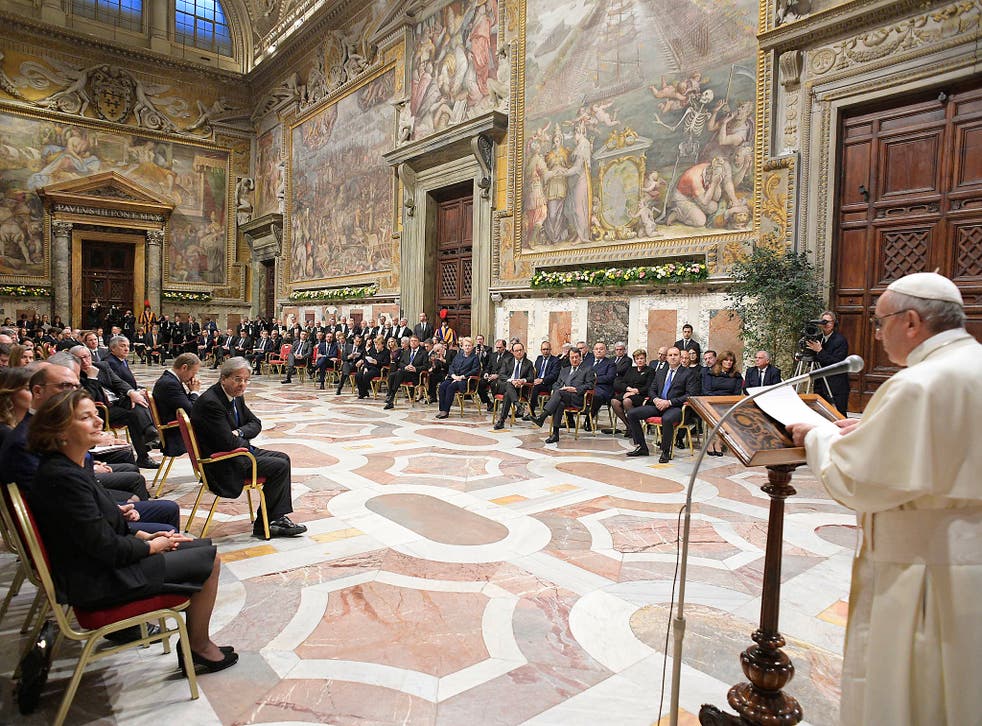 The European Union 'risks dying' without a new vision, Pope Francis has warned.
The pontiff was speaking in Rome at an EU summit to highlight the 60th anniversary of the bloc's foundation.
In an address to European leaders on Friday, the Pope said the EU faced a "vacuum of values" and was losing its "sense of direction".
"When a body loses its sense of direction and is no longer able to look ahead, it experiences a regression and, in the long run, risks dying," he said.
Prime ministers and presidents from 27 EU member states have descended on Italy to mark the 1957 founding Treaty of Rome, receiving a papal blessing on the eve of the anniversary.
Celebrations at the event have been muted by uneasiness in the Union due to prolonged economic crises, the unresolved migrant situation in many countries and Britain's referendum vote to leave the bloc.
British Prime Minister Theresa May did not attend the meeting in the Vatican.
The Pope warned that the boom in anti-EU parties across Europe could herald a growing split between citizens and their representative institutions.
He also said greater international solidarity was the "most effective antidote to modern forms of populism".
Mentioning the terror attack in London this week, Francis said leaders needed to work together to promote Europe's "patrimony of ideals and spiritual values" with greater passion.
"For it is the best antidote against the vacuum of values of our time, which provides a fertile terrain for every form of extremism," he said.
The pontiff also criticised leaders' response to the refugee crisis.
He said: "It is not enough to handle the grave crisis of immigration of recent years as if it were a mere numerical or economic problem, or a question of security."
He spoke of a worrying "lapse of memory" from Europeans, despite mass migrations in the 20th century's world wars being an integral part of the formation of the Union.
Thousands of demonstrators are expected to take to the streets of Rome on Saturday in at least six different rallies called by numerous groups across the political spectrum to protest against various aspects of EU rule.
World news in pictures

Show all 50
Some 5,000 police have been called up to patrol the streets and the interior ministry has warned it will crack down swiftly on any violence.
Reuters contributed to this report
Register for free to continue reading
Registration is a free and easy way to support our truly independent journalism
By registering, you will also enjoy limited access to Premium articles, exclusive newsletters, commenting, and virtual events with our leading journalists
Already have an account? sign in
Register for free to continue reading
Registration is a free and easy way to support our truly independent journalism
By registering, you will also enjoy limited access to Premium articles, exclusive newsletters, commenting, and virtual events with our leading journalists
Already have an account? sign in
Join our new commenting forum
Join thought-provoking conversations, follow other Independent readers and see their replies