Pope: gay marriage threatens foundations of family life and destroys the 'very essence of the human creature'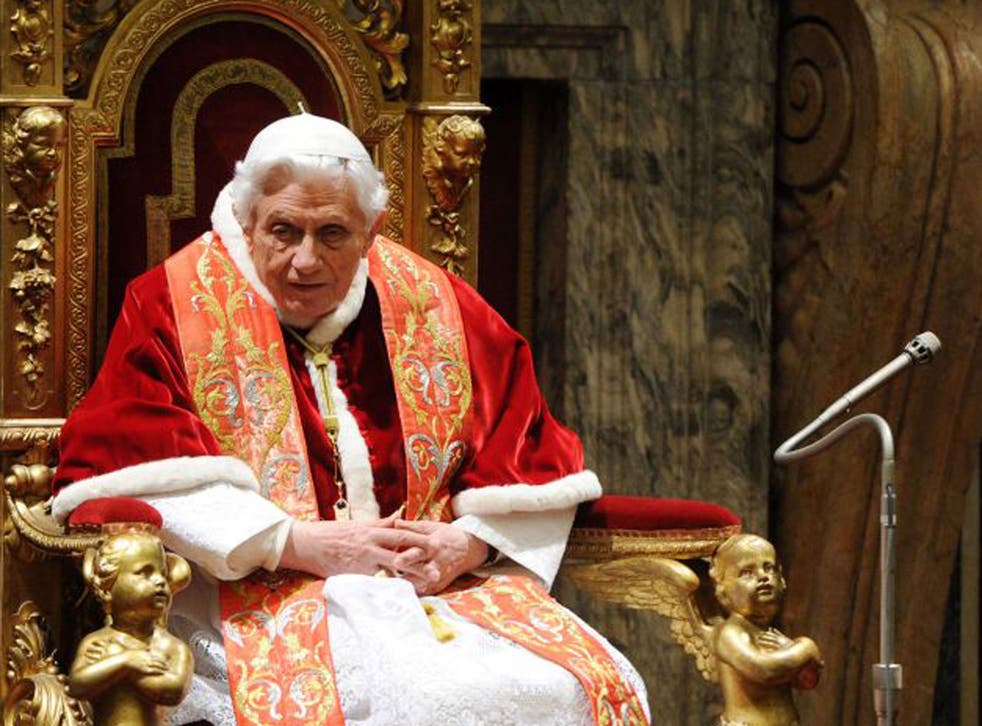 Pope Benedict has used the beginning of the Christmas period to ramp up his assault on gay marriage, stating that the very foundations of the family were threatened by same sex partnerships.
In his annual Christmas address to Vatican officials – one of the most important speeches of the year – he decried moves to allow same sex couples to marry and indicated that the Vatican would be willing to forge an alliance with those faiths who are also opposed to equal marriage rights.
His comments come amid mounting concern in Rome that the Catholic Church's teachings on homosexuality are falling on deaf ears, with pro-gay marriage movements gaining ground most recently in Britain, the United States and France.
During the speech the Pontiff referred to a recent study by the Chief Rabbi of France, Gilles Bernheim, who said the campaign for granting gays the right to marry and adopt children was an "attack" on the traditional family.
"There is no denying the crisis that threatens it [the family] to its foundations – especially in the Western world," the Pope said. "When such commitment is repudiated, the key figures of human existence likewise vanish: father, mother, child – essential elements of the experience of being human are lost."
The speech is the second time this week that the Pope has spoken out on gay marriages and his liberal quoting of Rabbi Bernheim's work against gay marriage is an indication of how determined the Vatican is to use ecumenical alliances with other faiths.
In France, where President François Hollande vowed to enact his "marriage for everyone" plan within a year of taking office last May, Rabbi Bernheim has become a vocal critic of gay marriage. His study, Gay Marriage, Parenthood and Adoption: What We Often Forget to Say, argues that plans to legalise gay marriage are being made for "the exclusive profit of a tiny minority" and are often supported because of political correctness.
In the speech, the Pope also denounced what he described as people manipulating their God-given identities to suit their sexual choices – and destroying the very "essence of the human creature" in the process.
"People dispute the idea that they have a nature, given to them by their bodily identity, that serves as a defining element of the human being," he said. "They deny their nature and decide that it is not something previously given to them, but that they make it for themselves. The manipulation of nature, which we deplore today where our environment is concerned, now becomes man's fundamental choice where he himself is concerned."
Franco Grillini, a prominent spokesman for Italy's gay community, called the Pope's words "great foolishness," adding: "Where gay marriage has been approved, there has been no consequence on heterosexual marriage."
Join our new commenting forum
Join thought-provoking conversations, follow other Independent readers and see their replies