Putin speech: President claims West wants to 'chain the bear' as he warns economic recovery could take two years
Putin has insisted dramatically declining rouble will stabilise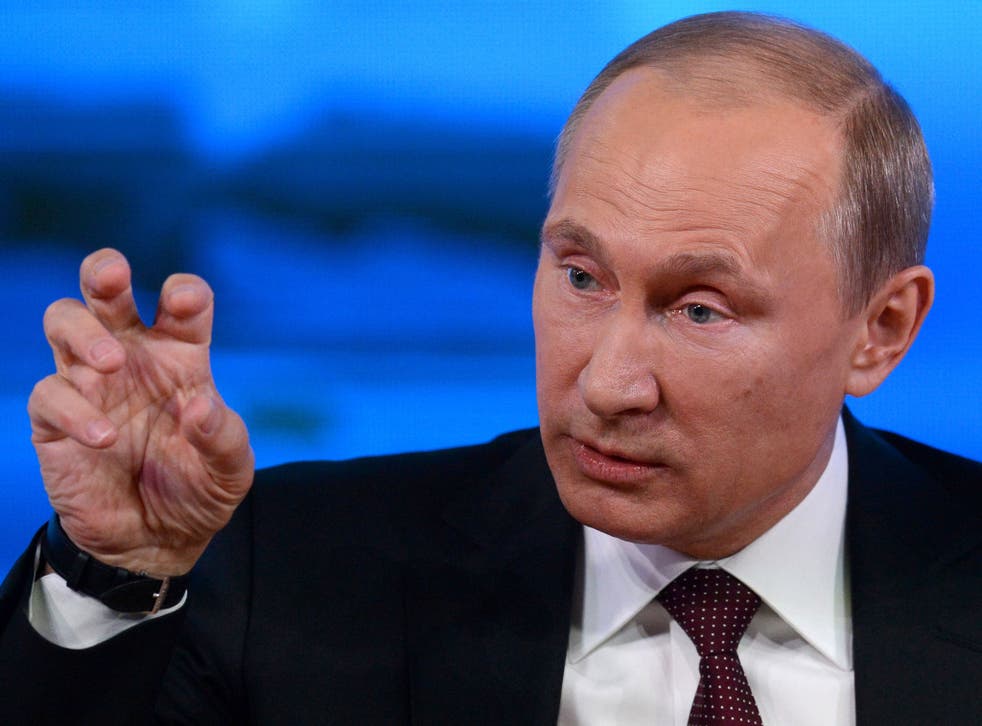 Vladimir Putin has said the Russian economic crisis could last two years, in a question-and-answer session where he claimed the West "wants to chain the bear".
The Russian president's news conference, which is being televised, is expected to run for up to four hours.
The conference saw the President answer questions ranging from economic recovery to concerns over his love life, with Mr Putin at one point assuring a journalist: "I have people who love me, everything is just fine, don't worry".
The President also continued the bear metaphor previously used in a charged action film-style trailer for the event.
Discussing the dramatic decline of the rouble, he said the economy could recover faster if external factors change for the better.
The government and the Central Bank are generally working correctly to deal with the current economic woes, he added, although some of their action was belated.
"External economic factors are having an impact, mainly the price of oil and gas. I think the central bank and the government are taking adequate measures," Mr Putin said.
He estimated sanctions imposed on Russia accounted for up to 30 per cent of of the rouble's troubles.
"If the situation develops unfavourably, we will have to amend our plans. Beyond doubt, we will have to cut some (spending). But a positive turn and emergence from the current situation are inevitable," Mr Putin added.
"The growth of the global economy will continue and our economy will rebound from the current situation."
When a journalist asked whether the current situation is a result of what is happening in the annexed Crimea, the President responded with metaphors about a bear and a forest.
"Sometimes I think, maybe they'll let the bear eat berries and honey in the forest, maybe they will leave it in peace," said Mr Putin, referring to Russia's famed symbol.
Tensions between Russia and the Western world

Show all 8
"They will not. Because they will always try to put him on a chain, and as soon as they succeed in doing so they tear out his fangs and his claws."
"Once they've taken out his claws and his fangs, then the bear is no longer necessary. He'll become a stuffed animal," he said.
"The issue is not Crimea, the issue is that we are protecting our sovereignty and our right to exist."
He finished his metaphor by asking: "Do we want our bear to just become a stuffed animal?"
Later in the conference, Mr Putin also appeared to side-step a question from BBC correspondent John Simpson, who asked the President if he would to tell people in the West he had no desire to carry on with "this new Cold War".
Mr Putin responded: "You say Russia created this tension. Of course we contributed to this tension but only in a sense; we're protecting our interests in a tougher way. […] What about what the Americans are doing, what about their tactical nuclear weapons, for example?...The Pentagon's budget is ten times higher than our equivalent."
Mr Putin also used his conference to insist Moscow wants to restore political unity to Ukraine, while warning Kiev that it must respect all its regions if it wanted peace.
Speaking about Ukraine, he told the audience he believed the crisis should be solved as soon as possible.
"It should be solved through political measures, not with the pressure ... of an economic blockade or the use of armed forces," said Mr Putin.
As questions continued, the President went on to say former oil tycoon Mikhail Khodorkovsky, one of his biggest critics, had the right to engage in politics "as any Russian citizen".
Putin pardoned Khodorkovsky in a surprise move a year ago and the former oligarch was released after a decade in prison the following month.
Despite the roubles decline, opinion polls suggest Putin's popularity ratings are at an all-time high after the annexation of Crimea from Ukraine in March. An Associated Press-NORC Center for Public Affairs Research poll released Thursday found that about 80 per cent of Russians still support him
The rouble was more than two per cent weaker today , despite central bank action to prop up the currency and around 45 percent down against the dollar this year, hit by Western sanctions over the Ukraine crisis and low oil prices.
Putin has so far failed to offer any major ideas on how to turn the situation around.
Join our new commenting forum
Join thought-provoking conversations, follow other Independent readers and see their replies