Putin v Obama: Russian deputy prime minister mocks president with catty pictures on Twitter
Dmitry Rogozin demonstrates Russia's 'different values' with US president holding a small dog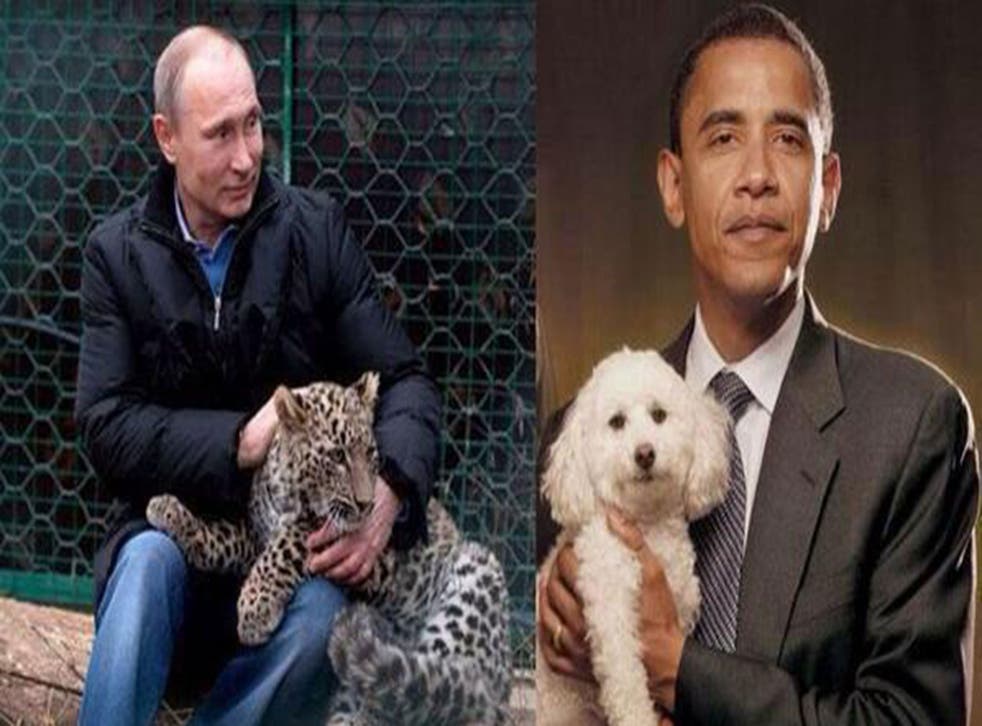 If anyone was wondering what the Kremlin thought of America at the moment, one politician has laid bare his own feelings by tweeting a picture showing the "different values" held by the two nations' leaders.
Dmitry Rogozin, the Russian deputy prime minister, posted a picture on Twitter showing President Putin holding a small leopard while sat in an enclosure, spliced next to a picture of President Obama stood in a studio and holding a small, white dog.
The image appeared with the message: "We have different values and allies".
President Putin is known for projecting a masculine image of himself through countless pictures issued of the Russian leader riding topless on a horse, flooring an opponent in a judo training session or out in training sessions with the army.
But this catty move follows the US and EU's implementation of new sanctions against Russia's energy, weapons and finance industries following the country's and the pro-Russian separatists' recent actions in the Ukraine following the Flight MH17 tragedy, which saw officials unable to access the bodies at the crash site for days.
Proof that Vladimir Putin does love dogs after all

Show all 7
President Obama said the sanctions would make Russia's "weak economy even weaker," claiming that the country is "once again isolating itself from the international community, setting back decades of genuine progress".
"It does not have to be this way. This is a choice Russia and President Putin has made," President Obama said.
President Putin did not publicly respond to the sanctions, but the Russian Foreign Ministry called them "crazy and irresponsible" and warned that the US and Europe would suffer, too, according to the Wall Street Journal.
Join our new commenting forum
Join thought-provoking conversations, follow other Independent readers and see their replies