Rahf is four days old, she is a refugee and Europe doesn't know what to do with her
Rahf and her parents are stranded at the Hungarian-Serbian border, which was closed by Hungary today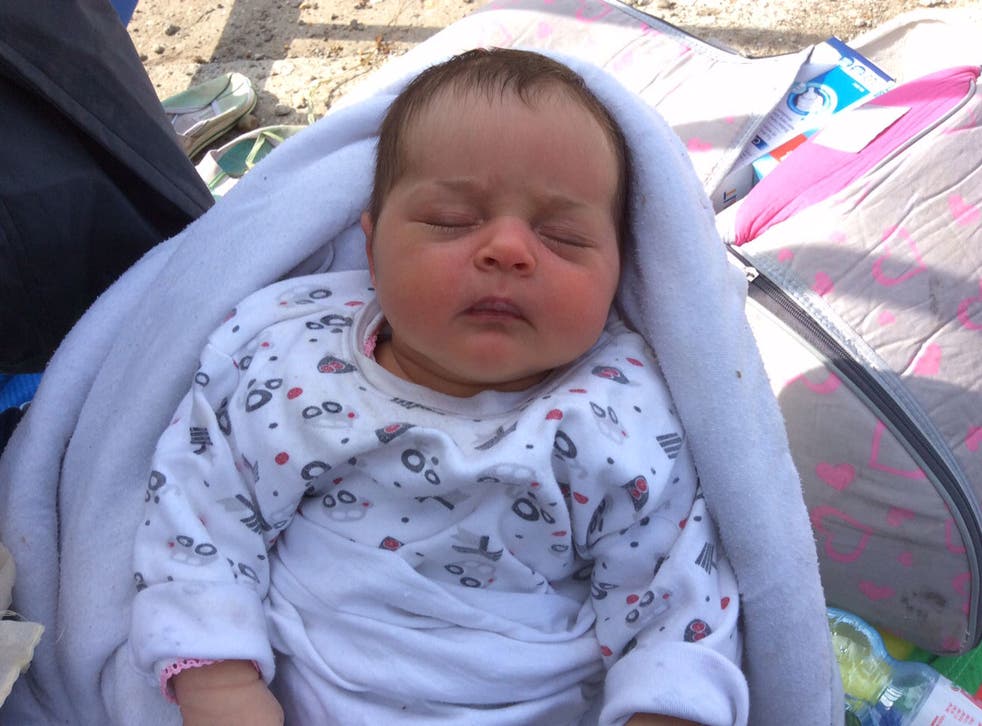 The father of a four-day-old refugee has said he does not know how much longer he and his family can cope after they found themselves stranded at the Serbia-Hungary border.
Yousef Aba Zeed, who is fleeing from war-torn Syria, travelled with his wife Anwar through Turkey, Greece, Macedonia and Serbia only to find that the Serbia-Hungary border has now been closed by way of a razor wire fence. The border has previously been a main route used by refugees.
Mr Aba Zeed told Sky News' Alex Rossi that Rahf, who was wrapped in a blanket in her mother's arms, had been born on the Greek island of Samos four days ago.
He said the family were now stuck and desperate for help, but that authorities had not yet provided them information.
The image of baby Rahf emerged as Hungary closed its border and declared a state of emergency in two of its southern counties. Police in the country say they have prevented almost 10,000 refugees from entering the country.
The country's army was also deployed as tougher legislation came into effect today. Under the new law, asylum seekers will be turned away immediately at the border. So far, Hungary has reportedly ruled on 16 asylum requests at the Serbian border – rejecting all of them.
Another part of the law means those who do manage to enter Hungary undocumented will essentially be committing a crime – and if caught, could face up to three years in prison.
The refugee crisis - in pictures

Show all 70
A security advisor to Hungarian Prime Minister, Viktor Orbán, told a news conference that 174 people had been caught trying to enter the country illegally and would now face criminal prosecution, Reuters reports.
Hungary is now reportedly planning to extend the wire fence to the Romanian border, which the Romanian foreign ministry has criticised, saying: "Erecting a fence between two European Union member states that are strategic partners [is] not a correct gesture from a political point of view and not in line with the European spirit. The Hungarian side was notified about this stance."
For now, the next move for Rahf and her family is unclear.
Join our new commenting forum
Join thought-provoking conversations, follow other Independent readers and see their replies