Recep Tayyip Erdogan: Turkish president threatens to 'stir up the world' if banned from giving speeches in Germany
Mr Erdogan has been condemned for accusing Germany of reverting to 'Nazi practices'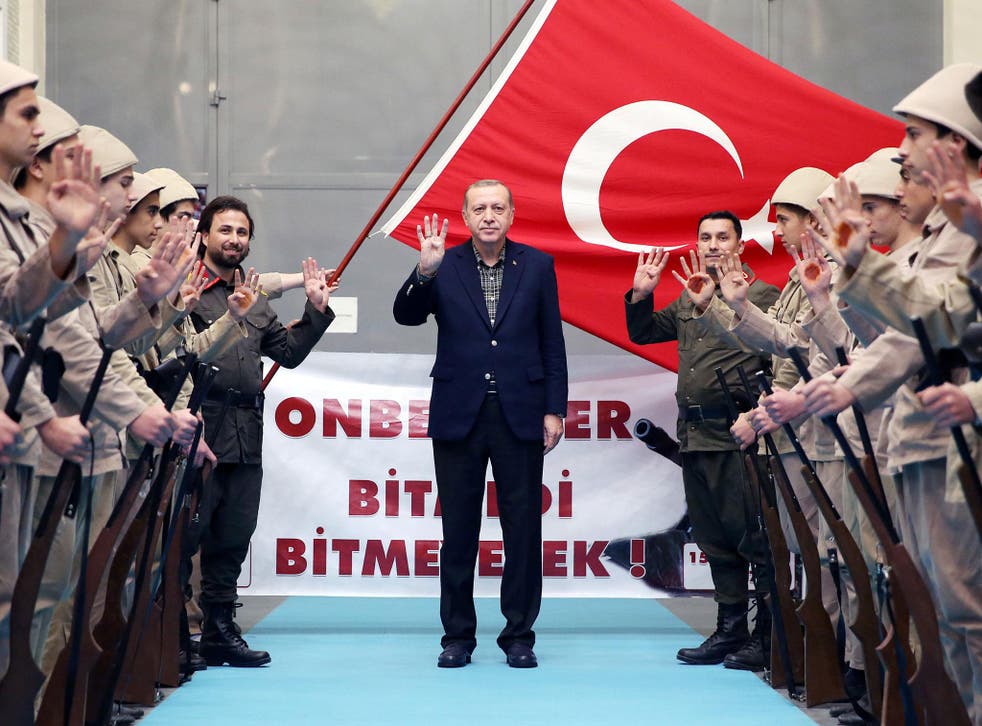 Turkish president Recep Tayyip Erdogan has said he will "stir up the world" if he is banned from giving speeches in Germany.
Around 1.4 million Turks in Germany can vote in a referendum Turkey is to hold in April. The result could sharply increase Mr Erdogan's powers and he is keen to drum up support.
Diplomatic tensions were ramped up after German authorities withdrew permission for rallies in two cities amid growing public anger over Ankara's arrest of a Turkish-German journalist.
"Now they think Tayyip Erdogan wants to go to Germany. I will go if I want to," Mr Erdogan said at a meeting in Istanbul over the weekend, according to the Hurriyet Daily News.
"If you don't let me in, or restrain me from giving a speech, then I will stir up the world," he added.
Mr Erdogan has come under fire for accusing Germany of "Nazi practices" for withdrawing permission for the rallies.
"Germany, you don't have anything to do with democracy," he told a rally in Istanbul. "These current practices of yours are no different than the Nazi practices of the past."
Mr Erdogan added: "I am calling out to the German authorities, I am calling out to the world that believes in democracy – if we are fighting for freedom, if we are not uncomfortable with freedom of speech, if we believe in democracy, nobody can block us."
President Erdogan and opposition unite in Turkey rally
Berlin condemned Mr Erdogan's Nazi remarks as "absolutely unacceptable".
"Germany cannot be outmatched regarding the rule of law, tolerance and liberalism," Chancellor Angela Merkel's chief of staff told public broadcaster ARD.
Ms Merkel's spokesman Steffen Seibert said the German government "strongly rejected" the reference to Hitler's Germany, adding that such comparisons downplayed the crimes of the Nazis.
Mr Seibert noted there were strong social, economic and military ties between Germany and Turkey but added that there were also "far-reaching differences of opinion".
Relations between the two Nato partners deteriorated sharply after last year's failed coup against Mr Erdogan, when Ankara accused Berlin and other capitals of failing to condemn rogue military elements quickly or convincingly enough.
Mr Erdogan, who has been accused by critics of increasingly authoritarian tendencies, has accused Germany of harbouring enemies of Turkey, from Kurdish militants to coup organisers.
He has been sharply criticised in western Europe for mass dismissals and arrests of suspected conspirators, from judges to journalists.
Berlin has demanded the release of a German journalist arrested in Turkey last week, whom Mr Erdogan described as a "German agent".
World news in pictures

Show all 50
A Turkish community leader in Germany has accused Mr Erdogan of damaging ties between the two Nato allies with his remarks.
"Erdogan went a step too far, Germany should not sink to his level," Gokay Sofuoglu, chairman of the Turkish Community in Germany, which is made up of 270 member organisations, told Reuters.
He said the comments could harm bilateral ties and were exacerbating long-simmering tensions within the community of about 3 million people of Turkish background in Germany.
Mr Sofuoglu said he had talked to police after receiving messages accusing him of being a "terrorist" because of his criticism of Mr Erdogan and of a coming referendum to expand the powers of the Turkish presidency.
But he urged authorities not to ban Mr Erdogan or other Turkish politicians from Germany, saying it was important to set a positive example and preserve rights to freedom of expression.
Register for free to continue reading
Registration is a free and easy way to support our truly independent journalism
By registering, you will also enjoy limited access to Premium articles, exclusive newsletters, commenting, and virtual events with our leading journalists
Already have an account? sign in
Register for free to continue reading
Registration is a free and easy way to support our truly independent journalism
By registering, you will also enjoy limited access to Premium articles, exclusive newsletters, commenting, and virtual events with our leading journalists
Already have an account? sign in
Join our new commenting forum
Join thought-provoking conversations, follow other Independent readers and see their replies