Refugee children hold signs saying 'Sorry for Brussels' at Idomeni camp
Thousands of families are trapped in Idomeni since the borders have been closed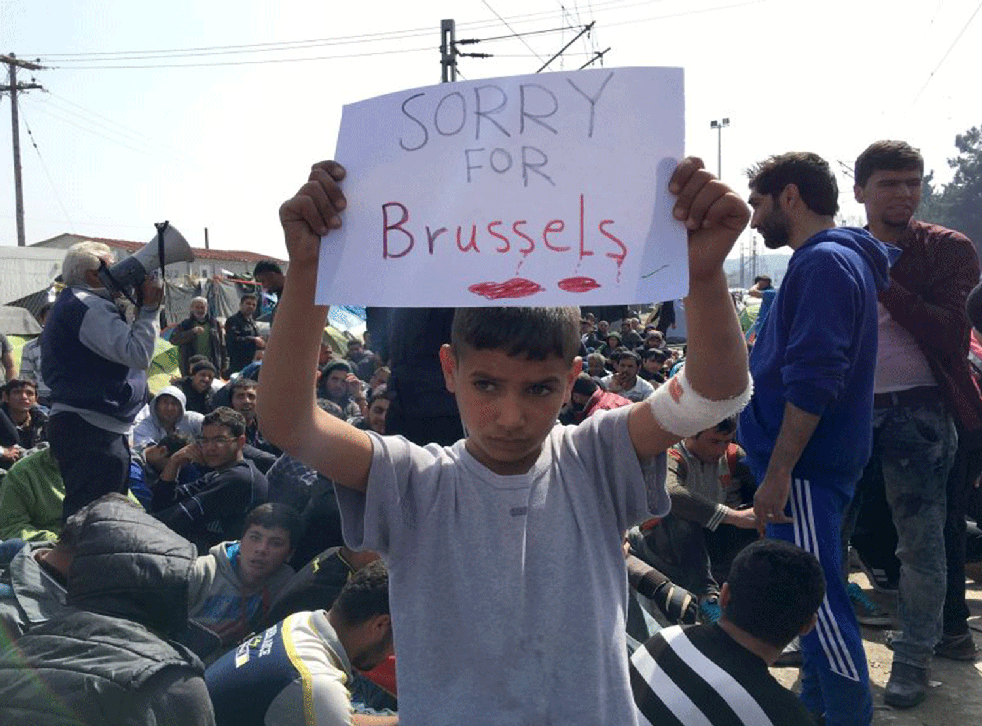 Children in one of Greece's refugee camps have written messages of sorrow and sympathy to those affected by the Brussels attacks.
Photographs taken at the Idomeni camp on the border with Macedonia showed children with messages of support - including "Sorry for Brussels" - written both on their bodies and on cardboard placards.
It comes after three suicide bombs left at least 31 people dead in the Belgian capital.
Many of the refugees at Idomeni from Syria and Iraq are fleeing Isis, the same Islamist terrorist group which claimed responsibility for the attacks in Brussels.
The Idomeni refugee camp, which sprung up in the village in 2014, is now thought to contain more than 12,000 refugees fleeing the breakdown of their home countries to build a new life in Europe.
Conditions at Idomeni are comparable to "Nazi concentration camps", according to Greek interior minister Panagiotis Kouroublis, following the closure of all borders to refugees in Macedonia.
Two of the Brussels suicide bombers have been named as Khalid and Brahim el-Bakraoui and a third fugitive being searched for by police has been named as Najim Laachraoui.
The identity of a third suicide bomber caught on CCTV at Brussels airport remains a mystery.
Join our new commenting forum
Join thought-provoking conversations, follow other Independent readers and see their replies