Refugee crisis: Eastern Europe opposes Angela Merkel's policy on asylum seekers
EU's so-called Visegrad group declared it would support plans to tighten border controls on the Balkan route, should Greece and Turkey fail to implement Ms Merkel's plans limit the flow of migrants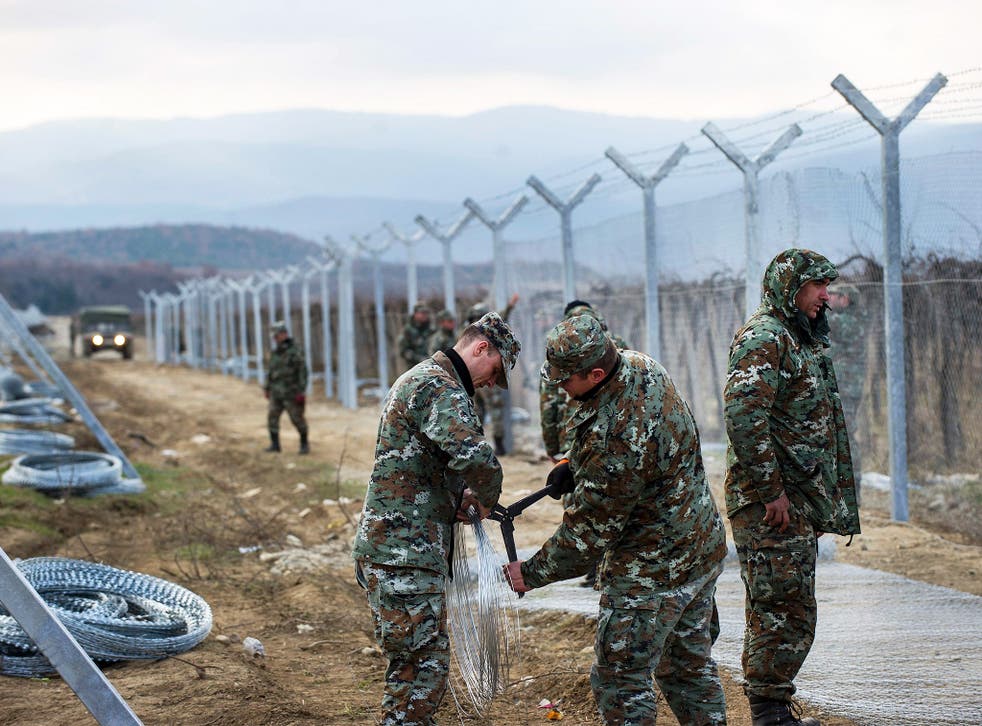 Chancellor Angela Merkel faced outright opposition to her controversial open-door migrant policies from her immediate eastern European neighbours as she prepared for one of her toughest EU summits which was expected to be dominated by the refugee crisis.
The EU's so-called Visegrad group – which includes Poland, the Czech Republic, Hungary and Slovakia – declared it would support plans to tighten border controls on the Balkan route, should Greece and Turkey fail to implement Ms Merkel's plans limit the flow of migrants.
"We cannot leave the Balkan countries to their own fate," insisted the Czech Prime Minister Bohuslav Sobotka, on behalf of the Visegrad group. The four eastern EU states said they would back plans by Bulgaria and Macedonia to strengthen their borders with Greece in order to deter migrants.
Hungary's Prime Minister Viktor Orban claimed Germany's "welcome culture" towards refugees had "encouraged terrorism and spread fear".
Chancellor Merkel criticised the group's "Plan B" for the refugee crisis and said building new fences would create an emergency situation for Greece. "That would not only be un-European – it would also fail to solve any of our problems," she said.
Lone children refugees fear attacks in Sweden
Visegrad members have refused to sign up to Ms Merkel's plans for the EU to share the refugee burden by accepting migrant quotas. She is now hoping that at least a small coalition of "willing" EU countries will accept more refugees. But Germany's hopes of containing the refugee influx lie in Ms Merkel's recently brokered deal with Turkey which aims to enlist Nato support to police the Turkish-Greek maritime border and clamp down on illicit migrant smuggling.
Ms Merkel wants Nato to oversee seagoing border controls under which Turkish coastguards will be expected to stop refugees before they reach Greek waters and escort them back to Turkey. Turkey is host to more than two million war refugees from Syria.
Leading German businessmen published an open letter on 16 February warning of the economic consequences of a possible collapse of the Schengen agreement on EU open borders should frontier controls be reintroduced to limit the refugee influx.
Explainer: The Visegrad Group
The Visegrad Group, also known as V4, is an alliance of the Czech Republic, Hungary, Poland and Slovakia, set up for the purposes of furthering their European integration as well as cooperation on military, economic and energy issues.
Its name is derived from a meeting in 1335 between the Bohemian (modern day Czech), Polish and Hungarian rulers of the day, in the small castle town of Visegrad.
It was formed in February 1991 by the governments of Czechoslovakia, Hungary and Poland in the same town.
The Czech Republic and Slovakia became members after the dissolution of Czechoslovakia in 1993. All four members of the Visegrad Group joined the European Union on 1 May 2004.
Join our new commenting forum
Join thought-provoking conversations, follow other Independent readers and see their replies