Refugee crisis: European leaders warned that 'greatest tide of migrants is yet to come'
David Cameron was among the heads of state at an emergency summit that agreed to redistribute refugees and increase funding for the crisis in Brussels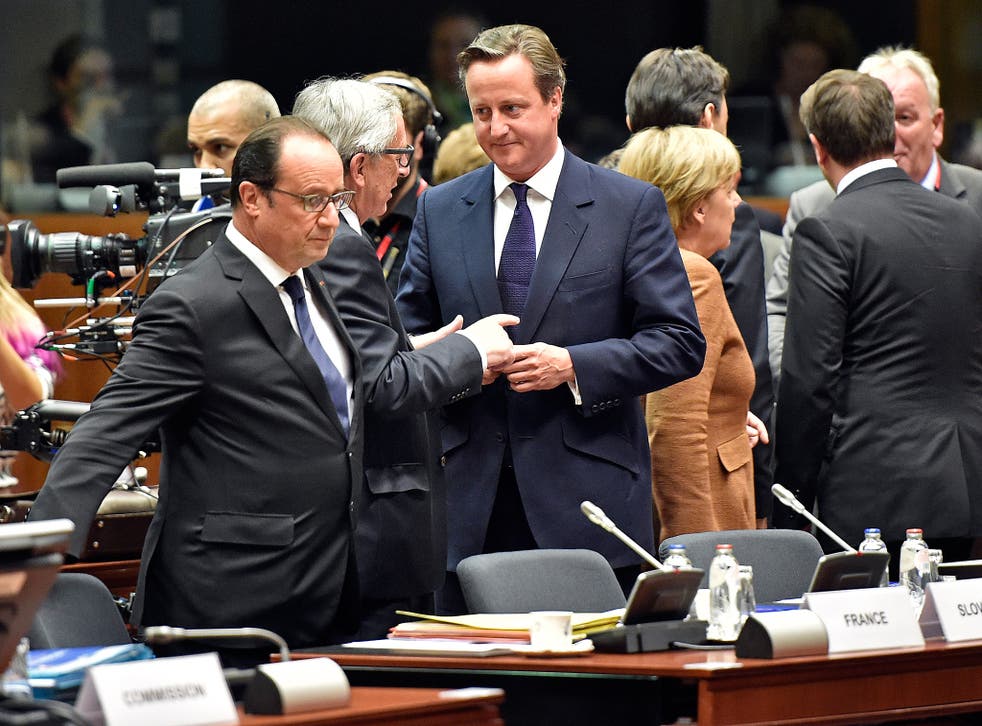 European leaders have been warned that the "greatest tide" of refugees and migrants is yet to come after pledging to relocate 160,000 people from Italy, Greece and Hungary.
David Cameron was among the heads of state joining an emergency summit in Brussels on Wednesday, where politicians attempted to overcome deep divisions over a three-course dinner.
After five hours of talks, European Council president Donald Tusk said they had taken a step towards solving the crisis but warned the "greatest tide of migrants and refugees is yet to come".
Announcing proposals for more than €1 billion to be mobilised, he said leaders agreed to give extra help to countries neighbouring Syria such as Jordan, Turkey and Lebanon.
"It is clear that the greatest tide of refugees and migrants is yet to come," Mr Tusk added. "Therefore we need to correct the policy of open doors and windows.
"Leaders also agreed that the current chaos at our external borders must end."
His remarks came as political tensions continued to rise between Hungary, Croatia and Serbia, where refugees travelling along the Western Balkans route are finding it increasingly difficult to find passage into the EU.
The Hungarian government hopes its controversial new fence along the border with Croatia, following the 110-mile barrier with Serbia, will be completed at the weekend.
It previously accused Croatia of violating international law by aiding refugees boarding trains into its territory, but authorities in the former Yugoslav state are still taking migrants to the Hungarian border, where most travel on to Austria.
Meanwhile, Croatia has shut all but one of its border crossings with Serbia, crippling its neighbour's economy as a conduit for cargo traffic to central and western Europe.
Aid agencies have described "confusion and unrest" among the thousands of refugees caught in the political crossfire, who are frequently stopped or detained during their journeys with little information.
Speaking from Croatia's Opatovac camp, on the Serbian border, a spokesperson for Save the Children said: "Added to how tired people are from travelling for days if not weeks, the atmosphere has been very tense inside, and when buses come the younger stronger refugees have often made it to the front of the queue.
"We are concerned about families with babies and small children, pregnant women, those with disabilities and the elderly who are particularly at risk of missing buses and having to remain in the camp longer or worse, getting trampled in the crowds."
As the chaos continues, thousands of people continue to cross the Mediterranean to Italy and Greece, with Turkey attempting to clamp down on Syrian refugees' movement out of the country.
The refugee crisis - in pictures

Show all 70
Mr Cameron has announced Britain's commitment of an extra £115 million to tackle the emergency, with an extra £100 million for refugees displaced in countries neighbouring war-ravaged Syria, taking the UK's contribution in the region to £1.1 billion.
In addition, the UK will provide £14.5 million towards aid in Europe, the Western Balkans and North Africa, including £2 million for agencies in Libya.
Mr Cameron called on leaders to adopt a "comprehensive approach" and called for more to be done in nations which have seen dramatic exoduses in an effort to stop the thousands entering Europe.
"We need to do more to stabilise the countries and regions from which these people are coming," he said.
Britain opted out of a binding agreement to relocate 120,000 refugees currently in Italy, Greece and Hungary among the member states according to national quotas. The first move of an additional 40,000 people is voluntary.
The scheme provoked a furious row, with four former eastern bloc states - Slovakia, Romania, Hungary and the Czech Republic - voting against, while Finland abstained.
But following Wednesday's summit, European Commission president Jean-Claude Juncker described a "better-than-expected atmosphere".
"The decision to relocate 160,000 people from the most affected Member States is a historic first and a genuine, laudable expression of European solidarity," he added.
"It cannot be the end of the story, however. It is time for further, bold, determined and concerted action by the European Union, by its institutions and by all its Member States."
Work is now starting on assistance for Lebanon, Jordan, Turkey and other countries affected by the mass exodus from Syria, help for Balkan nations in handling refugee flows, strengthening controls at the EU's external borders and helping countries experiencing the greatest number of arrivals process them.
More than half a million refugees and migrants have arrived in Europe so far this year, with more than 2,500 people dying in attempts to reach the continent.
Additional reporting by PA
Join our new commenting forum
Join thought-provoking conversations, follow other Independent readers and see their replies