Refugee crisis: Families could freeze to death after leaders warn EU could 'fall apart' if it fails to reach deal
Brussels emergency summit agree on plan for 100,000 places in reception centres for refugees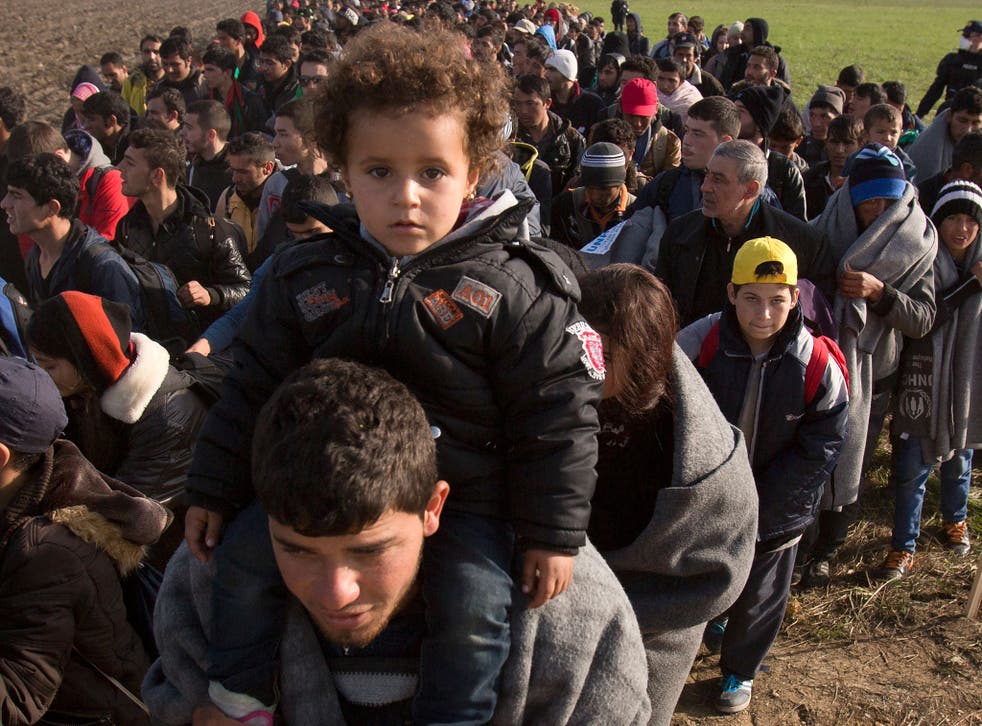 Refugees could freeze to death as winter approaches, the head of the European Union has said, as leaders warned Europe could soon start "falling apart" if they failed to agree on how to handle the worst refugee crisis since the Second World War.
European leaders met for emergency talks in Brussels to deal with the mass of refugees taking the Balkan route from the eastern Mediterranean to richer EU countries.
With winter approaching and many countries closing their borders, Europe risks adding a humanitarian emergency to the refugee crisis.
Jean-Claude Juncker, president of the European Commission, said a solution was urgently needed to stop refugees freezing to death on Europe's hillsides and riverbanks as winter approaches.
"Every day counts," The Daily Telegraph reported him saying.
"Otherwise we will soon see families in cold rivers in the Balkans perish miserably."
To cope with the flow of refugees, the European commission said that 100,000 places in reception centres should be made available along the route from Greece towards Germany.
The UN refugee agency would help establish half in Greece and half in the countries to the north, the BBC reported.
EU leaders also agreed that the border agency Frontex would step up its activities on the Greek-Macedonian border to ensure people trying to cross there would be registered.
"Europe must show it is a continent of values, a continent of solidarity," said German chancellor Angela Merkel.
"This is a building block, but we need to take many further steps."
However, other European leaders had already warned the EU could "start falling apart" if they fail to agree on a viable plan to cope with the refugee crisis.
"If we don't find a solution today, if we don't do everything we can today, then it is the end of the European Union as such," Slovenia's Prime Minister, Miro Cerar, said.
"If we don't deliver concrete action, I believe Europe will start falling apart."
Slovenia, which has a population of two million, has seen more than 60,000 refugees arrive in a matter of days.
Faced with a huge influx of refugees over the summer, Hungary built a fence to stop movement across its border with Serbia.
As a result, refugees switched into Croatia, which also imposed border controls, pushing them into Slovenia.
Refugees settle in Germany

Show all 12
Meanwhile, Bulgaria, Romania and Serbia have warned they would not accept being turned into a "buffer zone" for refugees.
They also warned they would close their borders if Austria and Germany stop accepting refugees.
Slovenia said it may have to build its own barrier along its border with Croatia if it receives no help from the EU.
The plan submitted by the European Commissioner aims to slow the passage of refugees through the safe corridor that has formed through central and eastern Europe, The Guardian reports.
Leaders agreed to increase border surveillance, properly register refugees, and stop bus and train transfers to the next border without the consent of the neighbouring country.
More than 650,000 refugees are estimated to have arrived by sea so far this year, the International Organisation for Migration reports.
At least 3,135 are known to have died en route.
Additional reporting by agencies
Join our new commenting forum
Join thought-provoking conversations, follow other Independent readers and see their replies