Refugee crisis: Five-year-old girl dies and 14 people missing after latest boat disaster
The dinghy taking asylum seekers from Greece to Turkey sank near Lesbos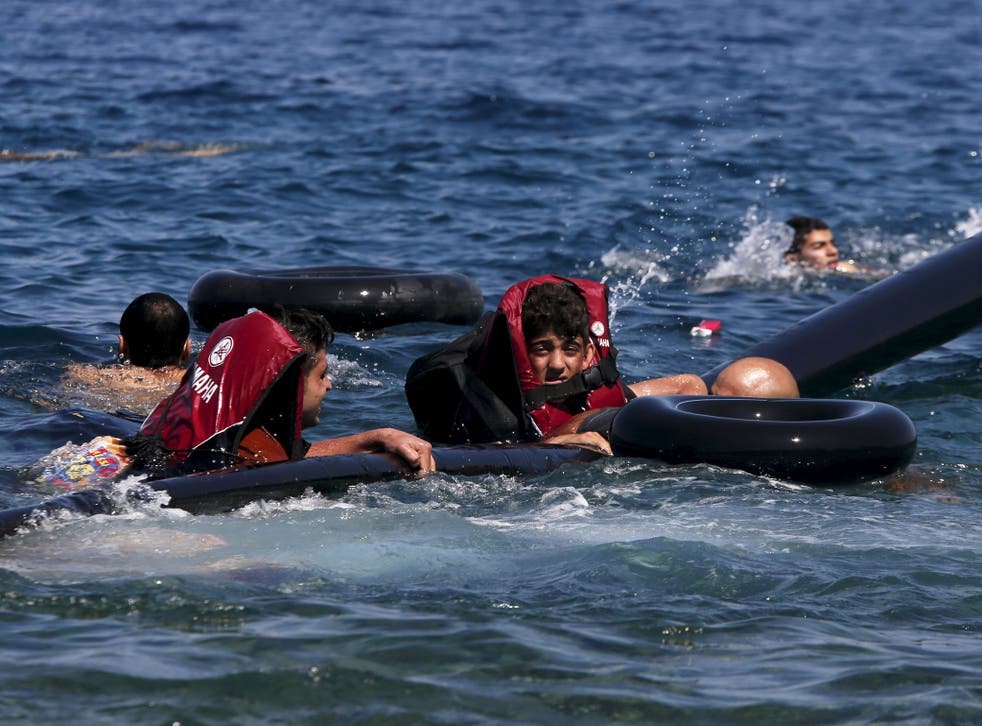 A five-year-old girl is among more than a dozen refugees feared to have died when their boat sank off a Greek island.
Nikos Lagkadianos, a spokesperson for the coastguard, said the child was pulled from the sea unconscious and died later in hospital, while others remain missing.
Ten people have been rescued from the narrow strait between Lesbos and Turkey, and another passenger swam ashore in the early hours of Saturday morning.
The survivors told officials 26 people boarded their vessel from Turkey, which sank when water leaked into it, leaving 14 passengers unaccounted for.
Of the 300,000 refugees and migrants who have arrived in Greece so far this year, more than 93,000 have landed in Lesbos, where the infrastructure is unable to cope.
A British family is leading a group of volunteers helping the thousands of asylum seekers who arrive every day on the island's northern coast.
Eric Kempson, 60, has worked with his wife and teenage daughter to transform their home into an impromptu base of operations for humanitarian efforts.
"I'm here and I'm a human being," he told The Independent. "When you see these babies suffering you can't just watch."
The latest disaster came the day after another young child, a four-year-old Syrian girl, was washed up dead on a Turkish beach on the other side of the Aegean Sea.
The unnamed girl's body was found in Cesme, along the coast from where three-year-old Aylan Kurdi drowned with his brother and mother.
The refugee crisis - in pictures

Show all 70
She had been travelling on a dinghy carrying 14 other Syrian refugees, including eight children, who were rescued by the Turkish coast guard.
Twenty-two refugees drowned and 200 more were rescued trying to reach the Greek island of Kos on Tuesday and 34 refugees, almost half of them babies and children, died when their boat sank off the small island of Farmakonisi last Sunday.
The UNHCR says more than 442,440 people have crossed the Mediterranean Sea to Europe so far this year and 2,921 have died attempting the voyage.
Additional reporting by AP and Reuters
Join our new commenting forum
Join thought-provoking conversations, follow other Independent readers and see their replies