The four ways Europe is treating refugees like convicted criminals
Asylum seekers are routinely detained, fingerprinted and even numbered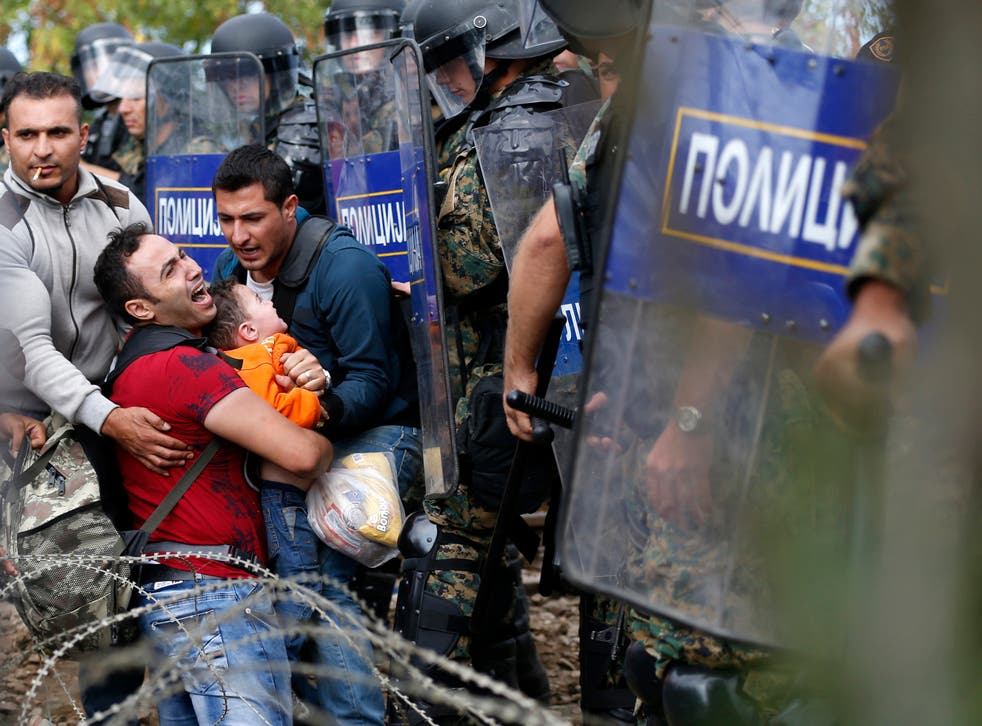 As the Prime Minister is urged to "wake up" to Europe's failure to humanely deal with the thousands of refugees arriving on the continent, scrutiny is mounting over the way asylum seekers are treated.
Groups including the UN refugee agency (UNHCR) and Amnesty International have urged nations to stop "processing" vulnerable men, women and children like criminals.
"More refugees need such protection than ever before," a spokesperson for the UNHCR said last week.
"We need to treat all human beings with respect and dignity. We need to ensure that the human rights of migrants are respected."
More than 2,000 people have died in desperate efforts to reach the EU so far this year, but this is what awaits them when they arrive:
Fingerprinting
European law requires all asylum seekers aged 14 and over to be fingerprinted within three days of their application.
But charities say refugees arriving from warzones or who are fearful of police because of their experiences at home are distressed and confused by the procedure, which many try and avoid.
In Italy, many Syrian and Eritreans have either refused to be fingerprinted or resorted to burning their fingertips to avoid identification, according to an Italian police memorandum sent to local offices last year, Reuters reported.
But according to EU regulations amended in 2013, several attempts must be made and prints allowing "appropriate comparison" must be obtained where possible.
The records must be sent to a central database within 72 hours, which is used to track movement through the EU and can be accessed by Europol and other security agencies.
The European Union yesterday threatened at least 10 nations with legal action for failing to properly apply the law, including on fingerprinting.
EU migration spokesperson Natasha Bertaud said letters had been sent constituting the European Commission's "last warning before opening further infringement proceedings."
Numbering
Czech police have reportedly started removing refugees from trains headed to Germany, detaining migrants and numbering them in pen written on their arms.
According to local media, in the early hours of Tuesday morning around 200 refugees were arrested on trains arriving from Austria and Hungary in the southern region of Moravia.
Photos showed police officers writing registration numbers on the wrists and arms of migrants with permanent marker pens, while the refugees themselves told reporters they were travelling from Budapest, had purchased valid train tickets and were allowed to board by police in Hungary.
In Italy, refugees have also been photographed wearing numbered paper tags in some areas after being brought ashore by rescue boats.
Detention
Hundreds of thousands of people are detained in Europe every year in relation to migration control, with EU laws allowing refugees to be locked up for 18 months without a criminal conviction.
Reasons for detention vary from state to state but can include the perceived risk of absconding or "hampering the removal process", as part of deportation, non-compliance, threat to national security and public order and reasonable grounds to suspect the person will commit a crime.
According to the EU Law Analysis website, France had the highest number of non-citizens in custody in 2013, followed by Spain, Hungary and Bulgaria.
Facilities vary widely, with some countries having dedicated premises and others using prisons and police stations.
The UK has 13 Immigration Removal Centres for foreign nationals about to be deported, including the notorious Yarl's Wood.
It has come under pressure to close by several charities and humanitarian groups who stage regular protests over hunger strikes, allegations of sexual abuse, the detention of children, suicides and deaths.
A spokesperson for Amnesty International said of Europe-wide detention: "Migrants and asylum-seekers are often detained for long periods, sometimes in conditions which fall far short of international standards.
"In some countries judicial oversight of their detention and its lawfulness is limited or absent."
Police
Police are frequently the first people to "welcome" refugees in the EU, whether patrolling borders or searching trains, lorries and ferries for asylum seekers.
Officers clashed with hundreds of people trying to catch a train to Austria and Germany from Budapest yesterday, with police forcing refugees out of the station and barring them from entering with barricades outside the building.
Some forces have deployed water cannons and allegedly beaten men and women with batons in efforts to control crowds.
In Kos last month, around a thousand refugees were locked inside a football stadium on the Greek island of Kos as they awaited registration.
Medics with Doctors Without Borders said they treated around 28 refugees fleeing Syria and other warzones for panic attacks after police threw stun grenades, and at least six reported being beaten.
Riot officers sprayed fire extinguishers and moved into the crowd with batons as anger mounted at the conditions and hours of waiting, with migrants chanting "we want papers, we want to eat".
The refugee crisis - in pictures

Show all 70
In Calais, French police have been photographed chasing refugees near ferry and train terminals after pressure from the British Government to stop unregistered people crossing the Channel.
Join our new commenting forum
Join thought-provoking conversations, follow other Independent readers and see their replies