Refugee crisis: German container ship captain crowdfunding for rescue ship in Mediterranean
Klaus Vogel co-founded humanitarian group SOS Mediterranee to help stop thousands of refugees drowning attempting to reach Europe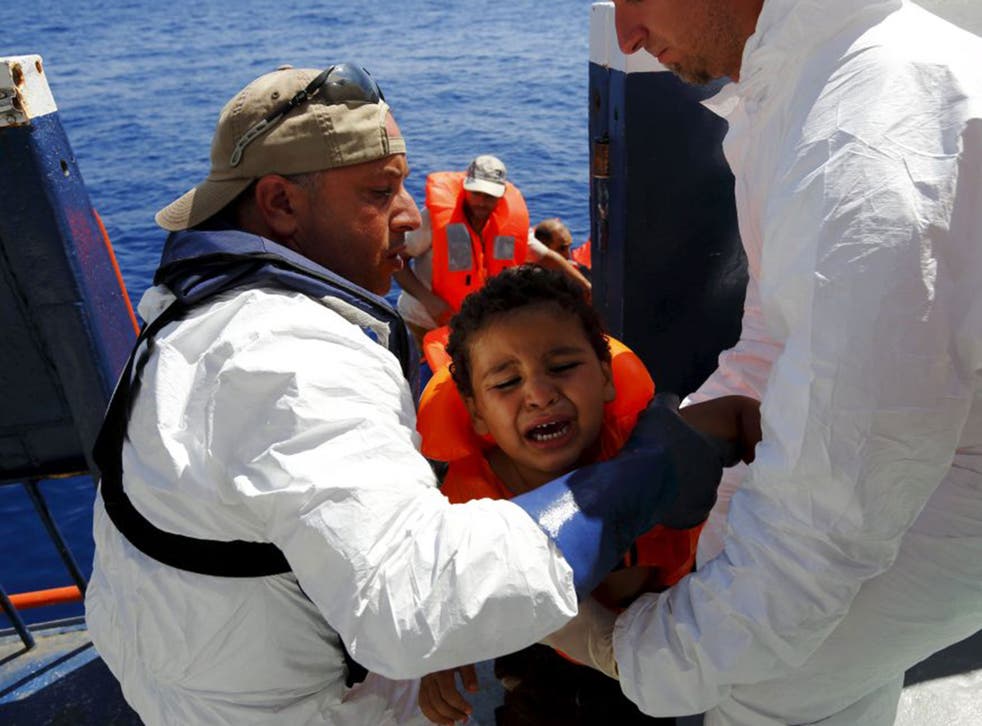 A German merchant navy captain is raising money for a rescue ship to help save the thousands of refugees and migrants risking their lives crossing the Mediterranean Sea.
Klaus Vogel, who formerly sailed container ships around the world for Hapag-Lloyd, is the president of humanitarian group SOS Mediterranee.
Founded by humanitarian workers from Germany, France, Italy and Greece, the organisation is aiming to staff a ship with experienced crew and medics from Médecins du Monde (Doctors of the World) and take it to patrol the treacherous crossing between Libya and Italy.
That voyage has claimed more than 3,000 lives so far this year and threatens to kill many more as smugglers continue to load barely seaworthy boats with desperate refugees.
SOS Mediterranee was founded in May, after 1,300 people died during the previous month in a series of disasters.
Captain Vogel said that as he watched successive tragedies unfolding, he "had to help" and left his job to travel with his wife to the Italian island of Lampedusa, where hundreds of migrant boats were landing.
He told the Huffington Post France that during his time on container ships, he had met refugees trying to make their desperate escapes at sea.
A Senegalese stowaway once presented himself to Captain Vogel's crew after two days hiding on board.
"This experience helped me understand that these people were undertaking this journey because they were forced to - it's a situation that anybody may find themselves in," he said.
"It was clear that these people were in danger and desperately in need, so we had to help them."
Captain Vogel used his marine contacts to research the possibility of chartering a rescue ship, and after being introduced to humanitarian expert Sophie Beau, from Marseille, the pair founded SOS Mediterranee to make the idea a reality.
So far, a fundraising page has raised more than £52,000 for the project, which aims to charter or purpose a 60 metre-long vessel that can carry 400 people for up to two days.
If the group goes beyond its target of €100,000 (£74,000), the ship can be run for more than a month or SOS Mediterranee may even be able to purchase its own vessel, rather than chartering one.
The group describes itself as a "humanitarian association, politically and religiously independent, based on the principles of respect for human beings and their dignity, without partiality as concerns their nationality or origin, their social belonging, religious belief, political position or ethnic identity".
The refugee crisis - in pictures

Show all 70
As well as the ship's search and rescue missions, it also aims to raise awareness of the deadly journeys still being made across the Mediterranean as Europe's focus remains on the "crisis" unfolding on land.
Until November last year, Italy was the only country working to save refugees and prevent boat disasters, but when the cost became too much for it to bear alone, the EU jointly launched Operation Triton to co-ordinate ships and funding from 26 member states.
Another operation, called EUNAVFOR Med was additionally launched in April this year to tackle human smuggling, and boats independently operated by groups including Doctors Without Borders and the Migrant Offshore Aid Station are also conducting rescues.
Join our new commenting forum
Join thought-provoking conversations, follow other Independent readers and see their replies