Refugee crisis: Hungary deploys soldiers to its border as door slams shut on asylum seekers
New legislation will make entering the country a criminal act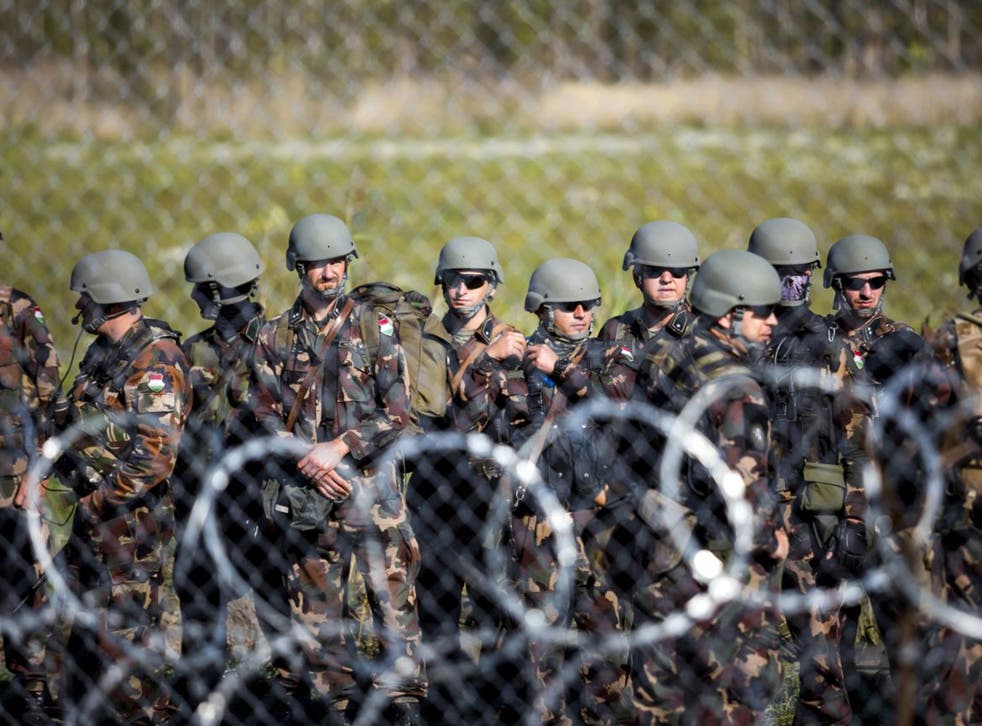 Almost 26 years since the day, in 1989, when Hungary opened its borders to citizens of East Germany, heralding the collapse of the Iron Curtain, those same barriers are being closed. In a desperate effort to stem the flow of asylum seekers fleeing war zones in Syria, Iraq, Afghanistan and beyond, the Hungarian government deployed flanks of police and soldiers wielding automatic weapons to patrol its border with Serbia, assisted by a 110-mile long newly constructed barbed-wire fence.
According to new legislation effective from Tuesday, entering Hungary illegally will constitute a criminal act, potentially punishable by a prison sentence of up to three years. This afternoon police closed the unofficial crossing along a train track between the Serbian village of Horgos and Roszke in Hungary, a route previously popular with refugees.
The news seemed to have spread to refugees, many from Syria, who quickened their pace to reach Hungary, with police recording 6,000 entering on Sunday and a further 5,353 arrivals even before 11am on Monday. Many were transported by train from Roszke to Hegyeshalom on the Austrian border. The United Nations refugee agency claimed that not all were being registered, claims denied by the Hungarian government.
"Where are we going now?" asked Abdullah Faraj, a Syrian physician as he queued up to board a bus. Mr Faraj, 28, from Deir Ezzor, the city currently caught in the middle of raging battles between government forces and Isis militants, spoke as a helicopter flew overhead. He and his four friends had heard about the Hungarian border closing and had raced across the Balkans to reach Roszke after leaving Syria only a week ago. "I read on the news about the border being blocked, so we didn't sleep on our journey, maybe a few hours. I want to get to Austria and start working. In Deir Ezzor I was treating patients in critical situations, burns, victims of bombing but each day it gets worse, and there is no safety. I want to keep helping people in Austria."
Mr Faraj still has friends currently en route to western Europe and wonders how their path will change now. He said: "We heard that other countries like Croatia or Slovenia might open up for refugees."
Refugees march from Hungary to Austria

Show all 10
On the train tracks the silence was punctuated by workers stapling brackets into the fence and a swarm of media filmed horses trotting past carrying police and refugees on the Serbian side.
Husam Haffi, 44, a Palestinian-Syrian bank worker from the Yarmouk refugee camp in Syria, was one of the last to cross. He smoked his first cigarette in three days, surrounded by his four children and wife. Days ago they braved the perilous sea crossing from Turkey to Greece that on Sunday claimed the lives of 34 refugees. "Back home we were living on the fourth floor, and now that is on the ground. Nothing."
Mr Haffi and his family previously tried living in Ain el-Hilweh, the largest Palestinian refugee camp in Lebanon, but found conditions intolerable. "Everybody has guns, people kill each other for a piece of chocolate. It's not life."
In the last week the cornfield by the tracks in Roszke has become an international focal point of the crisis as sporadic transportation to overcapacity registration centres saw swelling numbers of asylum seekers effectively kettled under open skies. There have been daily tensions between refugees and police as many became angered at the long waiting times and lack of adequate shelter. Large tents provided by the UNHCR and other organisations that were finally erected, stood empty as the trickle of refugees ceased.
UNCHR spokesman Babar Baloch wandered along the road by the fence where families of refugees could be seen through the barbed wire on the other side. He told The Independent: "Whenever there is an obstacle to a refugee population, it endangers their lives and compels them to take dangerous routes with traffickers and we have seen what happens when they give themselves up to the traffickers. Europe cannot turn back people who are fleeing wars and conflicts."
At the bus queue, Mr Haffi points to his two-year-old daughter Nirvana. "They can take me back across the border if they want, I just want good health and education for her. My kids didn't have school in two years. They are happy now because we are together, but I will tell them all about this when they are older."
Join our new commenting forum
Join thought-provoking conversations, follow other Independent readers and see their replies