Refugee crisis: Last influx to fortress Europe cross Austrian border before route closes
As the EU hardens its heart to refugees, a few thousand more make it into Austria before barrier is erected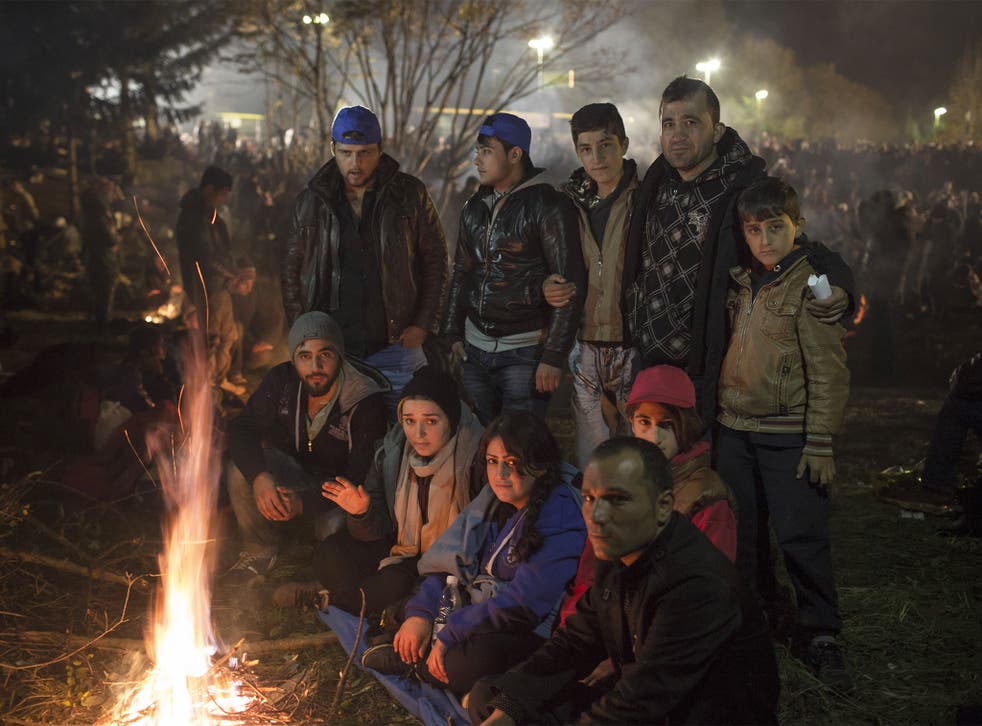 Kawphar Zangana would not say how his wife died. It was too much for him. "They [Isis] took her from me in Iraq. Now I can only help my children get to Germany."
Mr Zangana had travelled from Iraqi Kurdistan with his sons Hiwa, 14 and Brham, 10, and his daughter, Dilnia, 14. It had been a three-week journey during which they crossed into Turkey before paying smugglers to take them across to the Greek island of Lesbos on a rubber dinghy.
At Sentilj, on the border between Slovenia and Austria, that journey temporarily stalled as the family faced a night outside in the cold. "We made a fire because we don't know how long we will be here," Mr Zangana said. "The Austrian police tell us nothing. We have not eaten in a day. There is no water. We won't go back to the Slovenia camp. We will wait here."
A hundred metres away an Austrian border guard was using a loud hailer to make himself heard above the noise of screaming refugees and a circling helicopter as thousands prepared to spend the night in a wooded no man's land. "Go back. Don't push. You are hurting your own people. Stop pushing. Go back," the border guard pleaded, as some of the thousand-strong crowd of Afghans, Syrians and Iraqis threw luggage over the razor wire and attempted to scale the fence, in some cases successfully.
The Zangana family's ordeal on the freezing Slovenian frontier was a long way from the escalating row over borders in Europe's capitals, but Mr Zangana felt its impact. The rumours started early in the day: Austria was to close its border leaving the 4,000 refugees at the Sentilj crossing short of their desired destination, Spielfeld on the Austrian side of the border.
In fact, Austria had only said it would build a fence on its border with Slovenia in an attempt to create an "orderly" flow of refugees. It marked a fault line in the EU's response to the crisis in which nearly 700,000 people have entered Europe since the start of the year and more than 85,000 have entered Slovenia in the last 11 days. But of the promised "orderly flow", there was none at the Sentilj border-crossing on Wednesday night.
If Austria does erect a barrier it will be the first between two members of the Schengen zone and Germany has been quick to condemn the "building of walls". But this meant little to Mr Zangana's children who were making a game of collecting firewood to keep them warm. They had no blankets. "In Greece we were delighted. We thought we had arrived in Europe and would be safe. My children are not safe here. This is not human; we are not animals," said Mr Zangana.
Caroline van Buren, the UNHCR's emergency co-ordinator in Slovenia, told The Independent that there is now a fear among refugees that they are "running out of time" to cross Europe before new borders are thrown up. That fear has contributed to the continuing flow of people. "There is a lot of pressure in the system and the humanitarian response is still moving slowly," she said. "The situation is serious but not critical, though the situation at Sentilj is very concerning."
She added that the main Slovenian 4,000-capacity camp at the border was well-run but the "no man's land" directly in front of the Austrian border has given rise to fears of respiratory illness and diarrhoea. "It's going to be a very cold weekend. People need to move to shelter," she said, adding that many refugees refuse to leave as they fear losing their place in the line to enter Austria.
More than 5,000 new refugees had arrived in Slovenia by Wednesday lunchtime, with police fearing the end-of-the-day figure would be higher than the 7,000 who arrived on Tuesday. The UNHCR says the small country of two million is doing its best, but it needs outside help.
At the border, the only sign of an EU commitment was the fading paint jobs on the Slovenian army's vehicles. Of the first five German police officers who arrived in Slovenia, as part of a forthcoming EU force of 400 announced on Sunday, there was no sign. "We've not seen any German police here. Last week we had 12,000 people cross in one day. Many had no shoes or winter coats, I did not feel like I was in a technically advanced and modern European Union then," said Bernarda Avsenik, a teacher from the capital Ljubljana, who is volunteering at the border.
Video: Refugees wait in Slovenia
Fryeak Ibo, a Syrian businessman travelling with his niece to meet his wife in Germany, agreed. "We did not realise it would be so bad here. I swear to God, if Syria was just 1 per cent safe I would stay there, but is not. I had to leave," he said.
"We are tired, we are sick and we are hungry but we are almost there," said Mr Ibo's niece. "Please just open the door." Soon her demand was answered, and as several hundred refugees broke away to outflank the Austrian border guards, the gates were thrown open. Within half an hour no man's land was virtually empty. Another few thousand refugees had completed their next step on the way to Germany. It was not clear for how long others will be able to follow.
Refugees settle in Germany

Show all 12
Join our new commenting forum
Join thought-provoking conversations, follow other Independent readers and see their replies