Refugee crisis: Macedonia refuses to open border to asylum seekers
More than 20,000 are stranded in Greece, amid warnings of a 'large scale humanitarian crisis'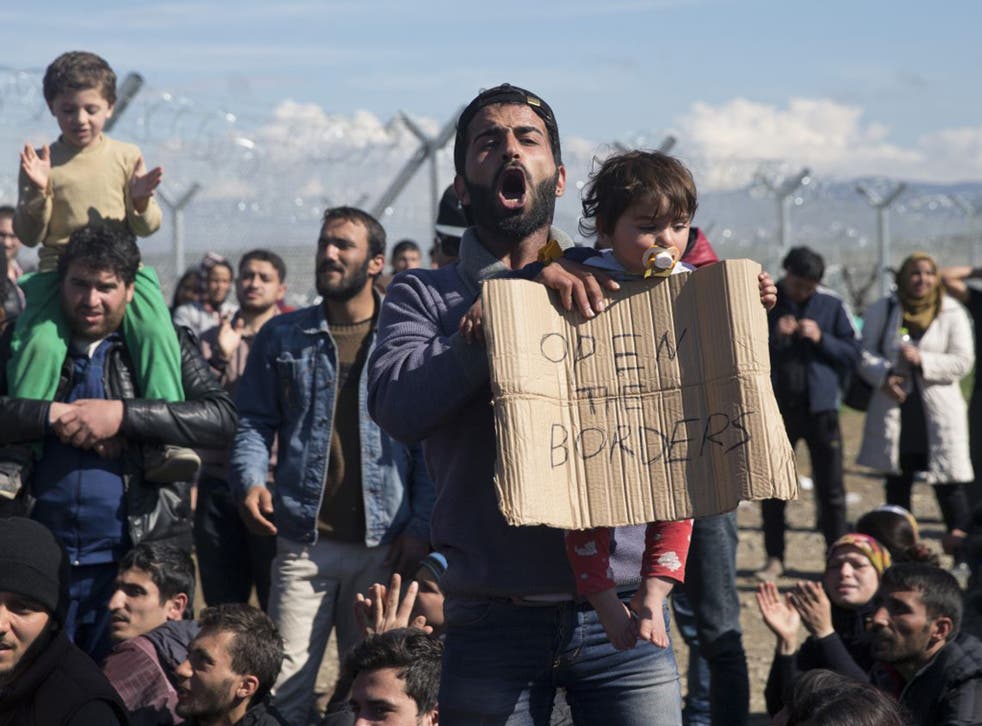 In the fields outside the village of Idomeni, two elderly Iraqi men shuffled on crutches and prosthetic legs up to the razor wire that laces the frontier of northern Greece and beckoned to the Macedonian officer on the other side.
"Please, sir. I have been here six days. I cannot wait so long. Can you help me?"
The reply was blunt: "No."
After minutes of stony silence, the two men realised there was nothing to be done and returned to join the more than 5,000 Syrian and Iraqi refugees who have amassed on the Greek-Macedonian border in the past week. The numbers have been steadily growing since 26 February, when Austria announced a cap on entries of 580 people per day in a bid to choke the flow of refugees heading north through the Balkans to Germany. The move was swiftly replicated by Serbia, as well as Slovenia and Croatia, both EU members, steadily pushing back against the flow of refugees from Greece.
Greece has said it refuses to become "a permanent warehouse for human beings", but with more than 112,000 refugees having arrived by sea since the start of the year, and ever fewer borders for them to cross, it has been left with little choice. The government has erected new refugee camps in recent days, including one just 12km from the Idomeni crossing, and has temporarily suspended ferries from the Greek islands to ease the congestion on the mainland.
More than 20,000 refugees remain stranded in multiple locations across the country, prompting Dimitris Avramopoulos, the EU migration commissioner, to warn of a looming "large-scale humanitarian crisis".
The refugees are even more desperate to leave than Greece is to see them go. Families have been abandoning the camps to walk along motorways towards the Macedonian border, desperate to arrive while there might still be a chance to cross. Last night, Macedonia said it had briefly reopened the border to let up to 350 people through, more than 36 hours after it was closed.
Refugee crisis - in pictures

Show all 27
The announcement came just a few hours after hundreds of Syrian and Iraqi families gathered by the fence to demonstrate against the border closures. Holding placards and photos of drowned Syrian toddler Aylan Kurdi, shouts of "please open the borders" could be heard for hours as police from Macedonia, Austria and the Czech Republic looked on.
Derin Rashid, 33, a journalist from Aleppo, Syria, rested on two crutches nearby. "This is a beautiful show for the media, it's like an action film, but nobody does anything, just like the war in Syria," he said. "I tried to live in Turkey, my son needs oxygen for his asthma but the doctor in the hospital told me that we are too many Syrians, and they can't help us all. So we have been trapped by Assad for six years. Europe said we were welcome, but now the door is closed."
Last week, refugees from Afghanistan (who the UNHCR estimates comprise 27 per cent of sea arrivals into Greece) became the latest nationality to be refused entry into Europe. The sudden decision by Macedonia prompted Greek police to roam the countryside, forcing Afghans to board buses back to Athens.
The crisis has fuelled intra-EU tensions. On 25 February, Athens recalled its ambassador to Vienna after Austria hosted a meeting on the refugee issue with Balkan states to which Greece was not invited. "Greece will not accept unilateral actions," Greek migration minister Yannis Mouzalas warned. "Greece will not accept becoming Europe's Lebanon."
As the Greek military raced to build five new camps in northern Greece, those stranded at the border began to think of alternative routes. From Idomeni, it is just 100km to the nearest road crossing into Albania.
Standing apart from the protests, Murad, 18, a Syrian Kurd from Afrin, which has been shelled by the Turkish military, counted the countries he had to pass through before he reached his destination: Germany. "They don't even let in old men with no legs. What chance do we have? Some people here were talking about going through Albania and Bosnia. And today, they are gone," he said.
But Albanian Prime Minister Edi Rama moved quickly on 26 February to tell local media: "We have neither the conditions, nor the strength, nor the enthusiasm to save the world while others close their borders."
Join our new commenting forum
Join thought-provoking conversations, follow other Independent readers and see their replies