Refugee crisis: Migrants trapped at Greek-Macedonian border escaped hell and are now stuck in purgatory
Michael Day reports from Idomeni where migrants are trapped at the Greek-Macedonian border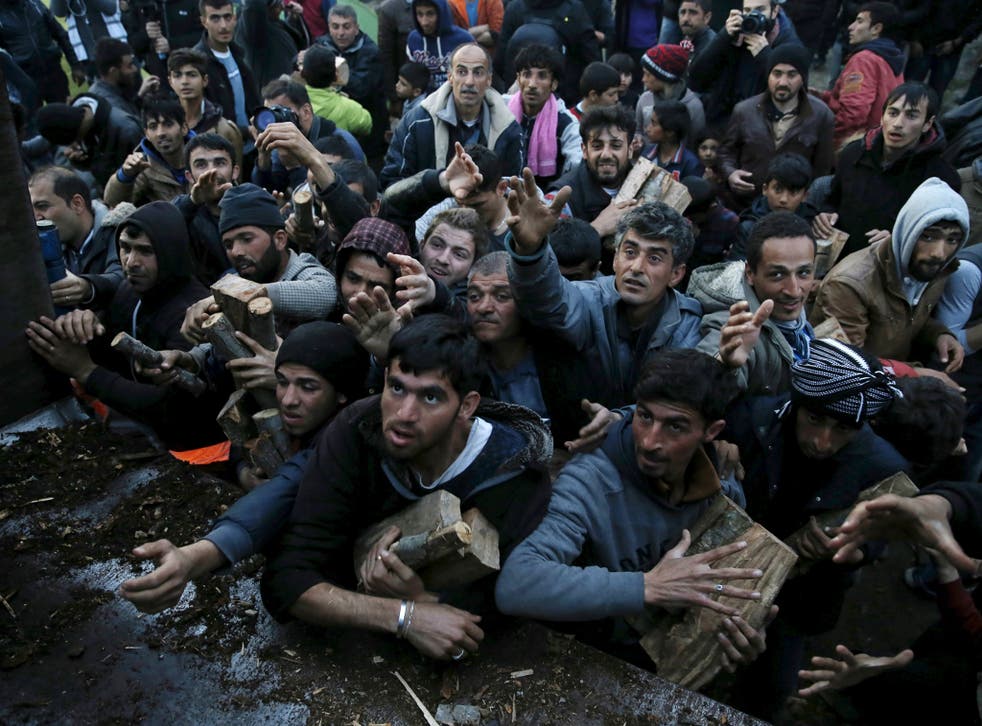 A warm, spring sun lights the hills between Greece and Macedonia.
At Idomeni, the blighted bottleneck for the dispossessed seeking salvation in Europe, a sea of small tents are spreading into the fields surrounding what was once a small border village.
Nour Khzam, 24, spends much of her day carrying water back and forth for her mother-in-law, Snaa Abdalla, whose kidneys are failing. She is living with six other families – around 45 people – in a white tent. All crossed the Aegean Sea from Turkey, like the 18 who drowned off the Turkish coast on 6 March.
Ms Khzam was a pianist in Deir Ezzor. She fled for Damascus and them made for Greece. Like many at Idomeni she would like to get to Germany. She is gracious, friendly and seems in good spirits until she remembers what made her flee her homeland. Her husband "disappeared", probably abducted by Isis, she says, just 20 days after her wedding.
"If you ask me what I would like to do now, I don't know," she said.
"How can I play my piano now my heart is broken?"
When most of Ms Khzam's family members gather inside the tent provided by Médecins Sans Frontières (MSF), the sleeping arrangements come as a shock. Theirs is one tent among thousands housing migrants drawn to Greece's long and once-porous border with Macedonia.
But it's porous no more.
The migrants and refugees find themselves trapped at the main exit from Europe's poorest country by a domino effect of closed borders in neighbouring states that begins in Austria. Macedonian border officials are now barring some Syrians from entering unless they could prove they were from the cities "at war" such as Aleppo or Raqqa. Damascus and Baghdad, by all accounts, do not qualify.
"It got much worse so quickly," says Cristian Reynders, one of MSF's main co-ordinators in Idomeni.
"Yesterday the Macedonians let two families – just 14 people – through. Two days before that they let 500 people through. It seems completely random; there's little logical or legal basis for it.
"People will keep coming," warns Mr Reynders, who has worked in Syria. "It's hard for most people to understand what these people have escaped from. But Syria has descended into hell."
Ahead of the meeting in Brussels on 7 March there have been rumours Turkey is likely to cut migrant flows by blocking all but Syrians and will accept the large-scale return of others who reach the Greek islands, including Iraqis.
This notion was greeted with anger and incredulity by Iraqis at Idomeni.
Shaat Akram, 28, was a Kurdish member of the Iraqi army. When his brother and his uncle were shot dead by Isis on the same night he fled to Turkey with his wife and children.
"Europe is crazy giving money to Erdogan," he said. "You can't trust Turkey. Do you know how many fake Syrian passports you can buy there for $50 (£45)? And they are working with the smugglers. The first boat I took from Turkey sunk and 10 children drowned. I pointed out to the Turkish police who the smugglers were and they told me to stop making things up."
Goran Malddod, 28, said he with his wife and two children fled Isis in Kirkuk, Iraq. His friend, Mohammad Asi-Ali, 19, also from Kirkuk, shows a scar along the top of his head, which was sliced open by shrapnel from a car bomb.
"You can't actually live there. You hide indoors, afraid. That's why people from Iraq are coming, because they want to live," says Mr Malddod, whose dream is to reach Canada or Britain. He and his family have passports. But they are turned back at the Macedonian border.
Falah Ali Ali, 41, arrived at Idomeni on 6 March with his family.
"Where I come from, Muslims are killing Muslims. That's why we left Mosul. When I get to Germany I am going to rip up my passport and become a Christian. The people here are nice to us. They give us food and water and shelter. Don't trust Erdogan, he's evil."
For those seeking to make it past the check point at Idomeni, there are a series of hoops to jump through. Next to the queue for sandwiches, a group of young men jostle to get the attention of the Greek policeman manning a gap in the fence. His face covered in a bright-blue plastic mask, the policeman barks: "Passport, only with passport."
A few are let through, and walk the 75 yards or so to a tent where further checks are made. If they pass this barrier then they wait in a line by the fence on the border with Macedonia itself. The razor wire glints in the sunshine. And the migrants, who have the right documents, resign themselves to another long wait.
And what of the thousands without the right documents? Abdullah Abo Ali, 26, also from Deir Ezzor, is a software engineer. He failed to pass the first barrier.
"I don't have a passport because the Syrian government, or probably the Russians, bombed my house," he said.
Those desperate enough are heading for the hills and unofficial crossing points into Macedonia. The razor wire stops a few miles each way out of Idomeni. But they face cold nights, mountainous terrain and long distances.
With the acrid-smelling camp spilling over into neighbouring fields and exhausting its limited facilities, others are springing up. In nearby Polikastro an old petrol station is harbouring 800 refugees.
Greece, said Prime Minister Alexis Tsipras, is becoming "a warehouse of souls".
Most of the people here escaped hell and are now stuck in purgatory.
Join our new commenting forum
Join thought-provoking conversations, follow other Independent readers and see their replies