Refugee crisis: Munich's citizens welcome refugees with open arms
The eagerness to help is so great the city now has waiting lists for volunteers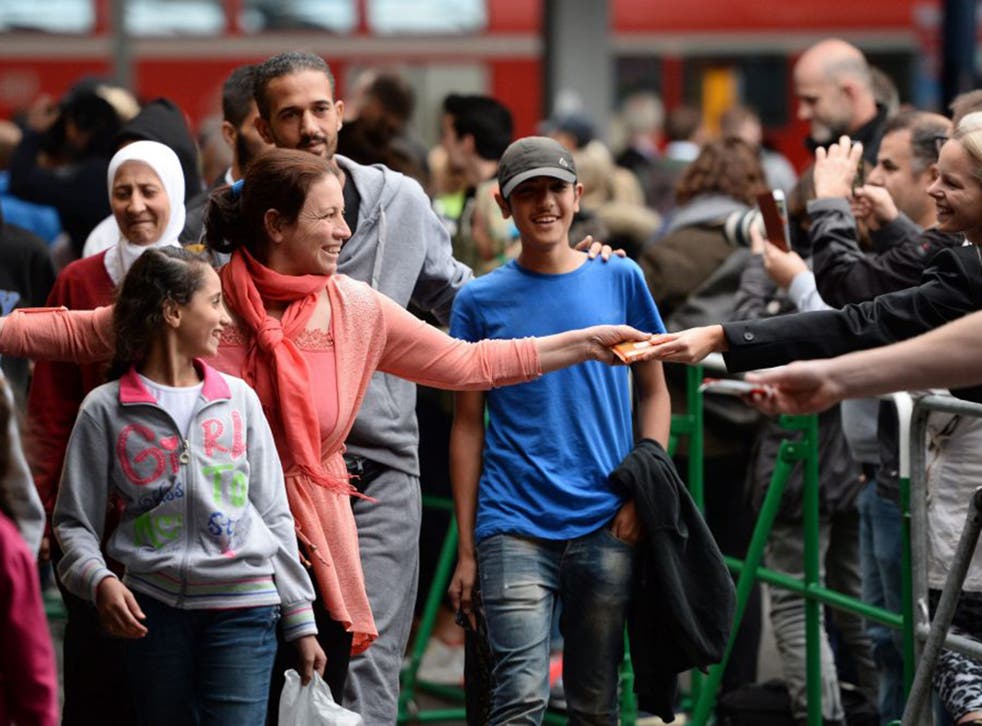 Munich's first 20,000 refugees came and went, sent on their way with the good wishes of a city proud to help. On Monday another 10,000 were expected and the willingness of Munich residents to provide sanctuary appeared to be boundless.
Even as German Chancellor Angela Merkel announced that Germany would set aside some €6bn to help fund and accommodate the new arrivals, the residents of one of Europe's richest cities were suddenly face to face with the misery of years of Middle-East terror and conflict.
Gisela Hammerl stood on the platform of Munich's Starnberger station with some mobile phone cards. "I was told that that was what the new arrivals needed most," she told The Independent. "Why have I come here? I had to. By comparison I am very wealthy. I want to give all the help I possibly can."
The eagerness to help is so great that the city has been obliged to draw up waiting lists for volunteers who want to assist the flow of refugees and migrants arriving from Hungary and Austria.
Hungary was obliged to let the refugees travel towards Germany last Friday. "There is no end to the exodus in sight," admitted Christoph Hillenbrand, the president of upper Bavaria who is supervising Munich's refugee aid and transport programme. "If it goes on like this we will run out of space," he said. "We are doing everything to make Munich a beacon in Germany," he added. A police spokesman said: "We are expecting around 300 people to arrive every hour."
At the Starnberger station, some refugees hobbled on worn-out trainers, others brandished placards reading "Thank you Germany". Most smiled with delight, a few struggled to fight back tears.
The first 400 of what promised to be a new wave of refugees began arriving at Munich's main station late on Monday as Europe's biggest refugee crisis since the Second World War entered its second week. As the new arrivals from Syria, Afghanistan and Iraq slowly descended from an Austrian train, scores of well-wishers burst into applause.
The refugee crisis - in pictures

Show all 70
Buses took the new arrivals to reception centres to be processed before they are put on trains to new destinations across Germany. At Munich's Riem trade fair complex, 1,700 refugees were put up on camp beds. School and university buildings were also used.
Amid Mohammed, a refugee from Syria with a baby girl in his arms, was one of the many grateful to have made it to Germany. He and his wife took 30 days to flee from Syria via Turkey, Greece and Macedonia. When they arrived in Hungary, they were forced to rough it outside Budapest's Keleti railway station for seven days. "It was terrible," said Mr Mohammed. "I love Germany."
Speaking after meeting with heads of Germany's federal states, Angela Merkel described the past week as "breathtaking", adding that it had "provided an image of Germany we can be proud of". But in a remark directed at Germany's EU partners, she added: "The time for a joint solution is upon is." Despite the euphoria that has accompanied Germany's new found "Wilkommenskulutur", or "Welcome culture", far-right activists have continued their violent opposition. There have been more than 200 attacks on refugee hostels in Germany this year. On Sunday night neo-Nazis were suspected of setting fire to containers housing 84 asylum-seekers in Rottenburg, in south-west Germany. Five people were injured.
Germany's federal states have agreed new measures to help deal with the crisis. They include strengthening police forces with 3,000 new recruits and speeding up deportation for economic migrants from Montenegro, Albania and Kosovo, which are considered safe countries. Almost half of all migrants to Germany this year have been Kosovo Albanians. Germany is giving priority to war refugees from Syria, Afghanistan and Iraq.
Despite widespread public support for Ms Merkel's welcome policy for refugees, she has continued to face angry protests from her Bavarian conservative coalition partners. Horst Seehofer, head of Bavaria's Christian Social Union, said Chancellor Merkel has sent "completely the wrong signal" by welcoming refugees. "No society can accept this sort of influx in the long term," he insisted.
Jean-Claude Juncker, head of the European Commission, has drawn up plans for a fair distribution of refugees across the EU which envisages Germany, France and Spain bearing the brunt of the intake. Under his proposals, Germany will take in a further 31,500 migrants and refugees followed by France with 24,000 and Spain with 15,000.
Join our new commenting forum
Join thought-provoking conversations, follow other Independent readers and see their replies