Refugee crisis: Pregnant woman rescued from sinking boat gives birth to healthy baby at sea
The woman, believed to be Nigerian, and her daughter are safe and well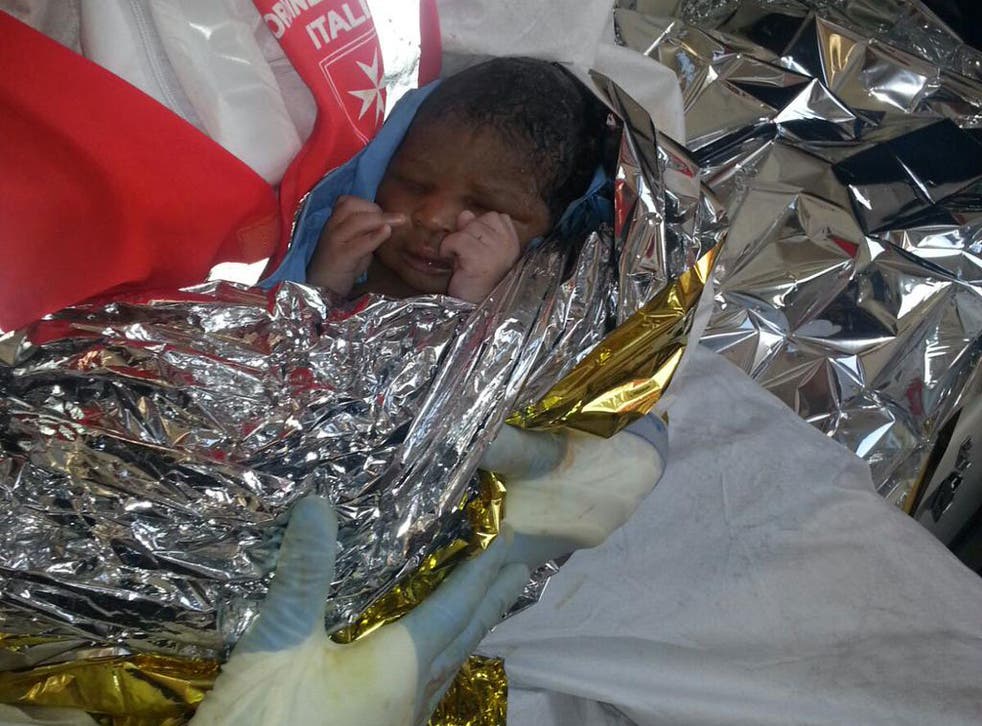 A healthy baby has been born on a patrol boat in the Mediterranean Sea after its mother was rescued from a boat packed with more than 100 refugees.
Among those saved was a heavily pregnant woman, believed to be Nigerian, who went into labour as the coast guard ship journeyed towards the Italian island of Lampedusa.
Medics on board helped her give birth to a healthy baby girl.
"A new life is sailing towards Lampedusa," the Italian coast guard tweeted, praising doctors from the Order of Malta's Italian Relief Corps (CISOM).
A spokesperson for the charity said a doctor and nurse guided the "frightened" young mother through labour as efforts continued around them to help other starving, dehydrated and injured refugees.
"Both the woman and the baby are in a good health and were taken to hospital in Lampedusa, along with other migrants, after the boat landed," a spokesperson said.
Footage showed the mother being helped to disembark after reaching safety, with a member of the coast guard following with her newborn child, named Feminò, wrapped in a blue blanket.
Later on the same day, crews battled to save more than 100 refugees after their boat sank on the way from Libya to Italy.
Body cameras worn by Italian coast guard rescuers captured the dramatic moment their vessel spotted dozens of people in the water, struggling to stay afloat.
Divers jumped into the sea and they were thrown rafts to stop them drowning as divers brought the refugees to safety on their patrol boat on 3 September.
Of the 115 asylum seekers who boarded the smugglers' boat, only 91 were saved. At least one body has been found.
At least 2,500 men, women and children fleeing war and persecution have died trying to cross the Mediterranean so far this year, the UNHCR estimates.
The refugee crisis - in pictures

Show all 70
Fearing the long crossing from Libya to Italy, which saw 750 people die in a single disaster in April, many refugees are taking the shorter voyage from Turkey to Greek islands.
But the death of Aylan Kurdi, a three-year-old boy from Syria who drowned as his family tried to reach Kos last week, has shown that the alternative offers no guarantee of safety.
This newspaper has started a campaign for the UK to welcome a fair share of refugees.
Join our new commenting forum
Join thought-provoking conversations, follow other Independent readers and see their replies