'Refugee crisis is a problem for Germany, not Europe,' Hungarian Prime Minister claims
Viktor Orban claimed that his country was being 'overrun' by Muslim refugees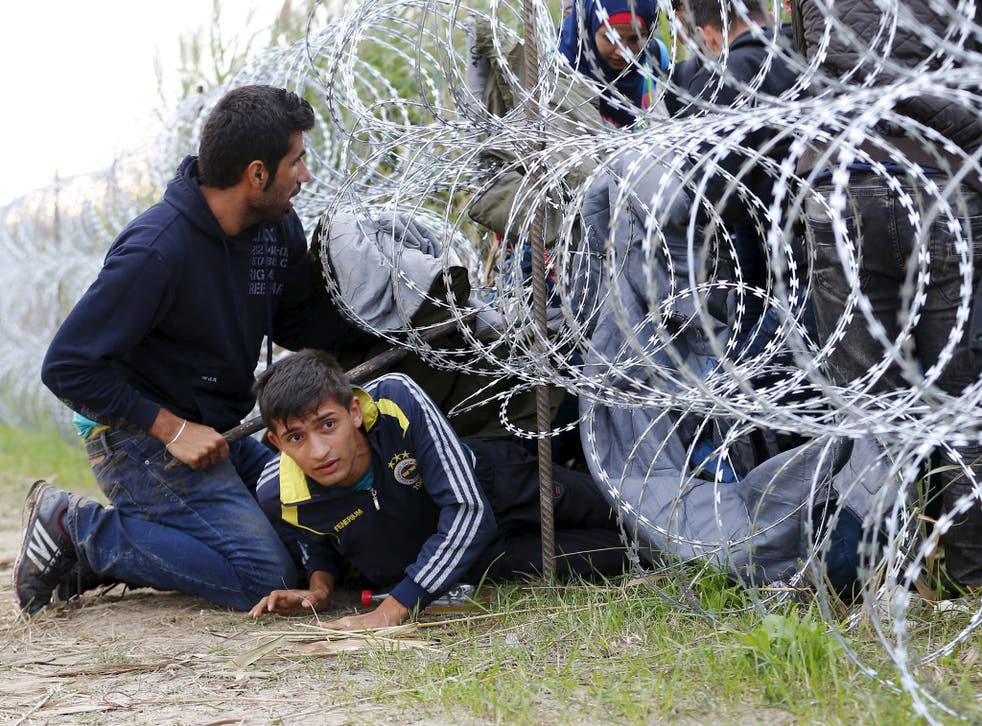 The Hungarian Prime Minister has claimed that the refugee crisis is "not a European problem, but a German problem" as he plans to deploy soldiers along the border.
Speaking in Brussels, the Viktor Orban said: "The problem is not a European problem, the problem is a German problem."
Migrants do not want to remain in countries like Hungary, Poland and Estonia, he claimed, adding: "All of them want to go to Germany."
His comments came as hundreds of refugees boarded trains from Budapest to reach Austria and Germany after being locked out of the capital's main station for two days by police.
More than a thousand men, women and children protested by waving their tickets in the air and chanting "Germany! Germany!" as they were hemmed behind barricades by riot officers. The government claimed it was only enforcing EU immigration laws.
Germany is leading Europe for taking in refugees, particularly from Syria, and expects to welcome 800,000 people this year.
Mr Orban spoke after arriving in Brussels for talks on the continuing crisis, which has seen hundreds of thousands of refugees pass through Hungary after taking a land route through the Balkans to reach Europe.
In pictures: Hundreds of migrants stranded in Budapest

Show all 10
The Prime Minister is presiding over the construction of a 100-mile long fence along Hungary's border with Serbia and is planning to deploy the military in a crackdown on refugees and human smugglers.
He said his parliament is pushing through new measures "that will create a new legal situation at the borders, even more strict than it was".
Asked by The Associated Press whether the military will be deployed at Hungary's borders, he said: "Yes."
In an opinion piece for Germany's Frankfurter Allgemeine newspaper, Mr Orban said his country was being "overrun" with refugees, most of which, he noted, were Muslims.
"That is an important question, because Europe and European culture have Christian roots. Or is it not already and in itself alarming that Europe's Christian culture is barely in a position to uphold Europe's own Christian values?" he asked.
"Only when we have protected our borders can questions be asked about the numbers of people we can take in, or whether there should be quotas."
Separately, Mr Orban claimed that "people in Europe" fear the influx of refugees and that the situation needs to be controlled according to EU law.
"We Hungarians are full of fear, people in Europe are full of fear because they see that the European leaders, among them the prime ministers, are not able to control the situation," he said.
"I came here to inform the president (of the European Parliament, Martin Schulz) that Hungary did everything possible in order to keep the regulations.
"We create just now in the Hungarian parliament a new package of regulations, we set up a physical barrier and all these together can provide a new situation in Hungary and in Europe."
The package of harsher regulations and laws is set to come into effect on 15 September.
Mr Orban's announcement came after a prominent member of his ruling centre-right Fidesz party claimed that the "the very existence of Christian Europe" was under threat.
Antal Rogan, the parliamentary group leader, said: "Would we like our grandchildren to grow up in a United European Caliphate? My answer to that is no."
Distressing photos of a Syrian boy who drowned as his family tried to reach Greece have reignited anger over the European response to the crisis.
David Cameron is under increasing pressure to change Britain's stance after he claimed that "taking more and more refugees" was not the answer.
This newspaper has started a campaign for the UK to welcome a fair share of refugees.
Click here to sign The Independent's petition
Additional reporting by agencies
Join our new commenting forum
Join thought-provoking conversations, follow other Independent readers and see their replies