Refugee crisis: Thousands left stranded with way into Hungary blocked by razor wire
For those gathered in Horgos the prospect of returning to Syria is unthinkable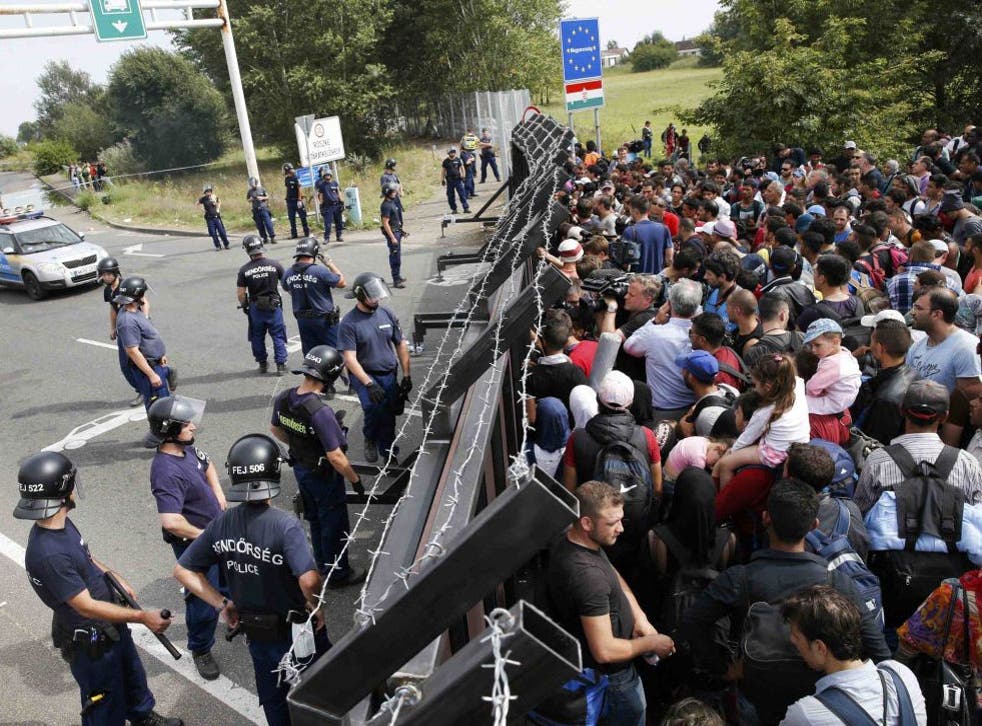 For the less-well informed people arriving to the Serbian border, the day started relatively well. Raffi Halabi, 42, a lift manufacturer from Damascus, accompanied by his two sons and leading a group of eight other refugees, walked up to the old train tracks in the village of Horgos which, until today, was the route most favoured by refugees entering Hungary. "I am the president here," he said. "Everybody listens to what I say!"
When faced with news that waiting for him at the end of the tracks was a 9ft fence adorned with razor wire, he seemed confused. "They blocked it? How do we get to Hungary now?"
Rumours had circulated throughout the morning that groups of people were being granted passage through Hungary at the official border crossing, 3km away and so Mr Halabi and his group marched off down a country lane in that direction, his anger increasing. "Every other country let us through. Greece, Macedonia, Serbia, all are open except Hungary. Why? We are all coming from Syria, all of these guys had money before. The people making problems in Syria are coming from the outside, this is not Islam. I tried living in Lebanon for a year, I thought the war would end but..."
At a former crossing point, empty, forlorn tents littered the tree-lined road. Late on Monday night as Hungarian government spokesman Zoltan Kovacs held a press conference on the other side of the fence sneering about the amount of true refugees and "asylum shoppers" seeking sanctuary in Europe, crowds amassed on the Serbian side, desperate to enter Hungary before a midnight deadline.
Sitting opposite a wire fence, Nasser Mohammed, 29, a sports teacher from Homs, nursed crimson blisters on his hand. His wounds were caused by wheeling his friend Gazi Faisal Hamed, 28, hundreds of miles in a wheelbarrow with a flat wheel in which he now sits, holding a zimmerframe. Mr Mohammed and Mr Hamed met in Istanbul, having travelled from Aleppo where Mr Hamed says his legs were shredded when a bomb dropped on his college.
Mr Hamed needs to go to Germany for urgent medical needs. His friend dreams of Paris or Rome. But his present predicament is the blocked path, yet he remains adamant he will stay.
"We cannot go back, where would we go? I have nothing to return to. I cannot leave my friend behind. We don't want to stay in Hungary, this is just our road."
The six-lane E75 highway, one of the main arteries in the Balkans connecting Serbia and Hungary remained closed as crowds streamed across the tarmac. A row of metal containers further down the fence acted as of Hungary's new "transit zones" where people could claim asylum. Outside, some Pakistani and Bangladeshi men sat on the grass trying to understand the form given to them by Hungarian authorities. Their requests were denied on the grounds that Serbia is deemed a safe third country to claim asylum – a move which could see the majority automatically rejected by Hungary only to be marooned on the Serbian border.

As the midday sun caused many to climb under trucks and into tents on the highway, tempers frayed. Seizing what little power they had, refugees began to conduct rolling protests with crowds ululating, whistling and chanting "Open the door", and the refrain which has become common in all refugee flashpoints in Europe: "Germany, Germany, Merkel, Merkel ". A white banner affixed to the barbed wire read "Europe Shame."
Khaled, 26, a soft spoken Syrian physiotherapist surveyed the scene and wondered out loud whether he might be better off returning to Turkey. "I think the world hates the Syrian people. Every day there is a new obstacle."
However, the prospect of returning to Syria is unthinkable. Khaled says he fled Damascus after police jailed him for 40 days, torturing him with hot irons as punishment for his political activity. The Kanjiza refugee camp on Tuesday morning was completely empty but later in the evening was expected to fill again as Serbian authorities transported a handful of refugees from the highway. At the camp UNCHR spokesperson Melita Sunjic told The Independent: "Right now the situation can be defined as total cluelessness."
The refugee crisis - in pictures

Show all 70
What was true for the aid agencies was true for the refugees yet the explosive spirit of political activism remained as night began to fall.
Most had acquired food and water, but almost everyone still lacked the often missing component: information.
Some Syrian students discussed the possibility of avoiding Hungary altogether. Last year Walid, 2llonto an International Relations MA at a German university but was rejected after Canadian authorities prevented his sister transferring the tuition fees. "There has to be another way. We heard about going through Croatia but we are afraid. People told us there are mafia and thieves there. Individually it's dangerous, but maybe if we are a big group we might be safe." Walid gestures to sleeping bodies below surrounded by stained clothes and detritus, speaking fluent English with a faint British accent.
"To be honest with you, I never thought I would come to Europe like this. We have all the papers, but they close the legal ways for us. They force us to go this way."
Join our new commenting forum
Join thought-provoking conversations, follow other Independent readers and see their replies