Refugee crisis: Welfare cuts and anti-migration policies 'will not stop' asylum seekers coming to Europe - report
New laws might change the countries where refugees end up but they will not stop them arriving, a report found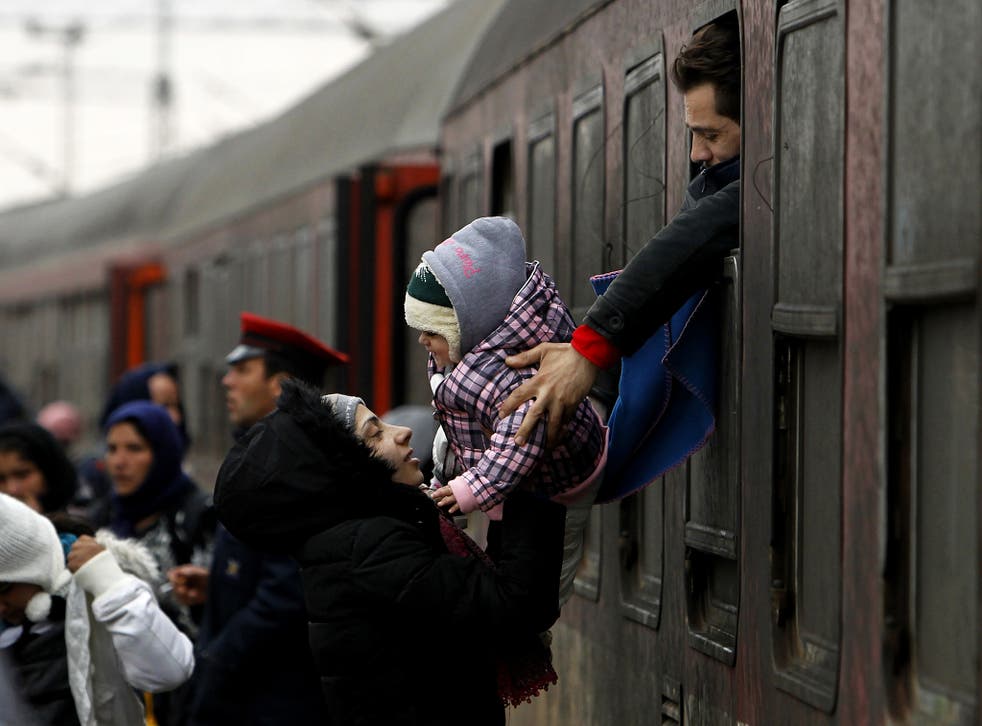 Increasing efforts by European countries to discourage refugees by building fences, cutting benefits, tightening asylum laws and seizing possessions will not work, a report has found.
While so-called "pull factors" are at the centre of the bulk of recent laws implemented in Denmark, Hungary, Switzerland and elsewhere, their effect is grossly overestimated by politicians according to the Overseas Development Institute (ODI).
The UK-based think-tank interviewed more than 50 migrants who have reached Britain, Germany and Spain to examine the reasons behind their journeys and what might have stopped them risking their lives.
Calais refugees share personal stories
Its report, entitled "Journeys to Europe: the role of policy in migrant decision-making", highlighted the case of Abdu, 29, who arrived in the UK in 2015 after a year-long journey from Eritrea, including spending three months in Calais while trying to cross the Channel.
While a recent opinion poll suggested 64 per cent of Londoners thought migrants in Calais choose Britain over France because of its welfare system, Abdu says he is in the UK to work.
"We're not here for our whole life," he said. "No one wants to stay out of his country […] I'm not waiting for benefits, I'm not here for that. I want to help myself."
Jessica Hagen-Zanker, a research fellow at the ODI, told The Independent that the popular perception that migrants choose destination countries with generous welfare systems is misplaced.
"They don't come because they want access to benefits, they come because they want to go to places where they can make a life for themselves, work and send their children to school," she said.
"Many of these people come from countries where conflict has been going on for a long time, where conditions are getting worse, like Eritrea.
"Initially they try to stay close to home, hoping they can return eventually, but in many cases they have to move on because conditions are so difficult."
The British Government is targeting such camps with its resettlement scheme for Syrian refugees, having pledged to resettle 20,000 people from Jordan, Lebanon, Turkey and other neighbouring countries.
But under half of the asylum seekers currently arriving in Europe are Syrian, according to United Nations figures. A fifth are from Afghanistan, a tenth from Iraq and others mainly from Eritrea, Pakistan, Nigeria, Somalia, Gambia, Sudan and Senegal.
Many of those travelling from sub-Saharan Africa face extortion, abuse, kidnapping, rape and starvation in regional refugee camps and countries of transit, including lawless tracts of Libya and Algeria.
The crossing from northern Africa to Italy and Spain has become one of the deadliest in the world, killing 1,100 asylum seekers who drowned on overcrowded smugglers' boats in just one week last year.
The deaths of an estimated 3,771 migrants in the central Mediterranean and Aegean Sea last year caused many European politicians and members of the public to question why refugees would undertake such a perilous journey.
ODI researchers found that the dangers experienced in home countries may seem more concrete than abstract risks posed on the journey to a better life.
"Migrants often feel they don't have any other options and that they are weighing up certain imprisonment or death against possible injury or death," the report said.
When The Independent asked a Syrian mother why she and her family chanced the journey from Turkey to the Greek island of Lesbos in November, she echoed the bleak sentiment, replying: "We die in the war or we die at sea - people are dying either way."
But so strong is belief in the "pull factor" in the EU that it was cited as a reason for stopping British sea search and rescue missions in the House of Lords.
Questioned in October 2014 on what commitment the UK would make, foreign minister Baroness Anelay replied: "We (the Government) do not support planned search and rescue operations in the Mediterranean.
"We believe that they create an unintended 'pull factor', encouraging more migrants to attempt the dangerous sea crossing and thereby leading to more tragic and unnecessary deaths."
Since her comments the UK has started, and stopped, several missions in the Aegean and Mediterranean while ignoring calls to accept migrant quotas assigned by the EU.
Meanwhile, Hungary, Croatia and Macedonia have erected huge border fences to stop refugees passing through, Germany has backtracked on its pledge to welcome Syrians and started seizing asylum seekers' cash and valuables, like Denmark and Switzerland.
Denmark even commissioned an advert to appear in Lebanese newspapers advertising their new anti-refugee policies including restricted family reunification rights, language requirements, detention and forced deportations.
While the policies may affect the eventual destination of refugees, it will not stop them arriving in Europe, the ODI found.
"Policies don't work," Ms Hagen-Zanker said. "It won't stop people from coming but can shift migration flows from one country to the next.
"We saw that last year with Hungary when they put up their fence - it kept migrants out of their country but they just diverted around it and kept going. That's not sustainable.
"This is a regional crisis. Migration is going to happen and we can't wait for the flows to just stop."
Refugee crisis - in pictures

Show all 27
The think-tank is urging the EU to take co-ordinated action to invest in a quicker, more effective and consistent asylum seeker, while expanding humanitarian visas, search and rescue and legal migration channels to minimise the "appalling humanitarian and economic consequences" of the current situation.
The ODI also recommends that nations make the most of migration by capitalising on its positive impact by investing in economic integration and other programmes as current levels of immigration continue.
Peter Sutherland, the UN Special Representative on Migration, said the evidence gathered should act as a "wake-up call" to governments that they need to change course for both moral and economic reasons.
"We should all be humbled by the dignity of those people who, having suffered so profoundly, are turning to Europe with hopes of improving the lot of their families," he added.
"To reject them so harshly undermines our common humanity and harkens back to far darker times in Europe that we thought had long ago passed."
Join our new commenting forum
Join thought-provoking conversations, follow other Independent readers and see their replies