The refugee crisis is actually having 'sizable' economic benefits in European countries, EU says
Britain is missing out on the economic boost, however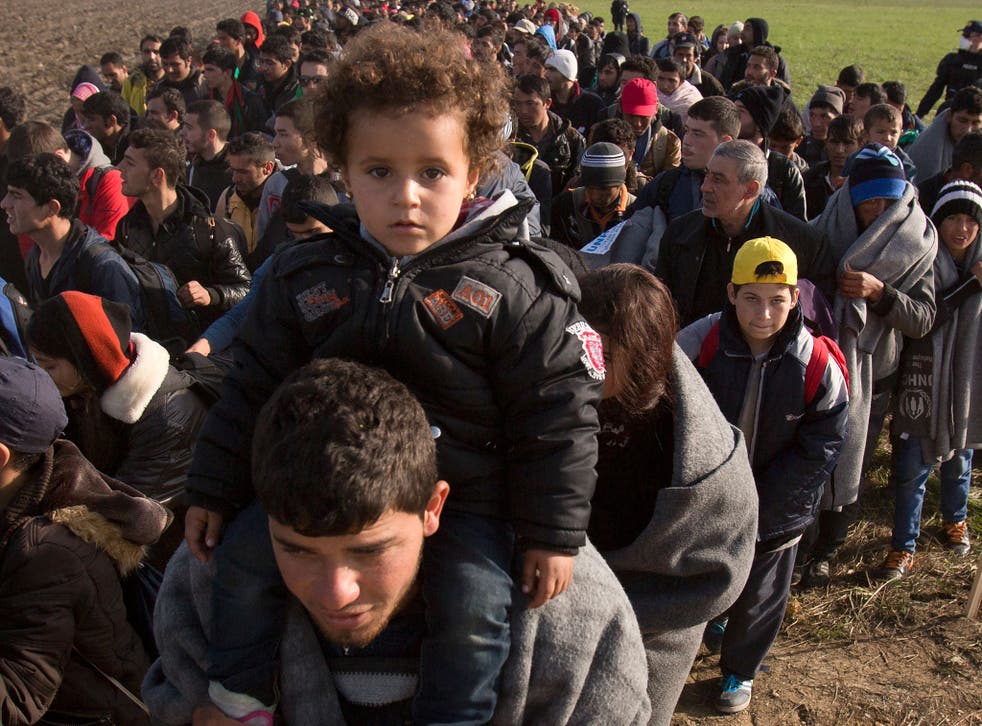 The refugee crisis is actually having a "sizeable" positive economic impact on some EU countries, European Commission figures suggest.
Economists at the EU's executive agency say the large influx of people to the bloc from Syria and other conflict zones is likely having a positive effect on growth, employment rates, and long-term public finances in the most affected countries.
The Commission's autumn economic forecasts 2015 calculate that the expected three million refugee arrivals by the end of 2016 will produce increases in annual GDP growth ranging from 0.2 to 0.5 per cent in EU countries affected by the crisis.
But Britain's limited contribution for 4,000 refugees a year means it is unlikely to benefit.
So-called "transit" countries like Hungary and Slovenia – where refugees are moving through – will see small growth gains because of the stimulus effect of increased state spending.
Others, like Sweden and Germany where the highest proportion refugees are settling, will likely benefit the most.
"For the EU as a whole, the growth impact is small, but it can be more sizeable in some Member States," the Commission states.
"For the most affected transit countries, the currently-estimated effect on the headline balance amounts to a maximum of 0.2 per cent of GDP in 2015, broadly stabilising in 2016.
"For destination countries, the impact amounts to a maximum of 0.2 per cent of GDP in 2015, with a small further increase in some countries in 2016.
"In Sweden, which has among the highest share of refugees as a percentage of the population in the EU, the impact on the headline balance is expected to be closer to 0.5 per cent of GDP this year."
Refugee crisis - in pictures

Show all 27
0.5 per cent is broadly equivalent to gaining a quarter's moderate GDP growth in a developed EU economy.
As well as a GDP boost due to increased government activity, host countries are likely to see lower budget deficits in the long term because of migrants' contributions, meaning more spare cash will be available to spend on public services.
"In the medium to long run, budgetary positions can improve [due to refugee influxes]. Research indicates that non EU migrants typically receive less in individual benefits than they contribute in taxes and social contributions," the Commission says.
The expected influx is also likely to "translate into additional employment, once refugees with a sufficient degree of skills enter the labour market and participate in economic activity.
The Commission however warned that while overall wage effects could be positive from the influx, some lower paid workers could lose out in the short term due to competition.
The findings by the Commission concur with an earlier study by Oxford Economics that found a positive effect on growth was likely in Germany – which is set to take around a million refugees this year.
The rate of people arriving in Europe increased part-way through this year, with most coming from conflict zones like Syria through the Western Balkans and the Central and Eastern Mediterranean Sea, according to the EU's border agency Frontex.
Ministers are refusing to disclose how many migrants the UK has actually taken so far out of its 4,000 annual commitment, saying it would be wrong to give a "running commentary". Figures will be released quarterly according to the Government's own schedule.
"Since 2011, we have taken more than 5,000 Syrian refugees and asylum seekers. And last week, the Prime Minister announced that we will resettle 20,000 Syrians in need of protection over the course of this Parliament. I can tell the House that plans to welcome those refugees are progressing at pace," the Home Secretary Theresa May said in September.
Join our new commenting forum
Join thought-provoking conversations, follow other Independent readers and see their replies