Children and pregnant women among up to 146 refugees drowned as boat sinks off Libyan coast
2017 on course to be deadliest ever year in Mediterranean as death toll nears 1,000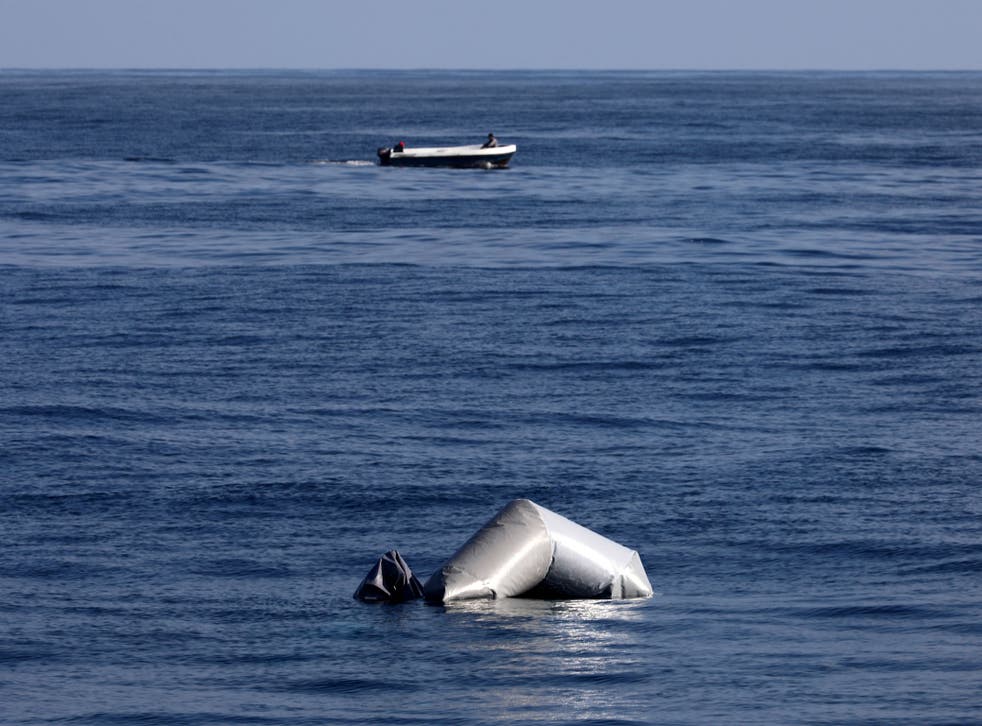 Up to 146 people have died in the latest refugee boat sinking in the Mediterranean Sea as efforts to stop the treacherous crossings flounder.
A 16-year-old boy believed to be the sole survivor of the disaster told rescuers at least five children and several pregnant women were among those who drowned off the coast of Libya.
He told the UN Refugee Agency (UNHCR) the packed dinghy was launched from the smuggling hub of Sabratha on Monday but started sinking after hours at sea.
"As the rubber dinghy started to take water he fell into the sea and grabbed a fuel tank," spokesperson Federico Fossi told The Independent.
Babies among more than 1,300 refugees rescued in one day
"After that he remained unconscious until he woke up on board a Spanish rescue ship."
The teenager, from Gambia, left Libya alone after six months in the war-torn country, where migrants are killed, imprisoned, tortured, extorted and forced into labour or prostitution for profit.
After being rescued by a ship operating under the EU's Operation Sophia, he was taken to safety on the Italian island of Lampedusa.
Now recovering from dehydration, aid workers said he was hoping to call his father to tell him he survived the journey.
Relatives of the other 146 people who were packed on the boat are unlikely to hear of their fate, with some refugees resorting to writing phone numbers on life jackets so their bodies can be identified.
As the political will to save thousands of refugees who continue risking their lives in efforts to reach Europe wanes, the UNHCR said rescues must remain a "key priority" for international authority and commended the work of the Italian coastguard and Frontex.
"This latest tragedy comes as a stark reminder of the vital importance of robust search and rescue capacities," said Volker Türk, UNHCR's Assistant High Commissioner for Protection.
"The recent increase of sea arrivals to Italy and the lower quality of vessels used by traffickers, including flimsy inflatable rafts that often do not last throughout the journey, make these rescue operations more needed than ever before."
More than a quarter of rescues carried out in the Central Mediterranean last year were by non-governmental organisations – twice the proportion of the previous year.
Among them is the Spanish charity Proactiva Open Arms, which announced the possible death of at least 240 refugees and migrants after finding two capsized dinghies off the coast of Libya last week.
More than 950 migrants have died attempting to cross the Mediterranean so far this year, according to UN figures, with the unprecedented rate of disasters expected to surpass 2016's record death toll of 5,022.
A report by the Italian coastguard found the use of rubber boats with more passengers packed on board, with no satellite phones and launched at night in bad conditions was increasing the probability of shipwrecks.
Deadly changes in tactics' by smugglers, who previously used large wooden fishing vessels and cargo ships, were partly blamed on EU policies by research released late last year.
When adopting the New York Declaration for Refugees and Migrants in September, UN member states committed to intensifying international cooperation on the strengthening of search and rescue mechanisms, but discussions have increasingly focused on stopping "irregular migration" and smuggling.
In pictures: A day of refugee rescues in the Mediterranean Sea

Show all 7
Italy's parliament was praised for giving final approval to a law boosting support and protection for record numbers of unaccompanied children arriving in the country on Wednesday.
But Rome has been criticised for leading efforts to increase cooperation with Libya's fragile government to reduce refugee crossings, despite allegations of widespread abuse in the country's detention camps.
A deal struck with the Government of National Accord in Tripoli was suspended by a Libyan court last week in a fresh blow for European efforts to hand over responsibility.
The vast majority boat disasters occur on the treacherous crossing between the North African nation and Italy, where numbers have increased since the EU-Turkey deal slowed shorter and comparatively safer voyages over the Aegean Sea to a trickle.
The agreement and border closures across Europe have resulted in around 62,000 asylum seekers being trapped in Greece, where a Syrian man was found hanged at a port on Monday.
Migrants have also crossed by land and sea to Spain, and a fishing boat carrying 91 Syrian refugees, including 42 children, landed in Cyprus on Wednesday.
More than 28,000 asylum seekers have reached Europe by sea this year – more than 23,000 to Italy and 4,000 to Greece – with the vast majority coming from Syria, Afghanistan, Nigeria, Iraq and sub-Saharan African nations.
Join our new commenting forum
Join thought-provoking conversations, follow other Independent readers and see their replies