Release of jailed activist gives Putin a new protest problem
Alexei Navalny warns of more action in the face of huge fines for demonstrators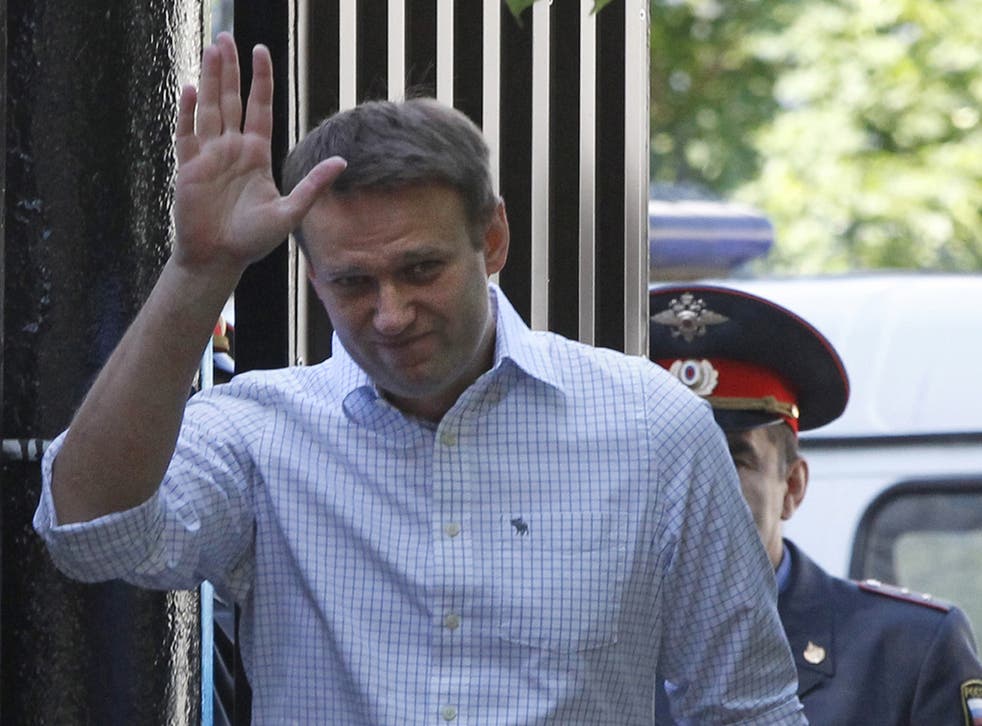 Alexei Navalny emerged into the bright Moscow sunshine yesterday morning to shouts of "Well done!" and "We will win!" as supporters cheered the release of the leader of the recent anti-Kremlin protests.
Mr Navalny was handed a 15-day jail sentence for disobeying police orders after being arrested at a huge protest in central Moscow the day before Vladimir Putin's inauguration for a new term as President. His release comes as the Kremlin looks to introduce a new law that could see protesters fined several thousand pounds merely for turning up to anti-Putin rallies.
"You can't frighten us with iron beds and porridge," said Mr Navalny, shortly after leaving the detention facility. "If it means I have to come back here another two times, or another 22 times, I'm absolutely ready for that."
He said he had already become used to life in jail after two 15-day stints in the past six months.
A charismatic blogger who has tirelessly exposed corruption among the ruling elite, Mr Navalny was little known outside narrow internet circles six months ago. But due to a combination of his own political nous, and the best efforts of the authorities to turn him into a martyr by repeatedly arresting him, Mr Navalny has emerged as the leader of the protest movement. His calm but forceful oratory, brave anti-corruption investigations, and strident nationalism all combine to make him the only person in the motley opposition forces who has a chance of genuine popular support.
The next protest rallies could occur in a very different legal context, however, as parliament considers a law that would introduce fines of up to £30,000 for taking part in an illegal protest. The Duma, which is dominated by Putin loyalists, is likely to pass the bill, and although the top fine may be reduced to £6,000, this could still see people who are unable to pay having their homes seized.
Mikhail Fedotov, the Kremlin's own Human Rights Ombudsman, has criticised the law, but Mr Putin has already given tacit support. "We must protect people from extreme radical manifestations," said the President this week.
"It's a hysterical reaction by the authorities to what happened on 6 May," said Ilya Ponomarev, an opposition-minded MP from the Just Russia party. That protest ended with hundreds of arrests and several riot police injured.
"The authorities already have perfectly good means to punish people as it is – there are strict punishments for violence against police officers, for hooliganism, and for anyone behaving violently. This is simply a tactic to scare people into not attending protests at all." He said the law would have the opposite effect than intended, and would further radicalise protesters.
Since his return to the Kremlin, Mr Putin has made few concessions to his opponents. Instead, his spokesman has said that protesters who injure police officers should have their "livers smeared on the asphalt".
Moscow is rapidly becoming a split city, with one section of the capital's residents turning out in their thousands for protest rallies, and another warning against provoking instability.
The Russian Orthodox Church has weighed in on the side of the government, cautioning that the protest movement plays into the hands of foreign enemies of Russia, a theme that Mr Putin has repeatedly touched upon. Mr Navalny called on Russians to attend the next major protest, planned for 12 June, and also announced that he was planning a nationwide day of protest for the autumn.
As he addressed about 100 waiting supporters, an officer ordered the crowd to disperse. At one point, a cordon of police began to move in on Mr Navalny and it looked as if he might be re-arrested just minutes after walking free. Instead, however, he got into a waiting car with his wife and sped off, saving his next fight for another day.
This article previously stated that Mr Navalny was handed a 15-year, as opposed to 15-day, jail sentence. The error was noted and has since been amended.
Join our new commenting forum
Join thought-provoking conversations, follow other Independent readers and see their replies