Rome's Colosseum sees more conflict over government restoration plan attacked for being like something from 'Las Vegas'
Thumbs down from experts who say hundreds of other sites are being neglected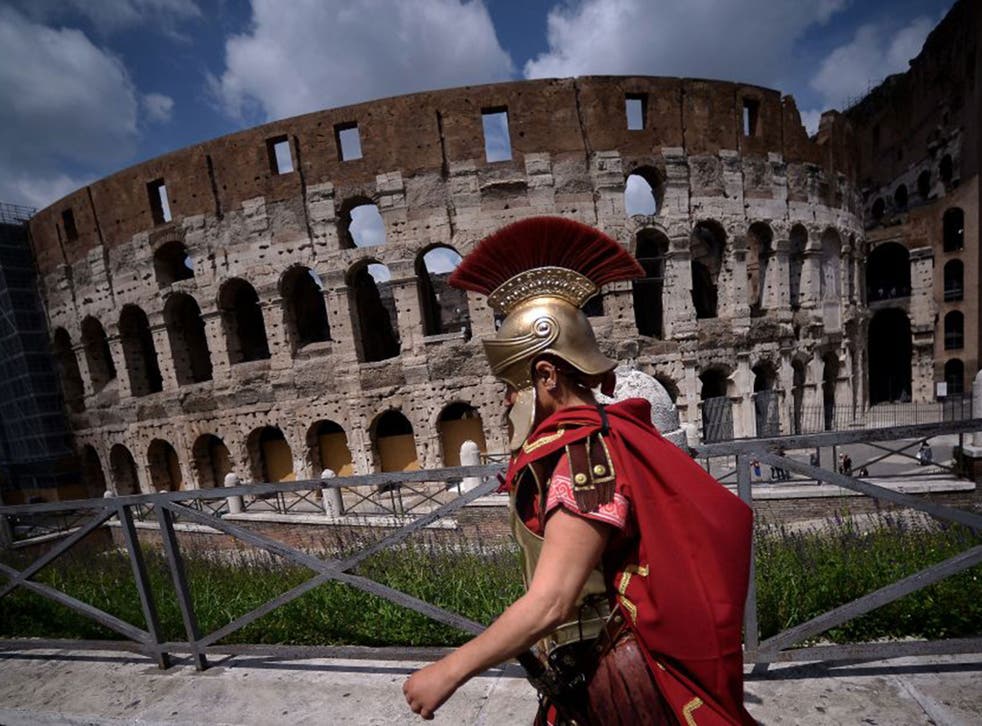 Bloodthirsty gladiatorial clashes may not be returning to the Colosseum any time soon but an Italian government proposal to restore the ancient amphitheatre's arena has provoked plenty of fury this week.
Culture minister Dario Franceschini has been accused of seeking to turn the historic site into a gigantic theme park by one prominent academic, after the government said it intends to spend €18.5m (£13m) to rebuild the arena where gladiators fought before thousands of fans 2,000 years ago. Another critic said plans to use it for concerts would turn it into a kind of "Las Vegas".
Mr Franceschini said the funds were not simply for maintenance or restoration but to finance Italian cultural sites that have the greatest tourism potential. But, he said, "the Colosseum will not become Las Vegas".
He insisted that the calibre of events to be held at the Colosseum would prevent its cultural descent but acknowledged there was "a debate among archaeologists. Some are in favour and some are against. That's right; it's natural.
"There'll be no football matches or rock concerts at the Colosseum, only events of the highest quality, such as the tragedies of Seneca or a ballet performance with Roberto Bolle. There will be no gladiators. That would be 'folkloric'," he said.
The Colosseum was completed AD80 and is the largest Roman amphitheatre ever built. Over the centuries it has weathered earthquakes, invasions and layers of pollution to become Italy's best-known tourist attraction, with close to six million visitors a year.
Little remains of its wooden floor, once covered by blood-soaked sand. Instead, today's visitors can look down into a labyrinth of tunnels where gladiators and wild animals once awaited their grim fate below the surface or visit a small area of the cells where elaborate sets were kept.
Mr Franceschini insisted the tourism potential of Italy's most popular attraction will improve with his plans.
Top 10 destinations in the world, rated by TripAdvisor

Show all 10
"You will have a new perspective from the centre of the arena," he said. "And when the works are finished, we will think of using this space in a different way."
That aspect of the plan is what has drawn the ire of archeologists and other experts.
"Today it is fashionable to speak of 'edutainment'," said Tomaso Montanari, an art professor from the University of Naples Federico II.
"In Italy that does not combine knowledge and pleasure but produces entertainment of the lowest form that transforms the past into a gigantic [theme park].
"I want a culture minister who never talks about the Colosseum but does something for the 200 historic churches that have been shut for 30 years, right in the centre of Naples."
Alessandro Pintucci, head of the Italian Confederation of Archaeologists, representing 300 experts, said there was a long list of cultural sites under threat across Italy that needed critical funding. "They are spending almost €20m [£14m] on one project," he said.
Mr Pintucci cited the Mausoleum of Emperor Augustus and Villa Gordiani in Rome, which was home to three emperors, as well as the ancient Greek temple of Kaulon and the ruins of Heraion near Paestum in Campania in southern Italy as sites needing critical assistance.
Commentator Francesco Merlo disputed the minister's reference to "concerts of the highest cultural quality" smacked of "Las Vegas".
"It is not a restoration, but a makeover, a set design," he wrote in La Repubblica. "It's the symbol Franceschini wants to leave Rome because, as the mythical Gracchus said in Ridley Scott's Gladiator, 'the beating heart of Rome is not the marble of the Senate, it's the sand of the Colosseum'."
The restoration is expected to take up to four years.
Register for free to continue reading
Registration is a free and easy way to support our truly independent journalism
By registering, you will also enjoy limited access to Premium articles, exclusive newsletters, commenting, and virtual events with our leading journalists
Already have an account? sign in
Register for free to continue reading
Registration is a free and easy way to support our truly independent journalism
By registering, you will also enjoy limited access to Premium articles, exclusive newsletters, commenting, and virtual events with our leading journalists
Already have an account? sign in
Join our new commenting forum
Join thought-provoking conversations, follow other Independent readers and see their replies