Ukraine crisis: Russia is a regional power – but US is most powerful nation in the world, Obama warns Putin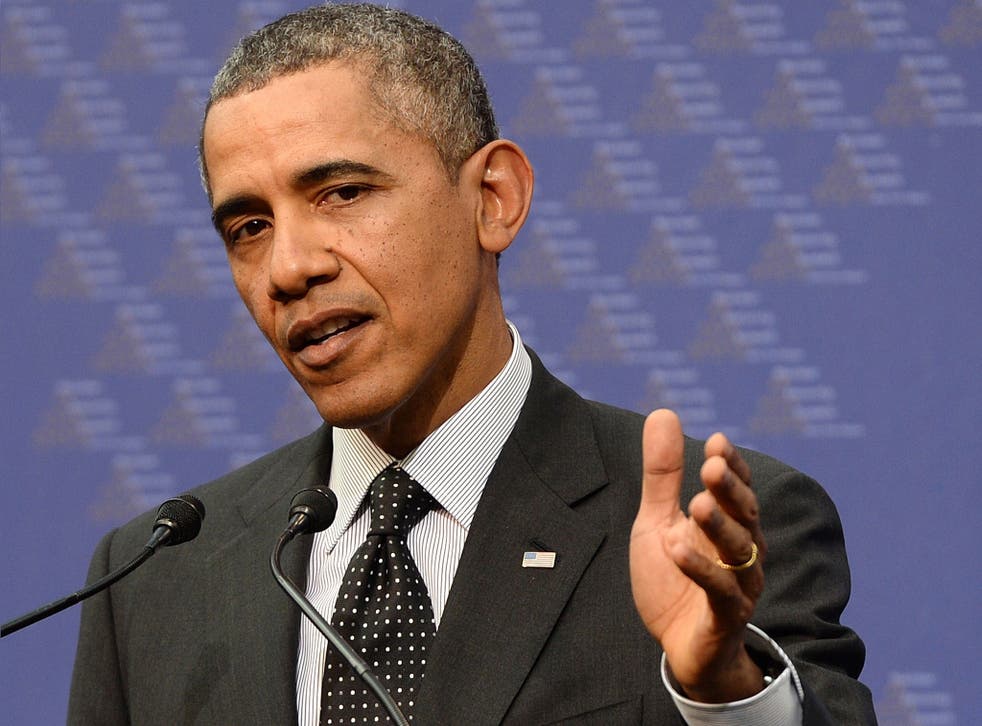 The US President, Barack Obama, has issued a warning to Russia's Vladimir Putin to keep his troops out of Ukraine or face even tougher sanctions, calling Russia a "regional power" which would struggle to compete with America's global influence.
So far, Washington and the European Union (EU) have responded to President Putin's annexation of Crimea this month with sanctions on dozens of individuals, most of them directly linked to Mr Putin's actions in Crimea after his ally Viktor Yanukovych was ousted by protesters in Kiev.
Those diplomatic moves have so far had little effect in Moscow, and Western leaders have faced criticism that they are not being tough enough in the face of a more muscular Russia.
Mr Obama appeared to meet such criticism by making clear that the US is "the most powerful nation in the world" and one that other countries looked to in order to take the lead on global crises such as the conflict in Syria. Asked at a nuclear-security conference in The Hague whether Russia was now Washington's top geopolitical foe, he replied: "America's got a whole lot of challenges." But Russia, he added, "is a regional power that is threatening some of its immediate neighbours, not out of strength but out of weakness. We [the US] have considerable influence on our neighbours. We generally don't need to invade them in order to have a strong co-operative relationship with them."
In pictures: Ukraine crisis

Show all 12
Both Washington and the EU have recently intensified their warnings that they will not hesitate to impose tougher and broader economic sanctions if Russia does not de-escalate the crisis in Ukraine or makes any attempt to move its troops beyond Crimea and into eastern or western Ukraine.
The Nato Secretary General, Anders Fogh Rasmussen, said he was " very much concerned" about a build-up of Russian troops along Ukraine's borders. Mr Obama said that Russia "has a right legally to have troops on its own soil" but warned against any further action.
"We also are concerned about further encroachment by Russia into Ukraine," Mr Obama said. "I think that will be a bad choice for President Putin to make."
If the situation deteriorated, Mr Obama said the US would be ready and willing to impose sanctions on sectors including energy, arms, financial services and trade, even if there would be an impact on the rest of the world. Europe has close economic ties to Russia, and its punitive measures against Russia have been tempered by caution over potential knock-on effects of sanctions.
Mr Obama stressed that any sanctions "will have the greatest impact on Russia", a sentiment echoed by the Dutch Prime Minister, Mark Rutte, who was hosting the nuclear-security summit.
"Obviously, you can never guarantee that the people in Europe, in Canada, in the US, would not be hurt," Mr Rutte said. "But obviously, we will make sure that we will design these sanctions in such a way that they will have maximum impact on the Russian economy and not on the European, the Canadian, the Japanese or the American economy."
On Monday, the leaders of the US, the UK, France, Italy, Germany, Japan and Canada suspended Russia from the G8 group of nations and cancelled a meeting of the group in the Russian city of Sochi in June. They will instead meet as G7 in Brussels.
While the Russian Foreign Minister, Sergei Lavrov, was initially dismissive of the move, the Kremlin said it was keen to maintain diplomatic contacts. "The Russian side continues to be ready to have such contacts at all levels, including the top level," Mr Putin's spokesman, Dmitry Peskov, told Interfax news agency.
Join our new commenting forum
Join thought-provoking conversations, follow other Independent readers and see their replies