Russia election 2018: On the road with Vladimir Putin's weird, non-existent presidential campaign
With the election already sewn up, the Russian leader and his team are going through the motions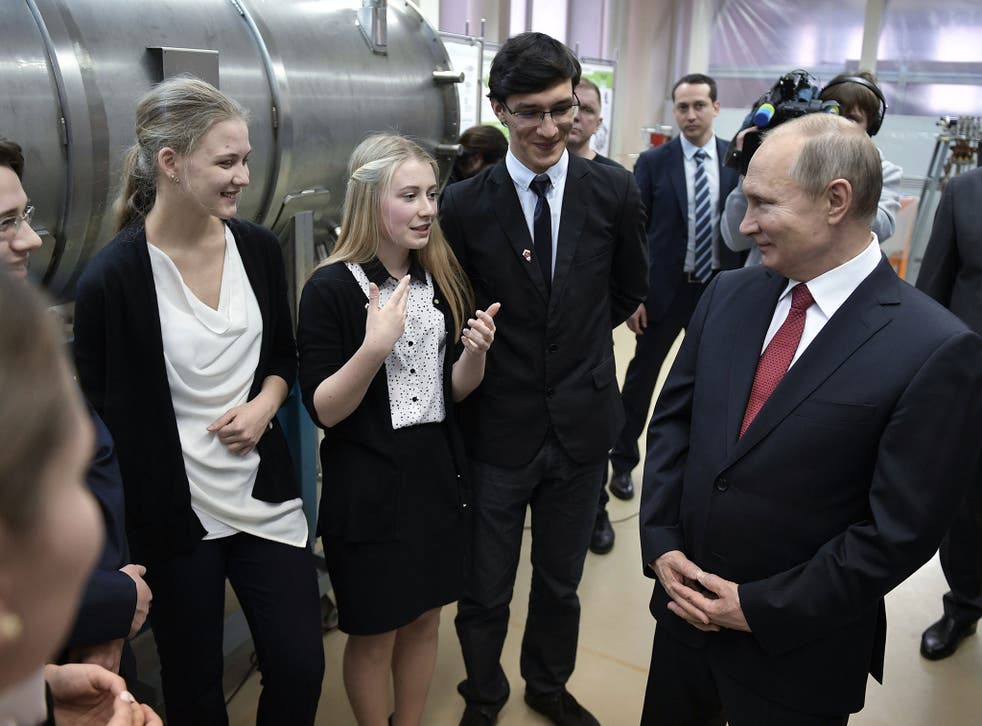 By the second day of Vladimir Putin's pre-election tour of Siberia, the rituals had become familiar.
In Novosibirsk, as in Krasnoyarsk the day earlier, roads were manicured ahead of the visit. Protesters, including a lone scientist with a banner, were moved away. And the media was kept at arm's length throughout – no more than witnesses to the early, though hardly premature, victory laps.
This is a strange campaign. First, there is no campaigning. With the field of political competition cleared long ago, Mr Putin and his team appear content to muddle through with minimum effort. Second, there is no clarity. Few know what the campaign message is, let alone what its programme will be. The President will be presidential, is about all we can grasp.
While the Siberian visits offered glimpses of Mr Putin's characteristic sharpness, he also frequently seemed tired, uninterested, and he bumbled his words.
Mr Putin stuck to the modes he liked best. He took pictures with sports teams. He lectured large, silent audiences as the CEO of Russia Inc. He asked questions of his subordinates, and he solved their problems.
On Thursday, he travelled to Novosibirsk's Akademgorodok, or Science City, the original Soviet Silicon Valley, to fix Russian science. Why, after all, was Russian ingenuity unable to match Elon Musk?
Research wages of 1,000-1,500 roubles (£12-£18) a month? "We'll fix those strange salaries". Better healthcare? "We agree, the government is working on it." An extension to the university? "Give me costings, stages, timings." A new Synchrotron Radiation Centre? "Synch-ro-tron De-ve-lop-ment Centre," he mumbled, taking notes. (Radiation centre, corrected the scientists). What generation of Synchrotron? "Why, the next generation, of course."
Russia would solve the problems in the sector with "megascience", declared Mr Putin: "If we want to be leaders, we must create our own research infrastructure."
The scientists expressed confidence they could do this. The controversial 2013 reforms, which subordinated the Russian Academy of Sciences to a new federal agency, were working, they agreed – reversing previous opposition to the changes. In private, and on social media, some of their colleagues remained critical, suggesting that a lack of resources and bureaucratisation of science made further brain-drain inevitable. Akademgorodok, which is celebrating its 60-year anniversary this year, was once a magnet for youth and the future. Now, with few young families ready to sacrifice comfortable living for science, it is increasingly the reserve of retired, or near-retired scientists.
Vladimir Putin's campaign faces similar, generational problems. How do you encapsulate youth after 18 years in charge? How can you project the future without meeting Russia's tangible desire for change?
The Kremlin has chosen to fudge. According to Valery Solovei, a professor at the Moscow State Institute for International Relations, the most Mr Putin will offer the electorate is technocratic reforms. Economic reform will be limited to labour productivity. There will be some legal reform too, says Mr Solovei, but not a new legal order to allow mavericks like Elon Musk to flourish. Instead, the aim is to deliver guilty verdicts quicker.
"They aren't thinking about changing anything," the independent political observer Konstantin Gaaze told The Independent. "They can't see things outside of the bubble, and far as they are concerned, they are doing great."
Vladimir Putin's Photo ops – Russia's Man of Steel?

Show all 20
The Kremlin certainly appears to be happy with the way the election campaign has panned out. Mr Putin is, unquestionably, the only serious candidate of the eight running.
Those who refused to play by the rules, like the persistent critic Alexei Navalny, have already been barred from taking part. Many of those still in the game have obvious qualities – but often, from the point of view of the electorate, comedic.
There is Grigory Yavlinsky, a once-serious economist who, by the time of his fourth presidential election, has become a figure of fun. The fellow political dinosaur Vladimir Zhirinovsky, who styles himself as Trump before Trump. Kseniya Sobchak, a celebrity journalist with a scandalous past, has an anti-rating of 80 per cent. Boris Titov, a candidate from business, has said he is not interested in winning. Pavel Grudinin, the surprise ticket for the Communist Party, is a multi-millionaire collective farm manager – and loyal Kremlin media have wasted no effort in reminding voters of that contradiction.
Judging by the scale and regularity of the negative press, however, people have taken a liking to Mr Grudinin's straight-shooting style. Secret polling has him as high as 15 per cent, says Mr Solovei, who also acts as an advisor in the Titov campaign. Official polling cuts that figure in half, but that might even suit the communists. "The party hierarchy is very worried that they might lose privileges if their candidate does too well, so they have asked him to rein things in a bit," says Mr Solovei.
Essentially, the only voter who counts in this election is Mr Putin, and everyone is tailoring their campaign to him.
"Sobchak in particular has been trying to tell the President that she can be part of the system too, that she's a serious politician," says Mr Gaaze. "She's showing she should be considered in the future, that she can turn down the liberalism, and she's been quite convincing so far."
Ms Sobchak would be far from the only political player jockeying for position ahead of the next political cycle. Much of the Russian elite is in a Machiavellian mood, with the assumption that Mr Putin will not serve the full six-year term.
There was little that The Independent saw in the controlled, low-energy Siberian tour that challenged such an assessment.
Join our new commenting forum
Join thought-provoking conversations, follow other Independent readers and see their replies