Russia to 'expand mobile nuclear missile patrols' near European borders to respond to Nato 'threats' in 2017
Commander says Russia will 'continue to develop' its armed forces and nuclear capabilities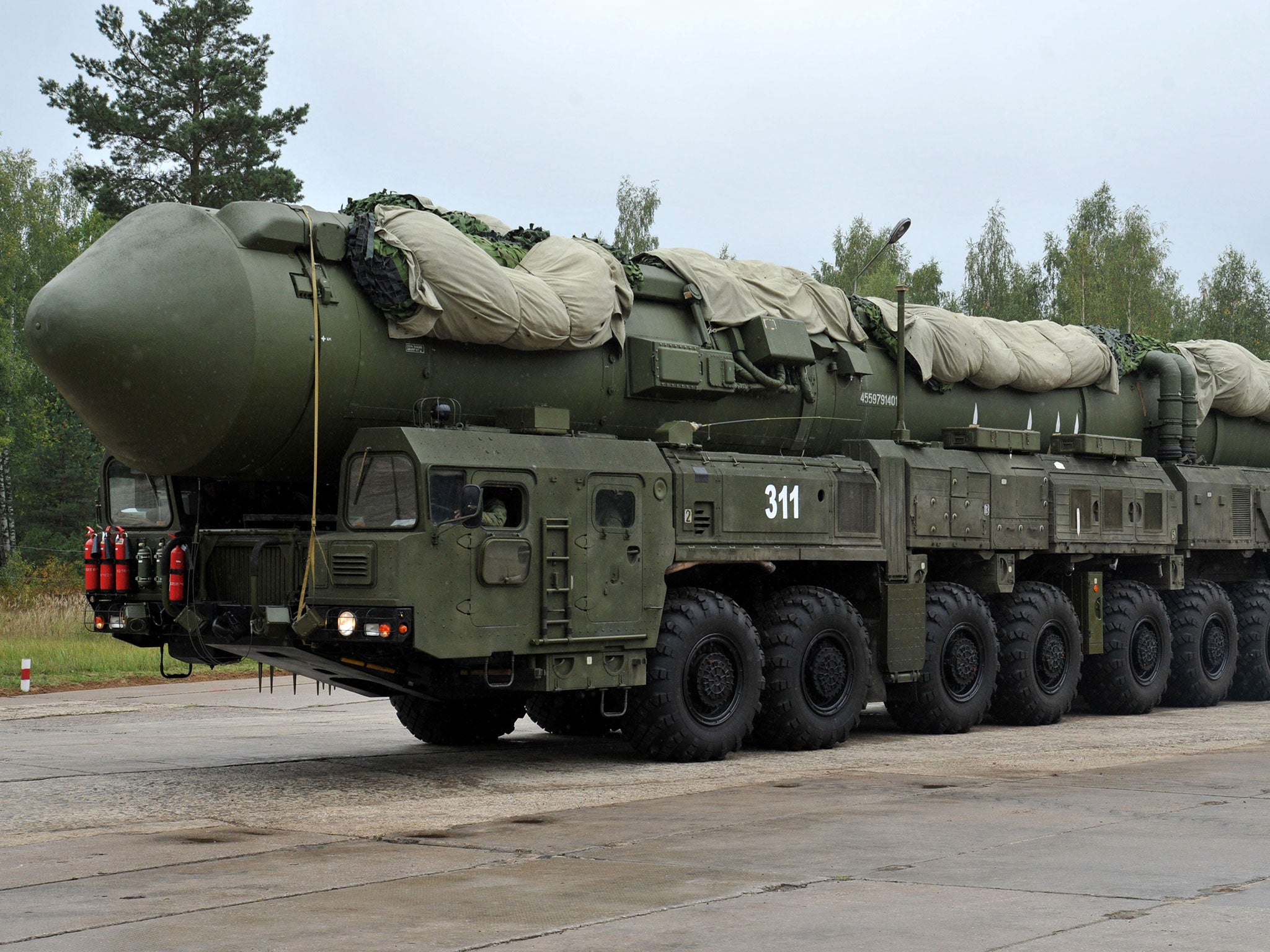 Russia will expand nuclear missile patrols near its borders with Europe as it develops its military to respond to increasing "threats" in 2017, senior commanders have announced.
Gen Valery Gerasimov, the Chief of General Staff and the deputy defence minister, told foreign military attaches Russia would "pay particular attention to keeping our strategic nuclear forces at a level that would ensure the containment of aggression against Russia and its allies, meeting the parameters under the treaty on strategic offensive arms".
He said Russia would continue increasing the capacity of its aerospace defence system and push ahead with expansion in the Arctic, according to a translation by the state-owned Russia Today website.
Gen Gerasimov said the government views "expanded presence of Nato's forces near the Russian border" as a challenge to Russian security and would "adequately respond to emerging security threats", including others from North Korea, Afghanistan and instability in the Middle East and North Africa.
Russian warships move through English Channel under Royal Navy watch
Another senior commander announced that Russia is planning to expand mobile missile patrols near its borders with Europe in 2017.
Col Gen Sergei Karakaev, commander of Russia's strategic missile forces, said pontoon technology meant portable nuclear weapons could "overcome practically any water obstacle" to move to new areas, according to a translation by the BBC.
He claimed the missiles had a "global reach and enormous destructive power", adding: "In the current geopolitical situation, the Strategic Nuclear Forces are the guarantor of the security of the Russian Federation and its allies, as well as the independence of its foreign and domestic policy."
Both Russia and Nato have launched high-profile military manoeuvres near the country's border with European nations in recent months amid high tensions over the Ukrainian war and annexation of Crimea.
Nato launched its largest military exercise in Poland since the Cold War earlier this year, while Russia deployed nuclear-capable Iskander missiles two months ago in Kaliningrad, which borders Poland and Lithuania.
Vladimir Putin said the move was necessary to combat Nato "threats".
"We are concerned by Nato decision making," the Russian President said.
"We have, therefore, to take countermeasures, which means to target with our missile systems the facilities that in our opinion start posing a threat to us."
In pictures: Ukraine crisis
Show all 12
Meanwhile, the chief of Russia's General Staff has described claims Russian military manoeuvres also pose a threat as "groundless".
Ahead of planned talks between the two parties on Monday, Nato's Secretary-General said "military and non-military means of aggression" were challenging the military alliance and the EU.
Jens Stoltenberg said the two blocs were increasing cooperation on cyber attacks, maritime defence and military exercises.
Hailing the upcoming Nato-Russia Council meeting, he added: "When tensions run high as today it is even more important to have a direct dialogue with Russia."
Nato suspended cooperation with the Kremlin over the annexation of Crimea in 2014 and has published satellite images appearing to show the presence of Russian troops and weapons in eastern Ukraine.
Hacked emails seen by the BBC also appear to show Vladislav Surkov, one of Mr Putin's closest aides, drawing up budgets for pro-Russian "republics" in eastern Ukraine, as well as a plan for Moscow to provide fuel for the separatists during shortages.
The Kremlin has repeatedly denied formenting or supporting separatist rebels, who shot down a Malaysia Airlines plane using a missile system supplied from Russia, killing all 298 people on board.
Germany and France have led efforts to implement a peace deal agreed in Minsk but there has been no end to the conflict between Ukrainian forces and pro-Russian separatists, which has killed more than 10,000 people since it erupted in 2014.
EU leaders have decided to extend economic sanctions against Russia over the ongoing Ukrainian conflict until mid-2017, with some wanting a longer timespan over fears Donald Trump would ease pressure on Moscow.
Angela Merkel, the German Chancellor, said the extension was agreed "based on the current situation" rather than attempts to "anticipate what the new American President might do."
It is the latest round of EU and US sanctions to be imposed on Russia over the war, targeting the defence, energy and financial sectors.
Join our commenting forum
Join thought-provoking conversations, follow other Independent readers and see their replies