Russian opposition candidate Ksenia Sobchak says she won't go after Putin: 'He saved my father's life, I'm not going to insult him'
At first press conference, journalist and celebrity says she intends to 'make this election a reality show'
Oliver Carroll
Moscow
Tuesday 24 October 2017 16:31 Comments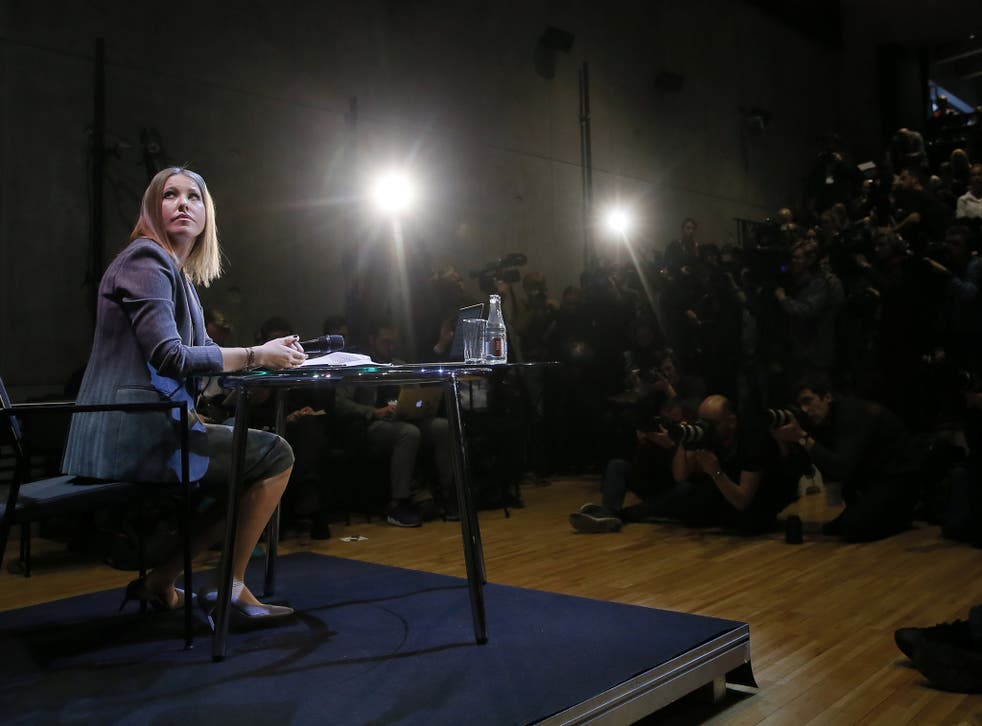 Socialite journalist Ksenia Sobchak began the first press conference of her unexpected presidential run in apologetic mood, as a frantic first few days of campaigning culminated in chaotic scenes at a packed Moscow theatre. "I'm not a politician yet, but I can talk loudly," she said.
Ms Sobchak, in the end, was true to her promise. Presenting a largely liberal agenda, she called for the release of political prisoners in Russia, including of her friend, the theatre director Kirill Serebrennikov. She criticised the legitimacy of elections. And she delivered an unambiguous take on the legality of Russia's 2014 annexation of Crimea: "From the point of view of international law, Crimea is Ukrainian, full stop."
In other countries that statement may appear matter of fact – mundane even – but by contemporary Russian standards it was headline-making. It was not, apparently, a position agreed with advisers. Some in the hall wondered if such a statement was consistent with Russian law, which criminalises calls to separatism.
Ksenia Sobchak: Russian presidential election news conference

Show all 6
It is unlikely that there will be any significant repercussions. Authorities have already indicated that they are at least tolerating Ms Sobchak's campaign. Some have suggested the relationship is closer.
In Ms Sobchak's version of events, she informed President Putin of her intention to ballot but did not seek his permission. As the daughter of Anatoly Sobchak, former St Petersburg mayor and Vladimir Putin's mentor, Ms Sobchak has a long family history with the President.
So far, Mr Putin has made no public objection to her candidacy. The same is not true of the campaign run by the other protest candidate, Alexei Navalny. His presidential run has been repeatedly frustrated from the outset, and is almost certain to receive a formal rejection in December.
During the press conference Ms Sobchak was visibly irritated by attacks on her campaign's independence. "Do you have proof of links?" she said. "No. So I don't see any reason to comment further."
Participation in Russia's "kind-of elections" was not an endorsement of the process, she said. Ms Sobchak was standing as the protest candidate: "The elections would not be made any less illegitimate by withdrawing from them".
"You might make fun of me, of my past, but it is my intention to make this election a reality show, and to create new rules of the game," she said.
And for now, the new rules do not include personal criticism of the president. Mr Putin was mentioned only once unprompted throughout the entire press conference. Ms Sobchak instead aimed her fire against the "older generation" of politicians in general.
When challenged by a local journalist to criticise the President, Ms Sobchak said would not engage in "personal insults": "For a few people, Putin is a tyrant and a dictator. For others he is a strong leader. For me, Putin is someone who in very difficult circumstances helped my father, saved his life even. I'm not going to insult him."
Legend has it that in 1997, Mr Putin, by then a Kremlin official, put on a special operation to secretly evacuate his former boss from St Petersburg to Paris. At the time, Mr Sobchak was in very poor heath, and subject to criminal investigations.
Ms Sobchak said her debt to Mr Putin would not stop her criticising his politics. Repeating earlier promises, Ms Sobchak said she would step aside and pool resources for Mr Navalny were he somehow allowed to run.
That idea was immediately contradicted by Ms Sobchak's new campaign chief, Igor Malashenko, only 30 minutes into his new job. A veteran of Russian politics and TV, Mr Malashenko served under Gorbachev and was one of the producers of Boris Yeltsin's famously dirty 1996 re-election campaign. But he was a man with his own opinion: Ms Sobchak and Mr Navalny were standing on completely different platforms, he argued.
Ms Sobchak unveiled several other experienced faces in her new team. The campaign will be co-organised by consultant Alexei Sitnikov, one-time adviser to former Ukrainian Prime Minister Yulia Tymoshenko. Vitaly Shklyarov, a consultant on the Bernie Sanders campaign, will coordinate the internet campaign. Well-respected economist Vladislav Inozemtsev will create a new Sobchak economic plan.
But by their own admission, the new team will need some time to gel. "You are at the start of the campaign," Mr Malashenko said. "You're going to see many talking heads and lots of disagreement."
Register for free to continue reading
Registration is a free and easy way to support our truly independent journalism
By registering, you will also enjoy limited access to Premium articles, exclusive newsletters, commenting, and virtual events with our leading journalists
Already have an account? sign in
Join our new commenting forum
Join thought-provoking conversations, follow other Independent readers and see their replies