Russian military jets and US destroyer clash in Black Sea 'posing danger to stability'
Moscow accuses American warship of 'acting aggressively'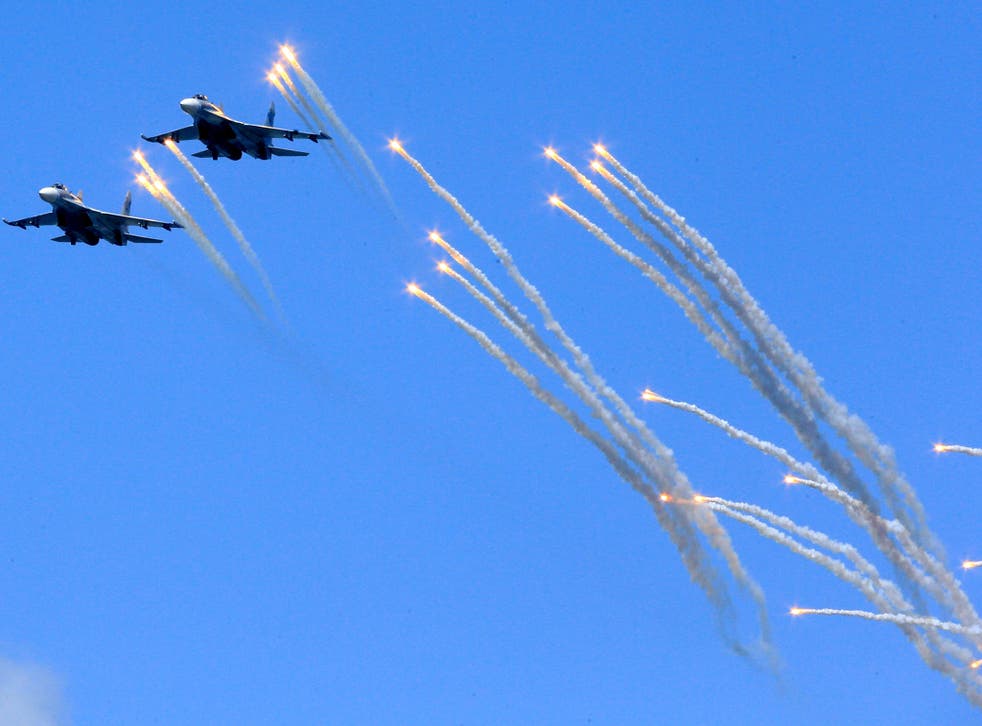 Russia has scrambled military jets in response to an American navy destroyer which, it has been reported in Russian media, was acting "aggressively" in the Black Sea.
The Russian defence minister, speaking at a security summit in Singapore, said US missile ships operating near Moscow's territorial waters "pose a danger to strategic stability" between the two countries.
State news service RIA Novosti quoted a military source as saying the USS Ross was sighted heading straight for Russian waters after leaving the Romanian port of Costanta on Saturday.
"The crew of the ship acted provocatively and aggressively, which concerned the operators of monitoring stations and ships of the Black Sea Fleet," RIA reported.
Which countries have nuclear weapons?

Show all 14
"Scrambled Su-24 attack aircraft demonstrated a readiness to forcibly prevent border violations and defend the interests of the country," the source was quoted as saying.
In a statement, the Pentagon's spokeswoman Eileen Lainez confirmed the incident but said that the USS Ross had been "well within international waters at all times, performing routine operations".
"The US Navy operates routinely in the Black Sea, in accordance with international law," Lainez said, adding that the ship's deployment to the region had been publicly announced.
Sputnik News, Russia's state service for international news, quoted a military source as suggesting the US ship had turned away following the incident, and boasting: "It seems that the Americans did not forget the April 2014 incident when one Su-24 actually shut down all equipment on the new USS Donald Cook American destroyer with anti-missile system elements."
The clash is the latest example of military encounters between Russia and Western militaries, as tensions continue over the Ukraine crisis.
Earlier in May, both Britain and Sweden said they had scrambled fighters to intercept Russian bombers near their territory. Last month, the US said it was filing a complaint to Russia over a "sloppy" and unsafe interception of a US reconnaissance plane in international airspace over the Baltic Sea.
Join our new commenting forum
Join thought-provoking conversations, follow other Independent readers and see their replies