Russian plane crash: Sinai jet 'slowed suddenly before plunging at 300mph', new data show
Newly-decoded flight data from the Metrojet Airbus 321 point to it breaking up in mid-air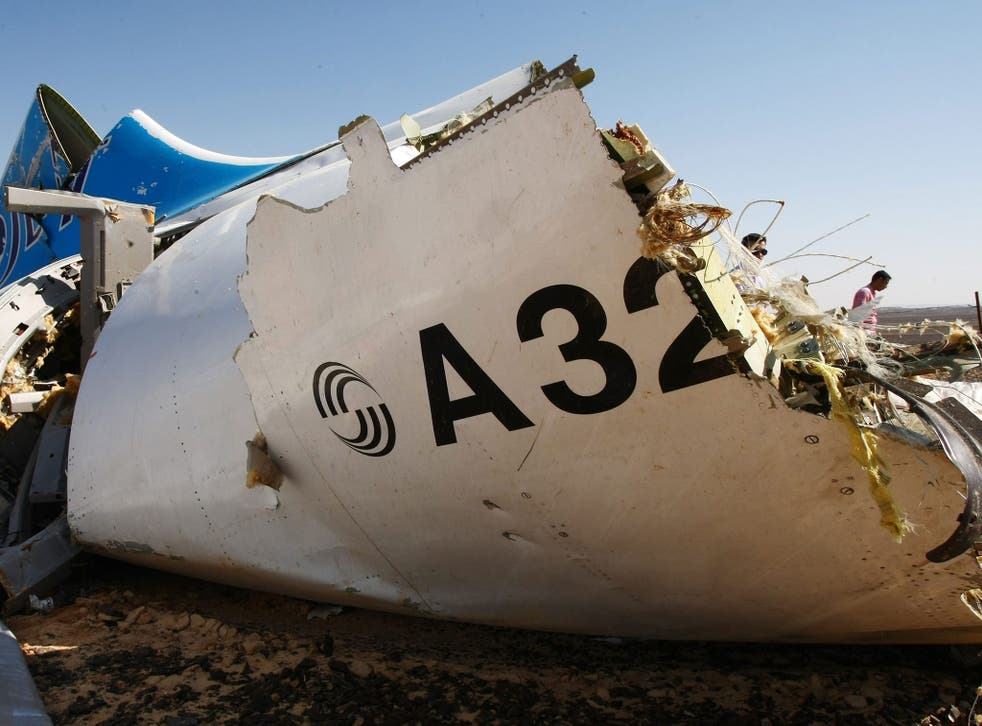 The Russian jet which crashed in Sinai on Saturday reached 31,000ft before abruptly slowing down and then plummeting towards the ground at 300mph, new data reveal.
Revised figures from flight-tracking website FlightRadar24 offer new insight into the final 26 seconds of the Metrojet Airbus 321's journey, and add to mounting evidence suggesting it broke up at high altitude.
The data are consistent with a sudden, catastrophic incident effectively stopping the plane in its tracks – but still cannot tell us whether mechanical error, a bomb on board or an external impact was the cause.
According to the final information sent out by the plane's transponders, the plane reached its target cruising altitude then, at 6.13am local time, its groundspeed suddenly dropped.
After that moment the plane starts to drop, first gradually and then increasingly quickly as forward speed slows. Over the next 26 seconds, its direction of travel appears to waver before, at 26,000ft, the transponder data cuts out.
The new readings, posted to FlightRadar24's website, point strongly to a plane that is shaking as it breaks up at altitude. The figures have been passed to the Russian and Egyptian authorities.
Egypt: FIRST SHOTS of the crashed Russian plane in Sinai
Describing the final 26 seconds of transmissions, FlightRadar24 spokesman Ian Petchenik told Bloomberg: "We see a change in the data. But we have no information about the cause of that change."
On Monday night, US officials said an American spy satellite had spotted a large "heat flash" emanating from the location of the plane at the time, but the lack of a heat trail from the ground suggested a ground-to-air missile was not responsible.
Investigation sources in Cairo have been quoted in media reports as saying some bodies from the rear of the plane died of "explosive trauma", sustaining extensive burns and with their skin pierced by pieces of metal.
But in conflicting reports, a Russian source told the Tass news agency that there were "no signs of an explosion impact found during the preliminary examination" of bodies.
And adding further confusion to the mix of reports coming from investigators, Egypt's civil aviation ministry said last night that there were no facts to substantiate Russian claims that the airliner broke up in mid-air.
Russian passenger plane crashes in Egypt

Show all 20
Spokesman Mohamed Rahmi said more would only be learned once teams had analysed the contents of the plane's two "black box" recorders, and that officials were still focussed at the moment on the crash site itself.
On Wednesday morning, a Russian official said families had confirmed the bodies of 33 of the 224 victims of the crash, most of whom were holidaymakers from St Petersburg.
Join our new commenting forum
Join thought-provoking conversations, follow other Independent readers and see their replies