Weather conditions 'excellent' for bombing Syria, says Russian TV presenter
Social media users take to Twitter to brand the comments 'disgusting' and 'horrid'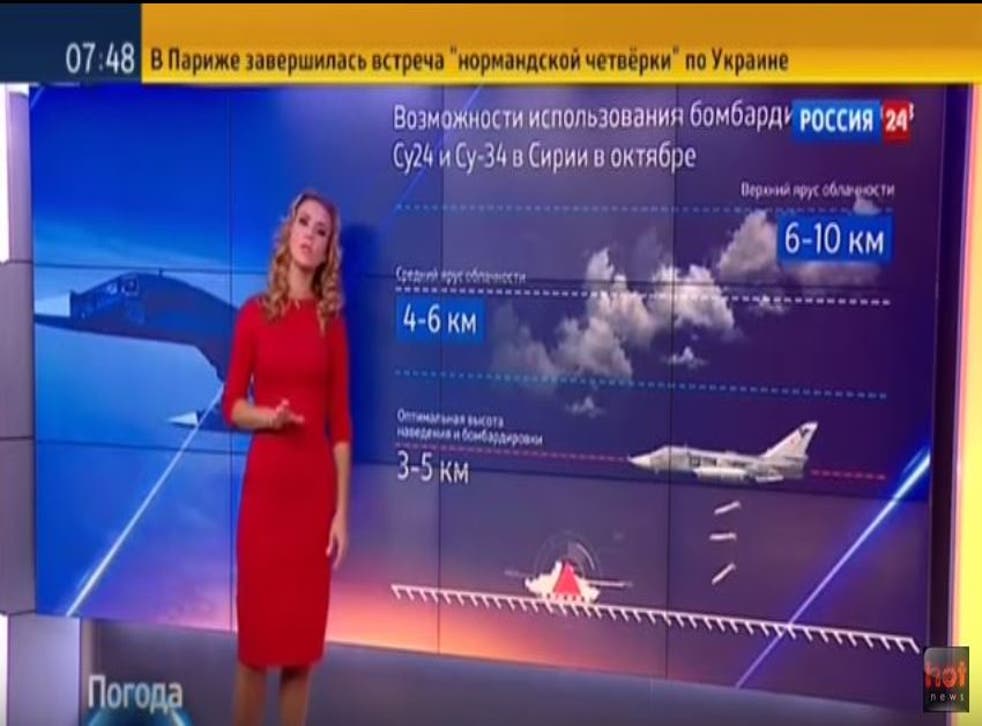 Russia's military operations in Syria became the unexpected focus of a weather report aired on Russian state television, in which the weather forecaster used maps and tables to demonstrate the "excellent weather conditions for air strikes" in Syria.
"From a meteorological perspective, the time chosen for the start of the operation was very fortunate," the weather forecaster said on state-owned news channel Rossiya 24. "[The climate] in October in Syria will very advantageous for pilots", she said, noting that wind speed is low, rain will fall approximately once every ten days, and temperatures seldom rise to over 35 Celsius, at which point it becomes difficult to conduct airstrikes.
The report included aerial footage of a Russian airstrike in Syria last week, which the weathercaster claimed was "the successful bombing of large bases and commanding facilities, where the fighters coordinate a number of their attacks". However, Russia's airstrikes have concerned Western leaders following reports that the offensives are principally targeting forces in opposition to Bashar al-Assad's Army, rather than on Isis.
Watch the complete report here:
Featuring graphics of Russian Sukhoi Su-27 fighters currently operational inside Syria, the weather forecast showed the expected bomb trajectories of the jets in light of predicted cloud density in coming weeks.
"Such weather conditions are ideal for the fighters to fulfill their tasks," the reporter said, adding that such good visibility at the start of October is "very rare".
Only the occurrence of strong sand storms could seriously hinder Russian airstrikes in Syria, the presenter told cameras, noting that they are rare in October and that "even US forces have faced problems with sand storms in the Arabian Gulf".
Rossiya 24 aired a similar weather report about east Ukraine's Debaltseve earlier this year, which claimed that while the rest of Ukraine was experiencing normal weather, Debaltseve was suffering from unprecedented snow and fog, and found itself in the area of an active cyclone. The forecast aired at the time of intense fighting between pro-Russia separatists and Ukrainian troops in the region.
As the report came to international attention, people took to Twitter to criticise the comments:
Join our new commenting forum
Join thought-provoking conversations, follow other Independent readers and see their replies