Salah Abdeslam: 11 things we know about fugitive of Paris attacks
Police raids across Europe have not uncovered the 26-year-old fugitive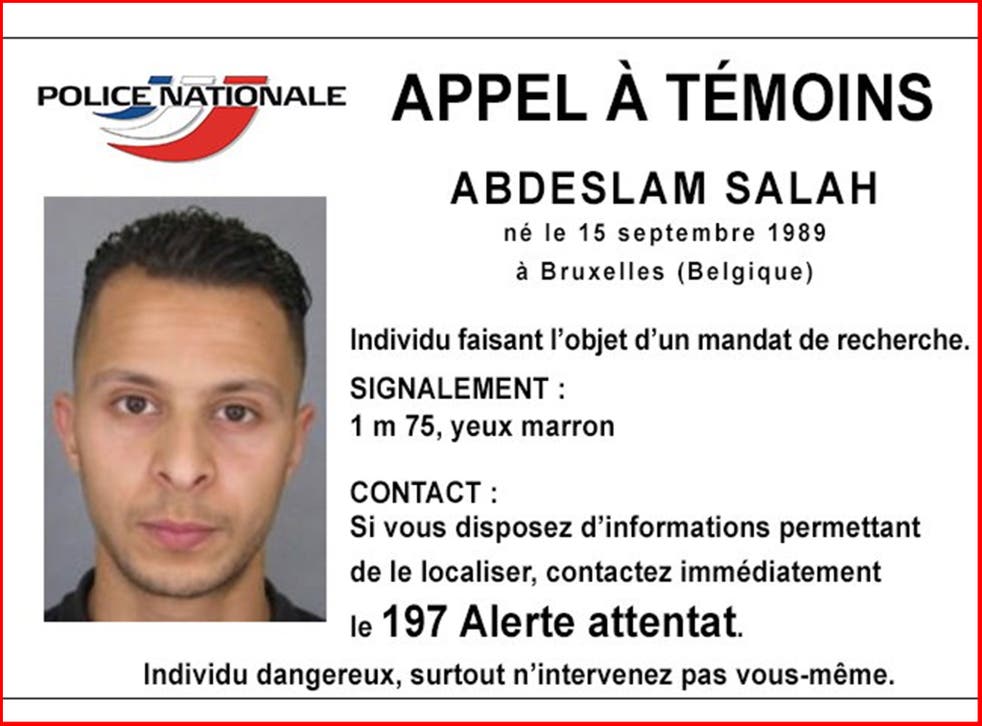 The most wanted man in Europe, Salah Abdeslam, is still at large after the latest wave of police raids in Belgium failed to find him.
Here is what we know about the the suspected Paris attacker:
Abdeslam grew up in Molenbeek
A Belgian-born French national, he worked for two years as a railway mechanic and in family businesses including a bar set up by his brother, Brahim.
The pair were known for their hedonistic lifestyle in Les Beguines, where alcohol and cannabis was sold freely before it was shut down because of suspected drug dealing.
Friends described Abdeslam smoking, drinking, partying, gambling and getting through a string of girlfriends until an abrupt change in the past year.
What is it like to live in the most vilified jihadist hotbed in Europe?
He was not always a jihadist
One of Abdeslam's friends from Molenbeek told The Independent he could "never, ever, ever have imagined it could be the same person [he] knew".
Abdel Ben Alal, 27, went to school with Abdeslam and later shared a love of motorbikes and football with him.
"We chatted and talked about school and sports," he said. "I didn't see any sign of hatred in him whatsoever."
But he already had links with would-be extremists
Abdeslam was reportedly childhood friends with Abdelhamid Abaaoud, the Belgian "mastermind" of the Paris attacks and Isis militant who died in a police raid on Wednesday.
Five years ago the pair were jailed for armed robbery and they may have been radicalised during their time in prison.
Abdeslam was questioned after his brother tried to travel to Syria
Brahim, 31, was caught in Turkey earlier this year and police questioned both him and Salah on his return to Belgium.
The older brother was not detained because they had no proof he was attempting to join Isis or had committed any terror offences, the Belgian federal prosecutor's office said.
"We knew they were radicalised, and that they could go to Syria," spokesman Eric Van Der Sypt told Politico.
"But they showed no sign of possible threat. Even if we had signalled them to France, I doubt that we could have stopped them."
The brothers were involved in Paris restaurant massacres
Salah's role is unclear but he was seen in the car that transported his brother and a third man to restaurants and bars in Paris' 10th and 11th arrondissements.
CCTV images suggested he was driving the black Seat, hired in Belgium, that gunmen emerged from to massacre diners on terraces.
Brahim blew himself up on the Boulevard Voltaire but his younger brother did not die.
In pictures: Saint-Denis raid

Show all 33
Abdeslam called two friends to pick him up
Belgians Hamza Attou and Mohammed Amri have admitted picking up their friend from Paris in the early hours of 14 November.
Attou's defence lawyer, Carine Couquelet, told French television Abdeslam had been "extremely agitated", and "perhaps ready to blow himself up".
They were stopped near the Belgian border and had their ID checked but were allowed to continue before the alert was put out for Abdeslam.
His flight did not appear to be planned
The fact Abdeslam called his friends hours after the attacks and is the only confirmed survivor of the group of militants carrying them out has led to speculation he may have failed to complete his "mission".
Two unnamed friends told ABC News they had spoken to him in Skype on Tuesday and learned he was hiding in Brussels, caught between authorities hunting him and local Isis members "watching him", unhappy he had not detonated his suicide vest.
"Nothing [in Abdeslam's movements] answers the description of a pre-planned escape," one French police source told The Independent. "It is possible he panicked or chickened out of killing himself. It is possible that he was disgusted by what he had been involved in or that his explosive suicide belt failed to detonate."
Abdeslam had travelled through Germany and Austria in September
Austria's interior minister said the suspect entered Austria from Germany two months ago.
"Now the question is where did he stay in Austria, and for what purpose," Johanna Mikl-Leitner told ORF. "The investigative work is fully underway."
He was not in a car seen driving towards Germany
Belgium's La Libre newspaper reported that police in Rocourt, near Liège, spotted a "suspicious individual" at around 7.30pm on Sunday that may have been Abdeslam.
The man was reportedly in a BMW three or five series that sped along the E40 motorway towards the German border.
The Belgian federal prosecutor later reported that Abdeslam was not in the car and said the stop was unconnected to the Paris attacks.
Abdeslam's family want him to give himself up
Brother of wanted Paris attack
His brother, Mohamed, was arrested in the aftermath of the attacks but has since been released without charge and is trying to salvage his career in local government.
He told Belgium's RTBF television: "We say to him that we prefer to see him in prison rather than in a graveyard."
He is still at large
A series of raids across Belgium and Europe have targeted Abdeslam with no success.
The latest operations saw 16 people arrested on Sunday but he was not among them, prosecutors confirmed.
Join our new commenting forum
Join thought-provoking conversations, follow other Independent readers and see their replies