Sexual harassment in France: New poster campaign aims to shame and deter public transport sex pests
Spoof Metro maps will title each station as an escalating sexual remark from 'You're sweet' to 'Say something, you filthy bitch' in the wake of a survey which found that 100% of Parisian women had been propositioned or groped on the network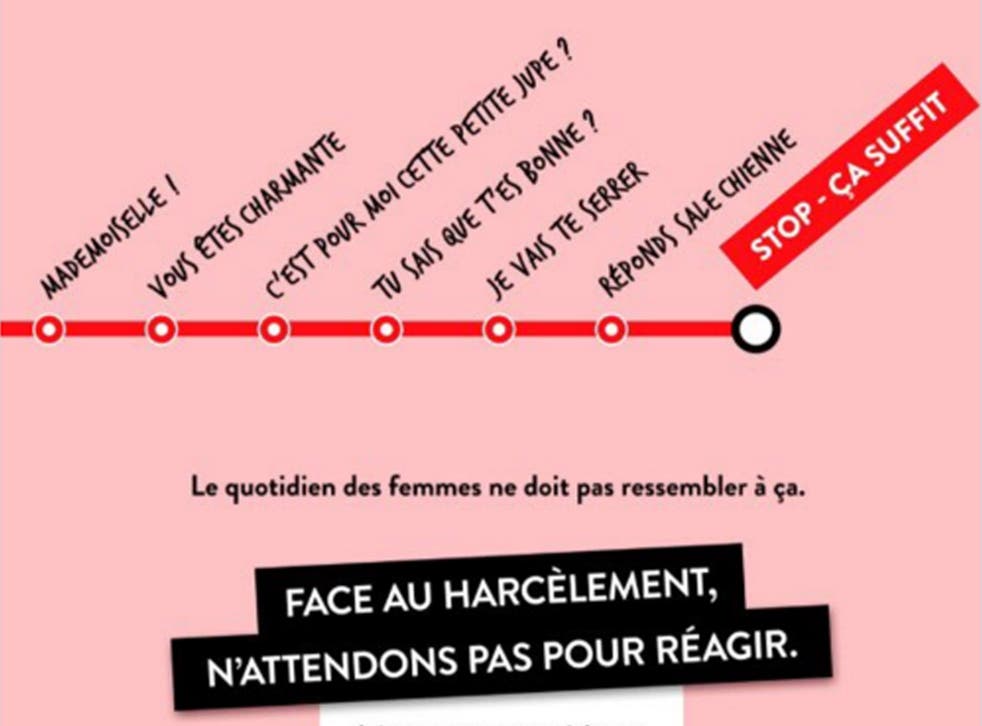 The first stop is "Miss!" followed by "You're sweet"; "Are you wearing that short skirt just for me?"; "You're great, you know"; "I'm going to give you a squeeze"; and "Say something, you filthy bitch".
France has launched a campaign to shame and deter one of the most common scourges of life for French women – the public transport sex pest.
In the wake of a survey which found that 100 per cent of Parisian women had been propositioned or groped on the Metro, an internet and poster campaign will encourage women, or by-standers, to report all cases of sexual harassment on buses and trains.
The poster campaign will take the form of spoof Metro maps in which the title of each station is an escalating sexual remark. The final station is the title of the anti-harrassment campaign: "STOP – THAT'S ENOUGH." The posters and internet ads will remind travellers of the emergency numbers – 17 or 112 – which they can call or text to report sexual harassment. They will also remind sex pests that groping is punishable in France with up to five years in prison and a €75,000 (£53,000) fine.
The campaign has been organised by the French state railways, the state-owned company which runs the Paris Metro and buses, the transport minister, Alain Vidalies, and the minister for women's rights, Pascale Boistard. "The aim is to change behaviour patterns," Ms Boistard said.
In a report to the government in April, the French watchdog for women's rights (Haut conseil à l'égalité entre les femmes et les hommes) said that all women in France had suffered at least one verbal or physical sexual attack on public transport.
The accuracy of the survey has been contested. According to one leak, it was based on a "sample" of only 60 women.
Other evidence suggests, however, that the transport sex pest is more common in France than many other European countries. Aurelia Speziale, from the pressure group Osez le Féminisme! (Dare to be feminist) said: "It's great that the public service takes this so seriously… but you have to wonder how we got to a point where we need such advertising."
World news in pictures

Show all 50
Other spoof Metro maps will show the thoughts of a woman suffering an attack and those of a by-stander who is not sure whether to intervene.
Join our new commenting forum
Join thought-provoking conversations, follow other Independent readers and see their replies