Shamed IMF boss Strauss-Kahn may return as Serbia's financial guru
Balkan state keen to recruit French  politician to aid its ailing economy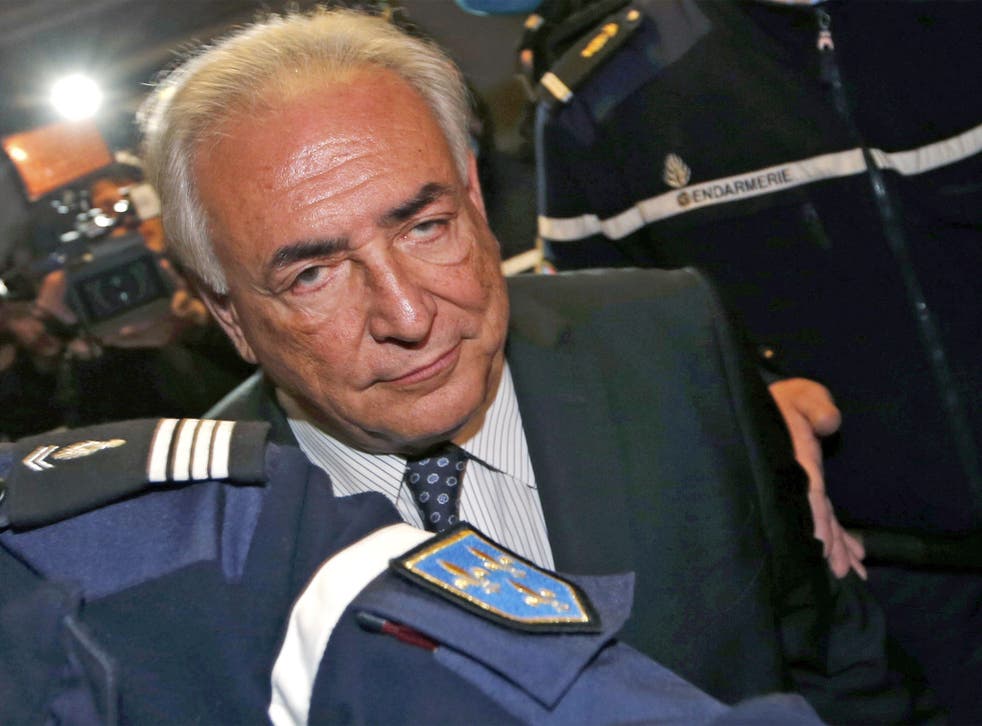 Dominique Strauss-Kahn, whose job as the head of the International Monetary Fund and hopes of the French presidency disappeared in a spectacular storm of sex scandals, is being lined up to return to public life as an economic adviser to Serbia.
Mr Strauss-Kahn was indicted last Friday in France on alleged pimping charges. However, that has not stopped the administration in Belgrade from viewing him as the man with the ideal expertise to help rescue the country's ailing finances.
The Deputy Prime Minister, Aleksandar Vucic, who heads the largest party in parliament and is seen as the most influential figure in the Serbian government, held talks with Mr Strauss-Kahn on the phone today to decide whether the appointment would go ahead, The Independent has learnt.
However, Mr Strauss-Kahn's fees are said to be extremely high and if he does not get the post, Mr Vucic may turn to a British financial adviser; initial approaches have been made, it is believed, to several figures in London.
Mr Strauss-Kahn, however, remains the first choice. A senior political source in Belgrade said "There is no point in pretending that the economy is not in a mess and we need someone with the economic authority and knowledge who can be of assistance and Strauss-Khan fulfils those conditions. We are, of course, aware that there will be some controversy over this because of what has happened in his private life, but we believe that does not have any bearing on the professional role we are seeking from him. Let's not forget the man used to be the director of IMF."
The source acknowledged that Mr Strauss-Kahn suffers from having "baggage" from his private life, but added: "This is Serbia, there are a lot of people here with all kinds of 'baggage' as we know."
On Tuesday evening, the Finance Minister, Mladjan Dinkic, was dismissed leading to talk of the government collapsing. His party, United Regions of Serbia, is a junior partner in the ruling coalition. However, Mr Vucic announced that his Serbian Progressive Party will continue to support the Prime Minister, Ivica Dacic, providing the government with a slim majority.
Mr Vucic has been pressing for fundamental reforms of the economy which is beset by high unemployment and trade deficit and low rate of growth. International investment has grown in recent years because of relatively low salaries, a large pool of skilled labour and the countries' strategic position, but multinationals complain about being hindered by bureaucracy, remnants of a socialist command economy and lack of infrastructure.
Serbia has seen other former Yugoslav states, Slovenia and recently, Croatia, join the European Union, and is currently in process of negotiations with projected entry in 2020.
Mr Strauss-Kahn, a professor of economics, was minister of finance and industry in France and later served as the director of the IMF from 2007 until 2011 when he resigned after being accused of sexually assaulting a hotel maid in New York.
Criminal charges against him over the matter were dropped by US authorities, but other allegations of sexual improprieties followed, the latest chapter being the announcement of his prosecution last week.
Mr Strauss-Kahn has recently attended economic conferences in a number of counties. Unconfirmed reports claim that he may join the board of supervisors of a bank that is a subsidiary of Rosneft, the oil corporation owned by the Russian government.
NO STRANGER TO CONTROVERSY
Dominic Strauss-Kahn, the former French finance minister, is no stranger to controversy. An internal inquiry in 2008 cleared the then head of the IMF after he was accused by a colleague of harassment and abuse of power.
In May 2011 Mr Strauss-Kahn's career was derailed when he was arrested in New York after being accused of rape by a hotel maid. The charges were later dropped due to lack of evidence, but he was forced to pay damages.
Two other cases against him have also been dismissed - one involving female French writer Tristane Banon who claimed Strauss-Kahn raped her in 2003, the other an inquiry into allegations of gang rape at a hotel in Washington.
Although prosecutors in France want to abandon final outstanding legal action against Mr Strauss-Kahn, magistrates last week decided to charge him for pimping in relation to an alleged prostitution ring in Lille.
Join our new commenting forum
Join thought-provoking conversations, follow other Independent readers and see their replies