Sickly Chirac is not fit to stand trial, corruption case judge told
Embezzlement charges could come to nothing after diagnosis of Alzheimer's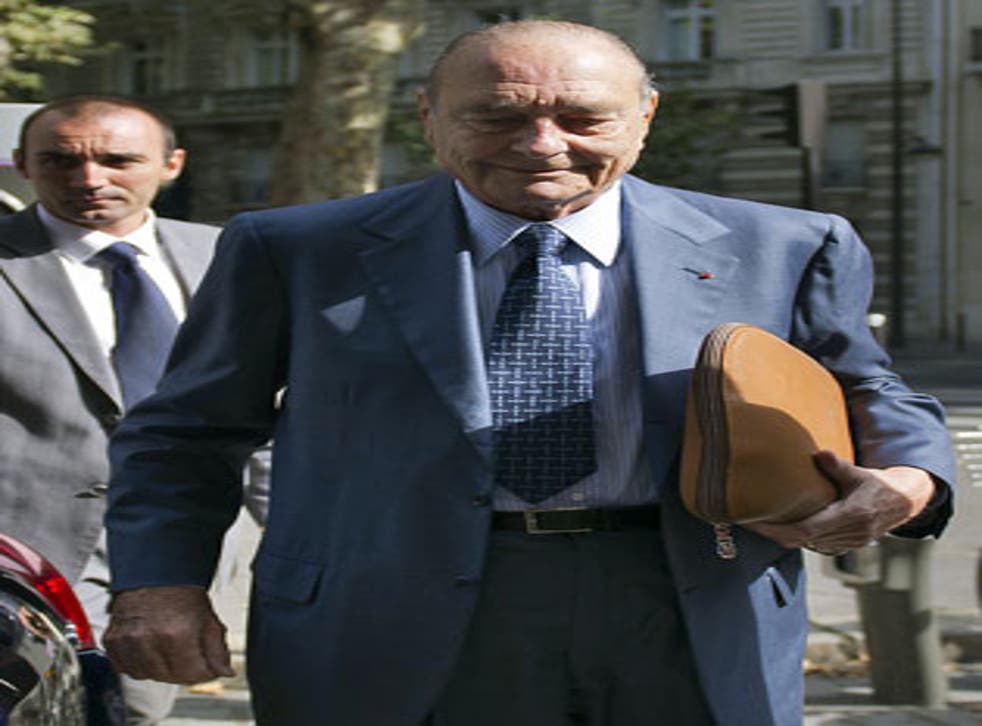 After fourteen years of constitutional delays and rearguard action, a diagnosis of Alzheimer's disease may mean that the trial of Jacques Chirac on corruption charges that is due to start today may never take place.
A judge in Paris will decide this morning whether to proceed with charges against the former President, who has been diagnosed as suffering from an acute form of the debilitating condition.
In a lengthy medical report, sent to the court last week, an eminent French doctor said that Mr Chirac, 78, had a neurological disorder which made it impossible for him to answer questions or to brief his lawyers. At the start of what was supposed to be a three-week trial, Judge Dominique Pauthe must decide today whether the charges against Mr Chirac, misusing taxpayers' money in the 1980s and 1990s to fund his rise to the presidency, should be adjourned indefinitely.
Mr Chirac's family and lawyers, who have fought for years to impede his investigation and delay his trial, now wish to avoid appearing to use a sick note to evade the reckoning of the French justice system. In a letter to the court last week, Mr Chirac's lawyers said that the former President "wanted the trial to go ahead," even if he "no longer had the full capacity to take part in the proceedings".
In other words, Mr Chirac was not asking for the trial – the first of a former French head of state since Marshal Pétain was convicted of treason in 1945 – to be abandoned. He was leaving the decision to Judge Pauthe.
The judge has several options. He could play for time by commissioning an independent medical report on Mr Chirac. He could proceed with the trial of the nine other defendants, former aides and associates of the ex-President when he was Mayor of Paris from 1977 to 1995. He could adjourn the case against the former President sine die. Or he could try Mr Chirac without calling him as a witness.
Legal precedents in France suggest, however, that the trial of Mr Chirac cannot proceed if the judge believes that he is incapable of briefing his defence team.
The medical report sent to the court last week was signed by Professor Olivier Lyon-Caen, head of the neurology department at La Pitié-Salpêtrière hospital in Paris. Professor Lyon-Caen, the most eminent French doctor in his field, said that Mr Chirac was suffering from anosognosia, an acute form of neurological disorder in which the patient is not even aware that he has a disability.
Mr Chirac, who has been behaving erratically in public in the last 12 months, suffered a small stroke while he was still president in 2005. Anosognosia, one of the many forms of Alzheimer's disease, is often brought on by a stroke.
A further delay or indefinite adjournment is unlikely to cause widespread anger in France. Mr Chirac, although very unpopular while President, is now one of the most admired public figures in the country.
The de facto collapse of the trial would, however, infuriate investigating judges and anti-corruption campaigners who have already overcome scores of constitutional and procedural hurdle to bring the case so far.
Mr Chirac is accused of misusing the equivalent of just more than €2m in Parisian taxpayers' money in the 1980s and 1990s to fund his political party, and to give sweeteners to his friends and a ragtag of public figures, including Charles de Gaulle's grandson. It is alleged that 28 people were placed on the town hall payroll who had nothing whatever to do with the city of Paris.
The public prosecution service, allegedly under pressure from President Nicolas Sarkozy, concluded last year that Mr Chirac had no case to answer. The charges were pursued at the insistence of two investigating magistrates.
Anti-corruption campaigners say that the charges, though relatively trivial in themselves, are just one corner of web of illegal party financing organised by Mr Chirac and his aides. If convicted, the former President would nominally face prison but in practise would receive a suspended jail sentence and fine.
Join our new commenting forum
Join thought-provoking conversations, follow other Independent readers and see their replies