David Cameron is only half right about Afghanistan and Nigeria being the 'most corrupt countries in the world'
Prime Minister made the comments ahead of a major corruption conference being hosted in London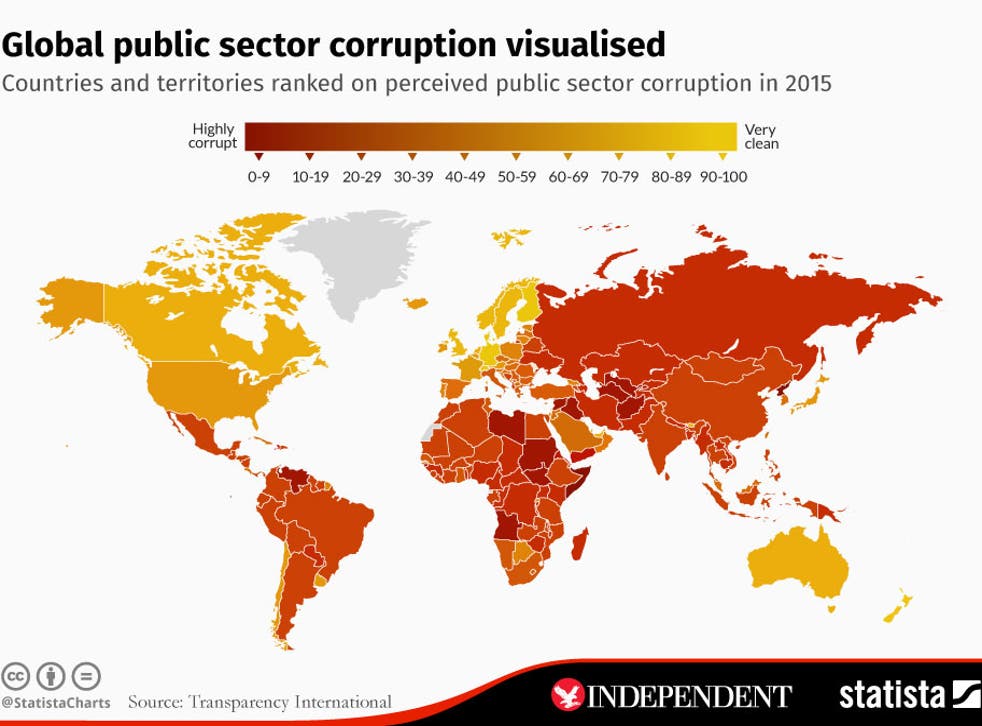 Prime Minister David Cameron has branded Nigeria and Afghanistan "the two corrupt countries in the world" in a rare off-guard moment caught on camera.
His comments come as the UK prepapres to host to a major corruption conference in London on Friday.
But strictly speaking, Mr Cameron is only half right. Although Afghanistan comes third from bottom on Transparency International corruption index, Nigeria came in at 136th out of 168 countries.
Somalia and North Korea were named the most corrupt countries in the world for 2015, where open conflict or poverty have been exploited for manipulative officials' personal gain. But even the cleanest countries are not corruption free, the research shows.
Northern Europe has scored well on the Corruption Perceptions Index 2015 with Denmark, Finland and Sweden topping the list for the 'cleanest' countries in the world.
But despite their rankings, 'clean' countries' dealings overseas can leave a mark on their reputation, according to the report.
The index references the issues facing Sweden, where the Swedish-Finnish firm, which is 37 per cent owned by the Swedish state, is facing allegations that it paid millions of dollars in bribes in connection with its business in Uzbekistan. Banking has also remained an issue in Western Europe, with Deutsche Bank paying the largest Libor fine since the investigations began – a record $2.5bn – for its part in manipulating the Libor benchmark, while in Finland the former head of Helsinki police's anti-drug squad has been charged with running his own drug cartel.
"While a handful of countries in Europe and Central Asia have improved, the general picture across this vast region is one of stagnation," said Anne Koch, Director for Europe and Central Asia.
"Also very worrying is the marked deterioration in countries like Hungary, FYR of Macedonia, Spain and Turkey where we're seeing corruption grow, while civil society space and democracy shrink. Corruption won't be tackled until laws and regulations are put into action and civil society and the media are genuinely free."
For the lowest scorers on the index such as Afghanistan, the scandals have been linked to conflict and "seriously undermine efforts to sustain peace" the report states. Last year the country's ministry of defence reportedly paid an excess of $200m to fuel contractors as part of a kickback scheme using money destined for reconstruction, resulting in a number of senior ministry officials being fired.
The Americas have shown an improvement in the fight against corruption however, where there has been mass mobilisation of citizens in the wake of the Petrobras and La Linea scandals, leading to an improvement of scores in the region.
"It's no surprise that Brazil – which faced its largest ever corruption scandal around Petrobras – is this year's biggest index decliner in the Americas, yet there and elsewhere we saw corruption investigations against people who looked untouchable only 12 months ago," said Alejandro Salas, regional director for the Americas.
"The challenge now is to tackle the underlying causes. The citizens who took to the streets demanded an end to corruption for good – only serious institutional reform will make that happen."
Join our new commenting forum
Join thought-provoking conversations, follow other Independent readers and see their replies