Spain elections: Madrid goes wild for Podemos leader Pablo Iglesias but has the party started too soon?
Podemos has become a new force in Spanish politics. However, despite chaos within the main parties following an inconclusive election, Pablo Iglesias's left-wingers may struggle to wield power. Alistair Dawber reports from Madrid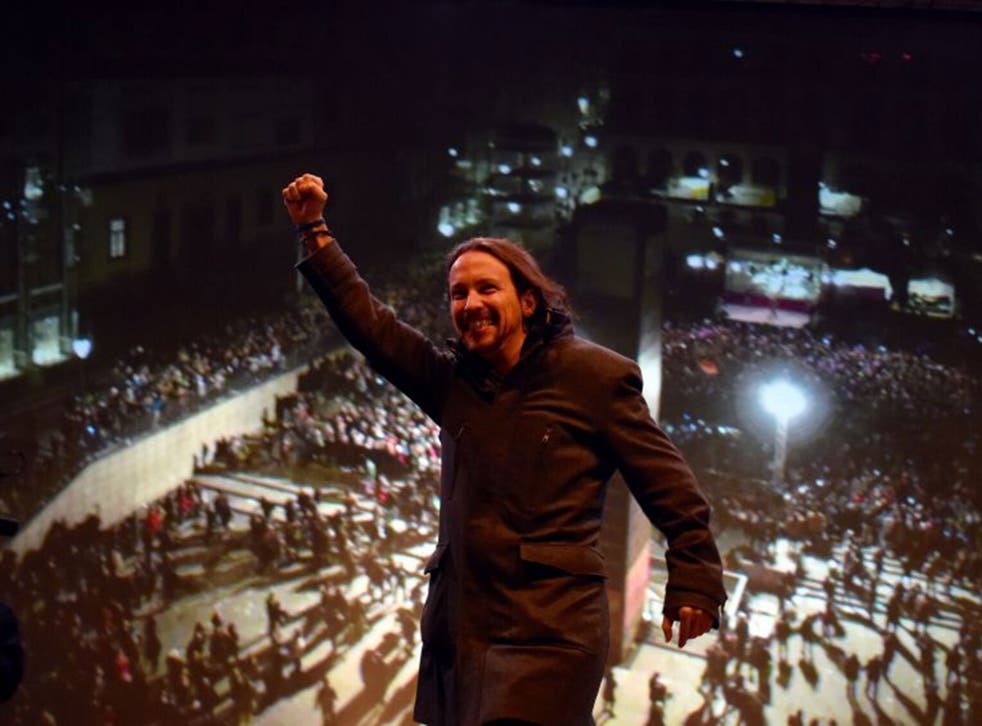 Packed tightly into a square outside Madrid's famous Reina Sofía museum, thousands of Podemos supporters waited until well past midnight for the man of the moment.
Pablo Iglesias, the ponytailed politics lecturer and the biggest winner in Sunday's general election, received a welcome usually reserved for rock stars when he and the party leadership eventually made it to the stage. Warmed up with the now customary blast of the Ghostbusters theme tune, the crowd's chants soon turned to the familiar "Yes we can". They can, and in fact, they did.
"I'm just very happy for the future, and that we've got a chance to fight," Luis Perez, a 34-year-old museum curator, told The Independent. "OK, the Partido Popular [PP] is still around, but at least now Podemos is there too."
The leftist party had been written off just a few weeks ago as opinion polls showed it lagging in fourth place. In the end, it was the established parties that lost scores of seats as Podemos emerged as the night's biggest success story.
But the party's breakthrough has left Spain in flux, with the PP Prime Minister, Mariano Rajoy, telling reporters on Monday night that he had already begun trying to form a new "stable" government despite having a leadership challenge issued to him.
Mr Rajoy thought he had secured a way forward, having spoken to Pedro Sánchez, the leader of the Socialists, the PSOE, and to Albert Rivera, the leader of fourth-placed Ciudadanos – whom he contacted via the WhatsApp messaging service.
Reminding his audience that he had won the biggest number of votes, and the biggest number of seats, the centre-right leader said that it was his prerogative to try to form an administration. "Spaniards expressed their will and now it's up to us politicians to manage that responsibly," Mr Rajoy said.
Whether his party allows him that luxury is another matter. The former Prime Minister, José María Aznar, who is now the PP's honorary president, attended his first party meeting for four years.
Mr Aznar used the meeting to call for a leadership election, which Mr Rajoy, who lost two elections before his landslide in 2011, said he would contest with "energy and enthusiasm". He added that nobody within the party had "talked about" the PP being led by anyone other than himself.
Mr Rajoy has been much praised outside the country for slashing public spending and overseeing a return to growth after inheriting the financial crisis four years ago. But the cost has been high, with unemployment still above 21 per cent.
Podemos, which two years ago did not exist, finished third, capturing 20.66 per cent of the vote, more than five million ballots, and 69 seats in Madrid's all-powerful Congress of Deputies. In doing so, it has broken 40 years of majority rule by the PP and the PSOE.
As a protest movement Podemos has been able to ride on the back of public disgust at myriad corruption scandals facing the government and the malaise caused by the financial crisis.
Mr Iglesias's speech to the faithful on Sunday night referred to Podemos's beginnings as part of a movement for social change, known as the 15M, which was formed in the wake of the financial crisis to protest against austerity. He said: "15M sowed the beginning of a new transition led by the people."
Podemos has said it will renegotiate the terms of Spain's spending limits with Brussels. Its success, along with the election of Syriza in Greece, and now the establishment of an anti-austerity government in Portugal, shows the EU's assumption that governments can pass extreme austerity measures is surely a thing of the past.
In Pictures: Spanish leftists Podemos 'March for Change' in Madrid

Show all 11
Yanis Varoufakis, the former Greek Finance Minister who became a thorn in the side of the EU during negotiations over Greece's debt earlier this year, took to Twitter yesterday to congratulate Podemos. "Bravo Podemos! A small step that may turn into a large fault line shattering the eurozone's crisis denial & austerian contempt for democracy," he said.
The Ibex 35, Spain's main share index, closed the day down 2.8 per cent.
Speaking at Sunday's rally, Mr Iglesias told his supporters "a new political phase has opened in our country". The 37-year-old has taken delight at poking holes in conventions – he gave King Felipe a box set of Game of Thrones earlier this year and on Saturday's "day of reflection", when parties were not supposed to campaign, he went to see the new Star Wars film.
But for all the undoubted success as a protest movement, now comes the reality. At a press conference yesterday, Mr Igeslias said that he would consider proposals "for the country" and described himself as a candidate to be the next prime minister.
Like Podemos, both the PP and PSOE also held rallies in Madrid on Sunday night. Mr Rajoy and Mr Sanchez were each met with chants of "Presidente!" but both know that they each may need to depart the scene for their parties to have any chance of power.
"The only coalition configuration with a stable majority would be a PP and PSOE grouping," said Brian Lawson, an analyst at IHS Country Risk. "This looks hard to achieve, not least because of a highly acrimonious recent relationship between Rajoy and Sanchez.
The PP lost its majority along with 64 seats, meaning that its much-floated pact with the centrist Ciudadanos falls well short of the 176 seats needed to command a majority in parliament.
While Mr Rajoy only needs a simple majority to be reconfirmed as prime minister when parliament reconvenes on 13 January, his party's only realistic chance of an absolute majority seems to be through a deal with the PSOE.
Like Mr Iglesias, a spokesman for the PSOE made his party's position clear yesterday. "We are going to vote against the PP and against Rajoy," he said.
PP sources told the state television channel, RTVE, that Spain was now "ungovernable".
Join our new commenting forum
Join thought-provoking conversations, follow other Independent readers and see their replies