Spain gets its €30bn bailout, but it comes with new cuts
Miners have been blocking roads and train lines in protest at a 63 per cent cut in subsidies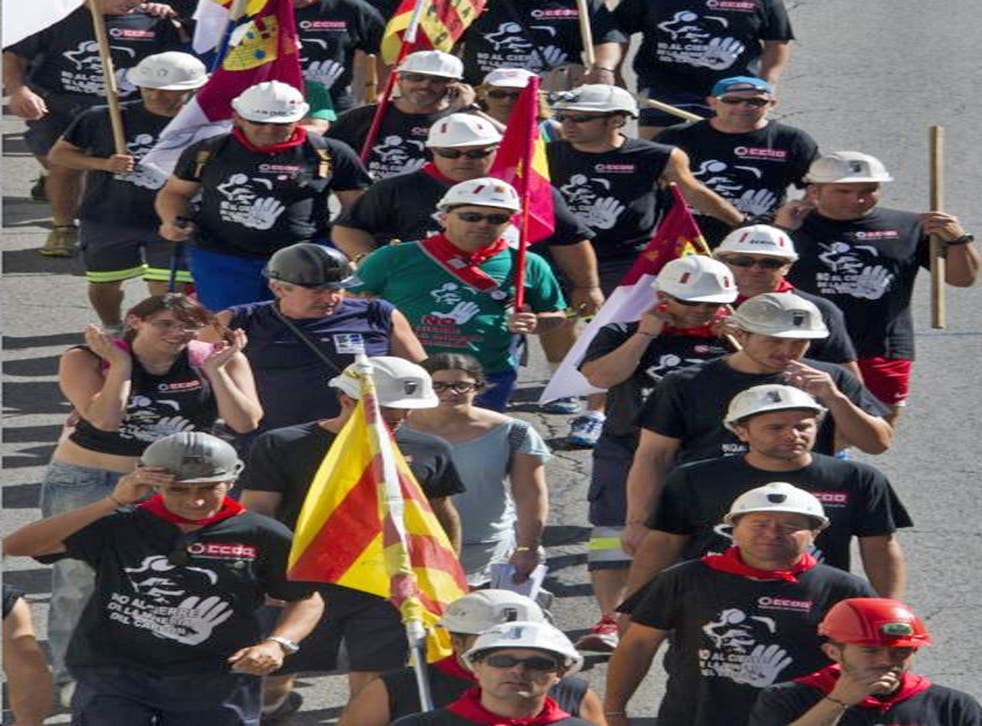 Eurozone finance ministers agreed yesterday to the latest in a series of packages aimed at stemming Spain's financial crisis, by bringing forward some previously committed aid to the country's ailing banks and giving the government more time to cut its budget deficit.
However, the strings attached include yet more austerity measures for a country struggling with recession and where nearly one in four are jobless. Protests grow daily, while the financial markets gave Spain little respite as wrangling continued over providing more money for the banks.
The deal hammered out overnight in Brussels will allow an injection of €30bn into Spanish banks by the end of July if needed, which falls short of the €62bn auditors say the lenders need to prop up balance sheets battered by a property bubble which burst in 2008.
Last month, European ministers decided to lend the banks up to €100bn, but doubts about how much they will in fact get, as well as when and under what conditions, have pushed up Spain's borrowing costs to levels which could force the eurozone's fourth-largest economy to seek a bailout that Europe may be ill able to afford. The other main plank in the accord gives Spain until 2014, rather than 2013, to cut its deficit to below a eurozone limit of 3 per cent of GDP, down from 8.9 per cent last year.
Spain pledged earlier this year to slash its deficit to 5.8 per cent of GDP in 2012 by saving €45bn through spending cuts and tax rises, but with income tax revenues diving, even these draconian measures have made that goal look too ambitious.
Spain's Economy Minister, Luis de Guindos, said yesterday's deal was "frankly very positive" for Spanish banks and that "there have been no more implications and impositions than those that had been set out beforehand".
His denial notwithstanding, Mr de Guindos is today due to give Spain's parliament details of another €30bn in cuts – €10bn this year, the rest in coming years – as well as increasing taxes, and Prime Minister Mariano Rajoy's conservative People's Party government has already said it is planning to increase value added tax. The PP had ruled out increasing VAT when it was elected last November amid widespread discontent over austerity measures imposed by its Socialist predecessors.
Financial markets gave Spain little respite after the deal, which still left open the question of when Europe will set up a permanent bailout fund – the European Stability Mechanism, originally due to be up and running this month. Even when the ESM is ready, it may have to wait until a single European banking supervisor is set up next year before it can fund Spanish banks.
The widely watched interest rate on Spanish 10-year government bonds has barely eased since Monday and is stuck near the 7 per cent level at which Portugal's government was forced to ask for a full-scale bailout last year.
"Hopes have faded to the extent that we have gone from statements to deeds. If the capital injection depends on setting up a supervisor, the (bank) bailout will take time, because Germany and its satellites can delay approval of the supervisor," an editorial in Spain's leading newspaper El Pais said.
Miners, traditionally the most combative members of Spain's labour movement, have meanwhile been blocking dozens of roads and train lines for weeks in protest at a 63 per cent cut in subsidies to the coal industry, which they say will destroy whole communities where no alternative jobs exist.
Two columns of miners have been marching hundreds of miles from valleys in northern regions Asturias, Aragón and León and converged on Madrid yesterday as they sang the traditional and stirring "Santa Bárbara" anthem about a pit disaster.
Last night, they gathered at the capital's emblematic Puerta del Sol, the scene of riotous celebrations when Spain won the European football championship last week, to hold a mass demonstration later today against what they see as a full-blown attack on the welfare state.
Spain's pain
€30bn Value of bailout agreed yesterday for Spain's troubled banks.
25% Drop in house prices since 2008.
24.3% People unemployed – the highest in the EU.
Join our new commenting forum
Join thought-provoking conversations, follow other Independent readers and see their replies