Spanish bullfighting could be forced out of major cities as left-wing mayors campaign for a ban
New wave in politics could push the toreadors out of town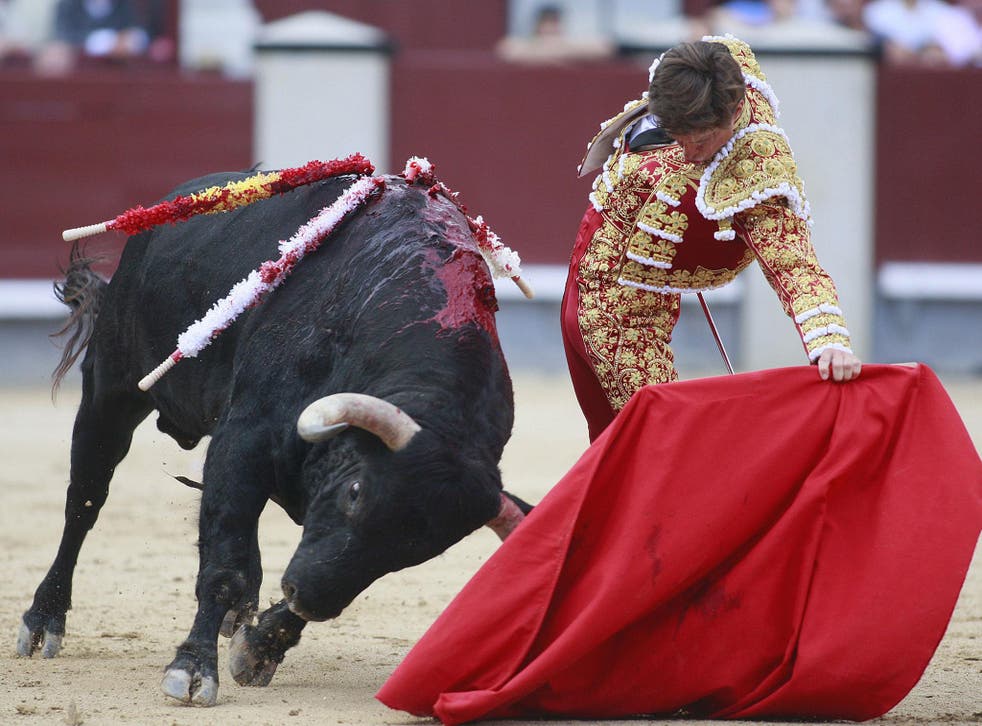 Ernest Hemingway thought it had mystical qualities, but if a series of new left-wing governments in a number of Spanish cities have their way, bullfighting in the country could soon become a thing of the past.
Fed up with corruption and austerity, voters in Spain backed new left-wing parties in May's local elections, with control of cities such as Madrid, Valencia and Alicante all changing hands. The result has been not just a promise to clean up Spanish politics, but also the biggest-ever threat to bullfighting across Spain.
In Alicante at the weekend, a traditional August festival which for years has included a bull run through parts of the city, was replaced by a cycling race.
The town's new government is debating whether it should hold a referendum to abolish the spectacle altogether. In nearby Valencia, the new mayor, Joan Ribó, has said that his administration will refuse to subsidise any events in which bulls are killed.
Hemingway's Death in the Afternoon paid homage to Pamplona's famous San Fermin festival, in which crowds run through the town chased by bulls, invariably leading to several gorings, before the bulls are slaughtered. Despite his love of the event, even Hemingway recognised that "anything capable of arousing passion in its favour will surely raise as much passion against it".
Eighty years on, and anti-bullfighting fervour could see the sport outlawed. In the resort of Gandia, bullfighting has already been banned because, according to local officials, it amounts to animal abuse.
In nearby Dénia, the annual bous a la mar, in which the bull eventually ends up being pushed into the sea, faces a local referendum before it will be staged again.
Further north in Zaragoza, organisers of toros embolados, where firecrackers are attached to the bulls' horns, have been told that they will no longer receive public money to put on their fiestas.
And in Madrid, one of the country's most traditional cities, the new leftist mayor, Manuela Carmena has said publicly that "not one euro of public money" will be spent on bullfighting. Eighty miles away in Villafranca de los Caballeros, the annual bullfighting festival, scheduled to be held this month has been cancelled, with local government promising to spend the €18,000 saved on schoolbooks.
There is already precedent for a ban. Five years ago, the government in Catalonia stopped bullfighting, but traditionalists since have been campaigning to see the practice restored.
In pictures: Madrid matadors gored at 2014 San Isidro festival

Show all 10
Despite celebrating the arrival of sympathetic town halls since May, animal rights activists have expressed growing concern that the central government in Madrid may act to uphold what many see as a longstanding Spanish tradition.
After the Catalan ban came into affect, a vote in the national Congress saw bullfighting classified as a special cultural interest. While it has not yet become legislation, such a move would allow organisers to bypass local bans, and appeal against limits on funding.
Activists have also argued that recent restrictions have been placed on where they can demonstrate against existing events.
In April, Spain's ministry of education, culture and sport, asked police to restrict protests by the anti-bullfighting groups in Seville, in order to "prevent possible altercations that could put citizen safety at risk" and "guarantee the smooth running of bullfights".
A national campaign against the tradition has gained support in recent years. Peta, the animal rights group, has enlisted the support of several Spanish celebrities in its fight against bullfighting. The model, Elen Rivas, is one of those to lend her name to the campaign.
"I am proud of my Spanish heritage," she said. "But the fact that some people are still clinging to the tradition of stabbing bulls to death in bullfighting arenas is something that the vast majority of Spaniards, including me, are ashamed of."
Join our new commenting forum
Join thought-provoking conversations, follow other Independent readers and see their replies