Spanish politics: Socialists attempt to end political impasse by forming coalition with centrist Ciudadanos party
December's inconclusive general election left the country without a single-party government for the first time since its return to democracy at the end of the 1970s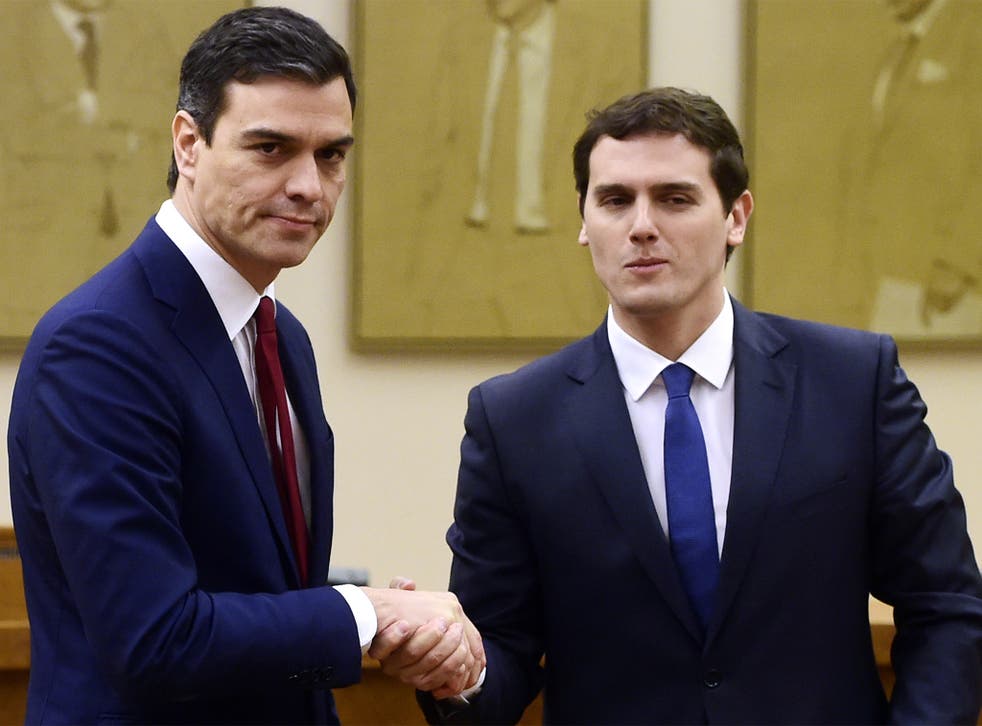 Spain's Socialists have taken a first step towards ending weeks of political paralysis by joining by the centrist Ciudadanos party in a bid to form a new coalition government.
The agreement was the first between parties since December's inconclusive general election, which left Spain without a single-party government for the first time since the return to democracy at the end of the 1970s.
The pact between the Socialist party, which finished second in December's vote, and Ciudadanos, which came fourth, will still fall well short of the 176 seats needed for a majority in parliament.
Pedro Sanchez, the Socialist leader, accepted a nomination from King Felipe last month to try and form a new government. He faces an investiture vote next week, in which MPs will vote on the prospect of him becoming Prime Minister. The party with the biggest parliamentary block, the centre-right PP, has already said it will vote against the Socialist-Ciudadanos alliance.
The agreement between the Socialist and Ciudadanos covers 200 detailed reforms, from reducing VAT on cultural events, to a promise not raise income tax. At a press conference after signing the deal with Mr Sanchez, the Ciudadanos leader Albert Rivera said that the arrangement between the two parties would lead to "a new phase of politics that demands solutions to Spaniards' main problems".
Mr Sanchez described the pact as "historic" and addressing the shortfall the parties have in parliamentary seats, said "to those who say this deal doesn't add up, I say they haven't understood anything, it does add up… it proposes a way of unblocking the political stalemate Spain is in".
Within hours of the announcement, the PP and Podemos, the leftist group that unexpectedly finished third in December, issued withering assessments. The PP labelled the pact a "waste of time" while Podemos said that Mr Sanchez had "wasted a historic opportunity" by eschewing Podemos's offer of support last month. Podemos cancelled meetings with the Socialists planned for Wednesday night.
Yet the deal was as much political gamble as an attempt to lay the foundations for a new government. In the weeks after the election, Mariano Rajoy, the PP leader and caretaker Prime Minister, said that only a broad government comprising of his own party, the Socialists and Ciudadanos could continue Spain's move back to economic growth.
Join our new commenting forum
Join thought-provoking conversations, follow other Independent readers and see their replies