St Patrick's Day 2016: What does it mean to you?
'What strikes me the most is how little many of my British friends know about Irish history'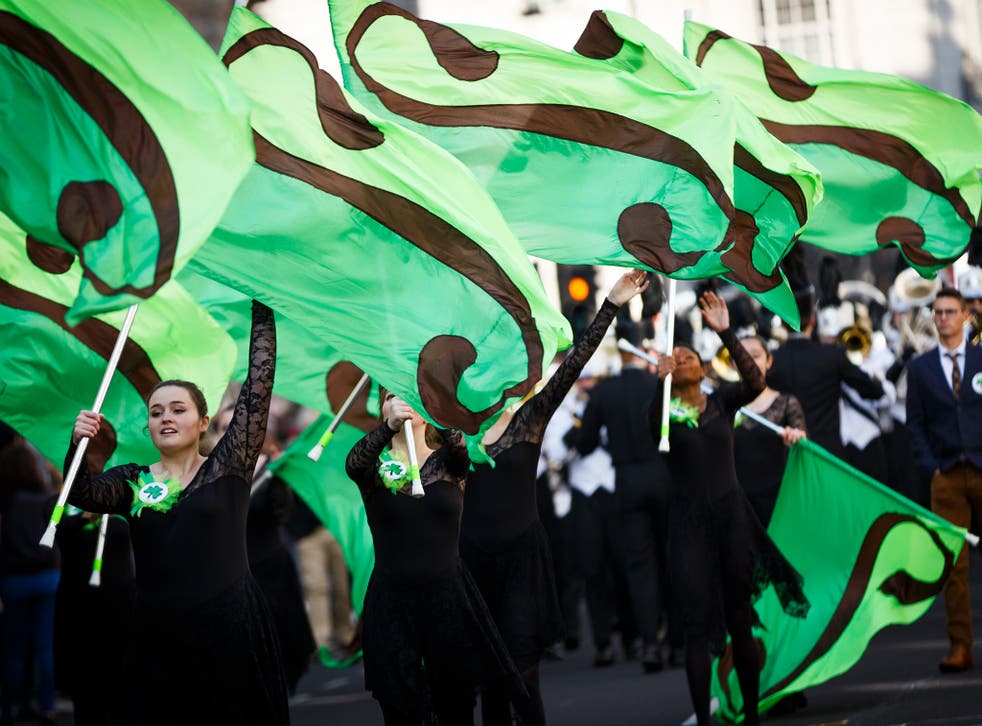 Caroline O'Donoghue, 25
"When I was younger, St Paddy's Day was a big deal. It was an excuse to grab a ridiculous stereotype with two big hands, and just run with it. In my home Cork, we would run as fast and as far as we could: big, velvet shamrock hats, enormous tricolours, and green eye-shadow up to our eyebrows. It was less about patriotism and more about going on the piss.
"As I've grown older however, both my attitude and my drinking habits have sobered a little. I live in London, and only have one or two Irish friends, so the fact that so few people in my circle are excited for Paddy's does make you feel a little lonely for home. What strikes me the most though, is how little my British friends know about Irish history. It's to be expected, I guess: you can't have an encyclopedic knowledge of every country your empire used to have a stranglehold on. But so many people here don't know about Ireland's struggle for independence, have no idea why the IRA exists and don't understand why some Irish people still resent England. It seems that there are so many of us Irish over here (along with so many other former colonies) that it would be cool to use the day (in schools, at least) to talk about Ireland in a more educational way."
Caroline works at The Pool. Follow her on Twitter: @Czaroline
James Nolan, 29
"As a child, St Patrick's Day was a day to be endured. Marching in the local parade often came at the cost of cold weather and rain. Then, getting older, it becomes about alcohol: street-drinking graduating to pubs, where the behaviour is more or less the same—debauchery and excess. It's a day for amateurs, basically, to rub up on each other while drunk. Foreigners like it because it lets them don the Irish cap for a day and let loose, but it's a cap we have to wear 24/7—we just hide it a little better the rest of the year. Ultimately, any Irish person over the thrill of soiling themselves in public will tell you: as an adult, St Patrick's Day is a day to be avoided."
Follow James: @0jnolan
Suzie McCracken, 24
"For me, St Patrick's day is an excuse to proclaim my Irishness in the most obnoxious ways possible – shouting 'Keep 'er lit' from the rooftops, making a bother of myself in novelty shamrock sunglasses and toasting soda bread in the office kitchen until I set off the fire alarm. However, it's only really been important (rather than just craic) to me since I moved to London. I'm from a protestant, Northern Irish family, so it was never a huge celebration in my household growing up. But now I'm in England and have my own household, where I choose to be be Irish, Northern Irish and British, and to celebrate them all as enthusiastically as possible."
Follow Suzie: @_suziemccracken
Caroline Magennis, 33
"From Country Armagh originally, I teach modern and contemporary literature at the University of Salford with lots of courses in Irish writing. Literature plays a huge part in my relationship with my country, and will be something I'll be celebrating. Today we were looking at writing from and about Irish political women such as Alice Milligan, Maud Gonne, Countess Markievicz and Margaret Skinnider. I've been in England for four years and the Dubliners cover of Ewan MacColl's Dirty Old Town was first on my stereo this morning for the Salford-Irish connection. I'm now going to stroll along to some Manchester Irish Festival events after work and hopefully catch a live-music session, avoiding the more lairy nights in town!"
Follow Caroline: @DrMagennis
Join our new commenting forum
Join thought-provoking conversations, follow other Independent readers and see their replies