Strauss-Kahn remains silent on his future after arriving home in Paris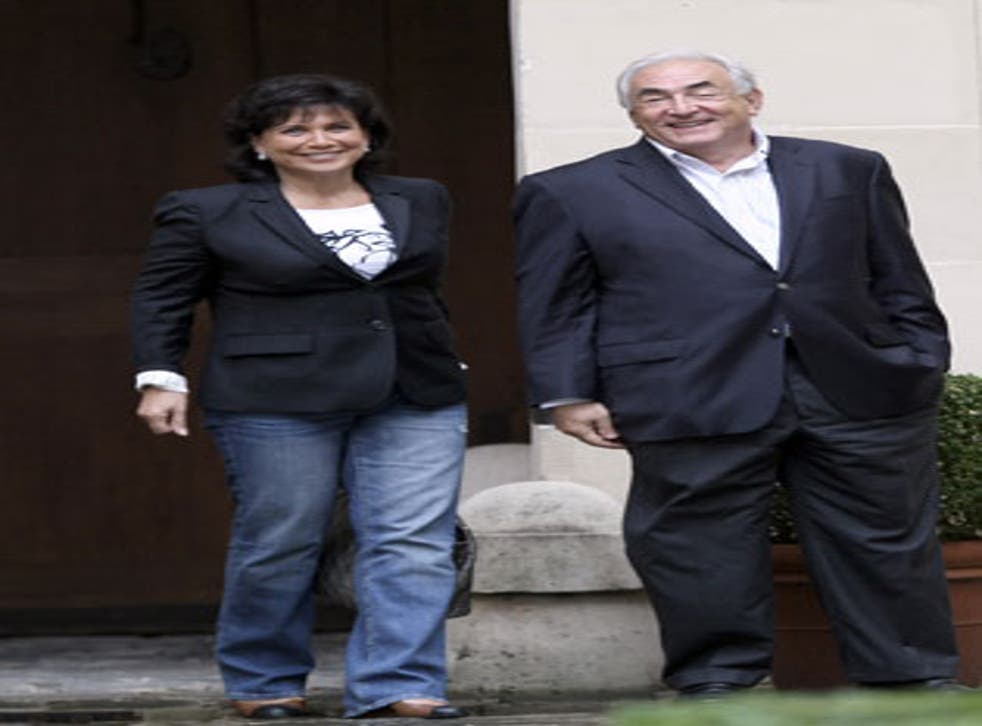 Dominique Strauss-Kahn may make a brief French TV appearance in the next few days but refused to make any comment on his return to France yesterday.
Almost four months after being accused of attempted rape in New York, and two weeks after charges were dropped, Mr Strauss-Kahn arrived at Charles de Gaulle airport in Paris to a giant media scrum and the cheers of a handful of diehard supporters.
He and his wife, Anne Sinclair, waved happily and grinned but refused to answer questions. They drove directly to their flat in the trendy and beautiful Place des Vosges, a 17th century square in the Marais in central Paris. Another media scrum awaited but once again DSK merely grinned and shared a private joke with his wife.
Opinion in France about L'affaire DSK remains deeply fractured. There is relief that the New York allegations, seen by many at the time as a national humiliation, have collapsed. Some of Mr Strauss-Kahn's supporters insist that he has been vindicated. Some believe that he was the victim of a plot. Many believe that his reputation has been permanently tarnished.
Friends of Mr Strauss-Kahn told the French media that he might give a brief TV interview in the next few days. But his American lawyers had ordered him to remain quiet, they said, on the allegations of attempted rape made by the chambermaid, Nafissatou Diallo.
If he does give a TV interview – his first since the affair began – Mr Strauss-Kahn, 62, is expected to attempt to begin his political convalescence but will make no dramatic announcements.
Before his arrest, the former IMF chief was front-runner in the opinion polls for the Socialist nomination for next spring's presidential election. His friends say that there is no question of him trying to join the Socialist primary campaign, which ends in five weeks. It is also thought unlikely that he will give his backing to either of the main candidates. The new front-runner, François Hollande, is an old political enemy. The party leader, Martine Aubry, carefully distanced herself from DSK last week.
The mixed feelings of the country over Mr Strauss-Kahn's return were mirrored, for different reasons, in the camp of President Nicolas Sarkozy. Although Mr Sarkozy hopes the DSK affair will damage the other Socialist candidates, his return threatened to stifle publicity for the autumn youth conference of the president's centre-right UMP party.
However, political news this weekend was mostly bad for Mr Sarkozy. Deep rifts within the UMP burst into the open with a spat between Mr Sarkozy and the former Prime Minister, Jean-Pierre Raffarin – which Mr Raffarin won.
And an opinion poll suggested that Mr Sarkozy would be easily beaten in the second round of the presidential election next May by either Mr Hollande or Ms Aubry.
Join our new commenting forum
Join thought-provoking conversations, follow other Independent readers and see their replies