'Suicidal woman' in Ireland was denied abortion and forced to have caesarean section
Woman had gone on hunger strike after being refused termination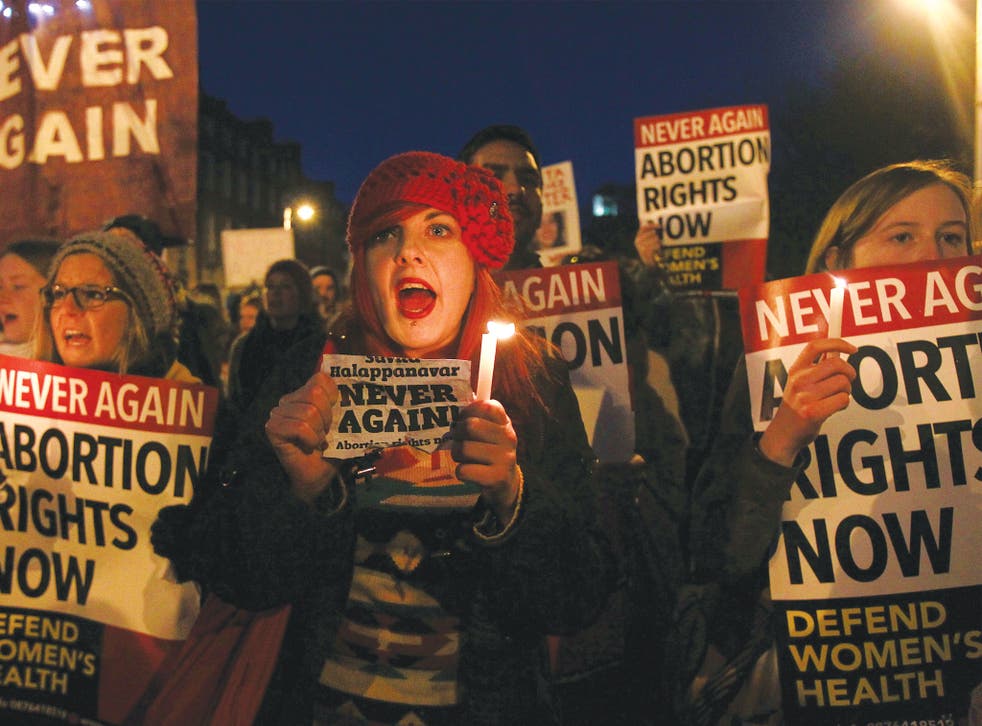 A woman who sought an abortion in Ireland when she was eight weeks pregnant, saying she was suicidal, was refused and later legally forced to give birth by caesarean section, according to a report.
The woman, who emigrated to Ireland and cannot be identified for legal reasons, went on hunger strike after she was refused a termination and the section was carried out at about 25 weeks. The child was then taken into care.
Ireland's Protection of Life During Pregnancy Act, which was brought in last year, allows for limited abortions in Ireland, such as when the woman's life is at risk. This includes cases where she is suicidal following rape or incest.
Máiréad Enright, of Ireland's Lawyers for Choice campaign group, questioned whether the woman had been told she could go to the UK.
"A woman might be able to obtain an abortion in the UK after 24 weeks, on limited grounds, including to save her life or to prevent grave permanent injury to her physical or mental health," she told The Guardian.
"In many cases, as we already know too well, the right to travel is meaningless to the wide variety of very vulnerable women unable to access it. However, it is likely that reports like this one, of this case, may discourage women from making applications under the act at all."
Ms Enright, who lectures about human rights law at Kent University, added: "It has been reported that this woman did not have a great command of English or was fully aware of her rights under Irish law.
"Was she offered any alternatives by the medical team examining her? Was she told she could travel to England although this was more complicated by the fact that she would have needed a special visa to leave the state for Britain?
"This judgment puts a whole lot of vulnerable women in Ireland, like the thousands of migrants and women from traditionally underprivileged communities like the Travellers, at even greater risk.
"Women in these communities are often denied access to their rights including the right to travel or are given very little information about their rights."
Lawyers For Choice has made a formal submission about flaws in Ireland's laws on abortion to the United Nations Commission on the Status of Women. It says that state doctors are the "gatekeepers" to abortion in the limited circumstances under which it is allowed.
"In all other circumstances state law effectively reinforces an array of social and economic burdens to punish women who seek to terminate their pregnancies," the submission says.
The death of Savita Halappanavar, an Indian dentist, after she was refused a potentially life-saving abortion caused an international outcry in 2012. She was told she could not have a termination "because Ireland is a Catholic country". Her husband Praveen said later that his wife's treatment had been "horrendous, barbaric and inhumane". Dr Peter Boylan, one of Ireland's leading obstetricians, told the inquest into her death that it was highly likely Mrs Halappanavar would still be alive if she had been given a termination when she and her husband had requested one.
Join our new commenting forum
Join thought-provoking conversations, follow other Independent readers and see their replies