Swedish authorities told to prepare 'in terms of war' amid Russia tensions
The defence budget has been allocated additional money and proposals to reintroduce conscription have been considered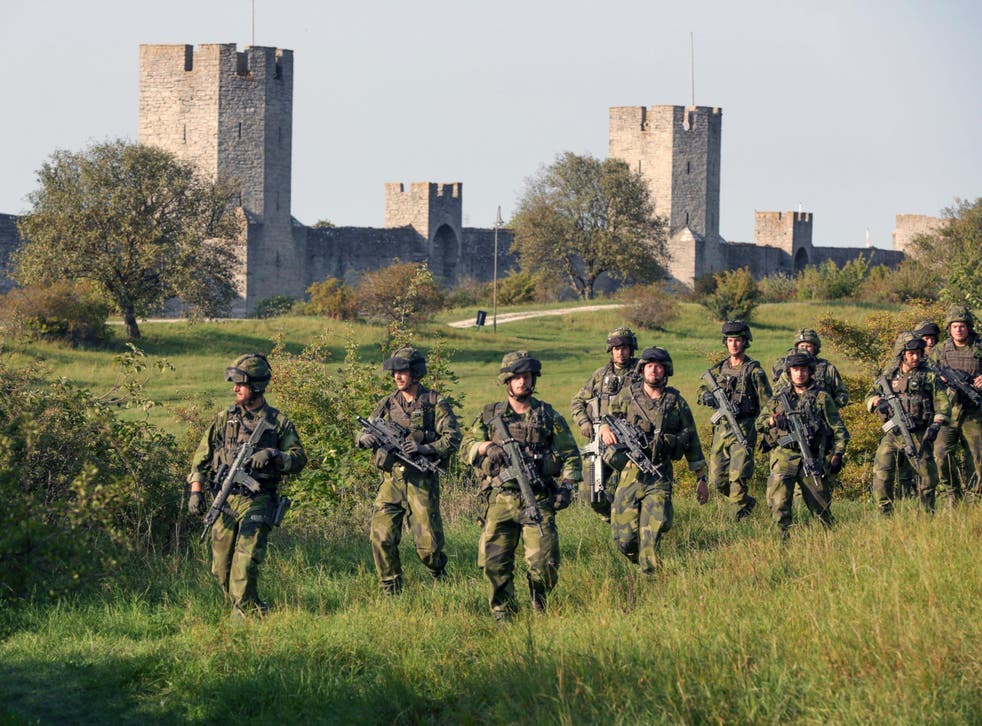 Sweden has issued advice to local authorities urging them to prepare their civil defense infrastructure and procedures "in terms of war" amid growing concerns about Russia aggression.
The Scandanavian country's Civil Contingencies Agency (MSB), which operates under the Defence Ministry sent official letters to security heads in all of its municipal authorities explaining they must be better equipped to deal with potential conflicts and other crisis situations.
The move is believed to be part of the country's return to the Cold War era "Total Defence Strategy", announced last year in response to the "worsening international situation" and "increased uncertainty in the immediate area".
The letter said that high demand was placed on "operational speed, decision-making, information sharing, crisis communication, flexibility, robustness and handling secret information", according to Swedish newspaper Svenska Dagbladet (SvD).
The revival of the "totalförsvarsplaneringen" Total Defence Strategy was announced in December 2015. The policy states that defending the nation from foreign aggression should involve economic and civilian measures, in addition to military activity.
The MSB –which is responsible for civil protection, public safety, emergency management, and civil defence – insists that the preparations do not imply that Sweden is actually about to go to war.
Magnus Dyberg-Ek, of the MSB, told SvD the letter had been sent out in response to an increased threat level.
"What is new is that the security situation in our region has deteriorated and that therefore we must prepare ourselves in terms of war and of conflict," he said.
"We have sent out the letter in part because local authorities want clear instructions so that they know how to act in a crisis situation."
He added: "This strategy is not new – we used it during the Cold War and will now strengthen coordination regarding civil defence."
But his colleague Svante Werger told the newspaper: "There is nothing to indicate that war is likely, but we have the government's mandate to plan for it".
When the measures were first approved last year, Prime Minister Stefan Löfven described the security situation as having deteriorated, attributing this explicitly to the threat posed by Russia.
"Russian aggression and the destabilisation of Ukraine pose the most serious challenge to the European security order since the end of the Cold War," he told the Swedish parliament.
"Russia's illegal annexation of Crimea is a violation of international law. Borders must not be changed by force. Our support to Ukraine, both political and economic, will continue. A modern total defence is being developed to respond to the challenges presented by the changing security policy situation."
Some municipal authorities reportedly complained the government plan was unrealistic, saying they were not sure how it would be financed. It is unclear whether or not they will receive funding from central government to meet the recommendations stipulated in the letter.
Swedish authorities in 2015 allocated an additional 6.2 billion Kronor (£533 million) to increase defence capabilities between 2016 and 2020, reportedly due to increasing concerns over Russia's presence in the Baltic Sea.
Earlier this week, the country's intelligence chief said Moscow was biggest source of cyber-attacks on Sweden and "influence operations" against the Swedish state.
In recent years, Stockholm has consistently claimed Russian jets have been flying near a strategic area in the Baltic Sea.
The tragic recent history of Russian aviation

Show all 10
The country recently returned a land-based Cold War-era anti-ship missile to service, taking some parts from military museums, to increase its defence capabilities.
In September, an inquiry launched by the Swedish government concluded that bringing back compulsory military service could help the country's increasingly stretched armed forces. The study estimated that 4000 new soldiers would be required in 2018.
Join our new commenting forum
Join thought-provoking conversations, follow other Independent readers and see their replies