Syria air strikes: German cabinet supports proposals to send 1,200 troops, planes and ship to support Isis mission
The German government is not proposing launching its own air strikes but want to support the countries carrying them out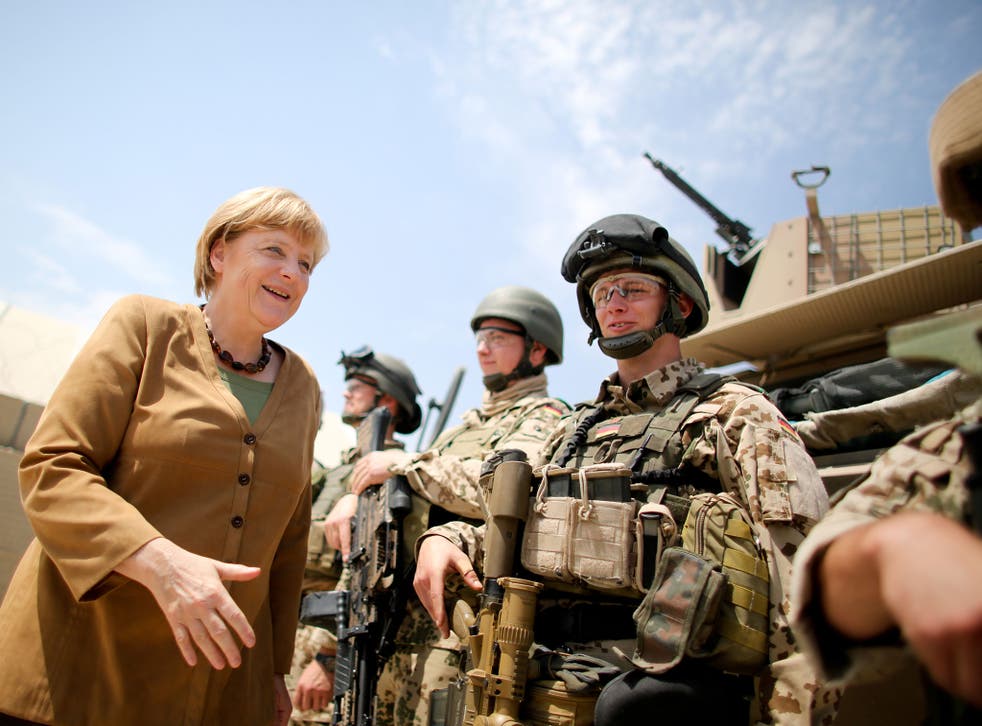 Germany's cabinet has approved plans to send up to 1,200 troops to the Middle East as part of a multi-million euro mission to support the fight against Isis.
Angela Merkel, the German Chancellor, has stated that armed forces will not fight or launch bombing missions, but work to support countries including France, the US and Russia.
A proposal for Germany to send Tornado reconnaissance jets, refuelling aircraft, a frigate to protect a French aircraft carrier and the supporting soldiers necessary for the deployment was approved by the cabinet this morning and will go to a vote in Germany's parliament later this week.
Members of the Bundestag will be debating the move tomorrow, as British MPs prepare to vote on whether to extend RAF air strikes from Iraq into Syria.
A letter from the German foreign and defence ministries said the deployment was aimed at preventing "terrorist acts" in the wake of the Paris attacks, and supporting France and other partners in their fight against Isis.
The defence minister, Ursula von der Leyen sought to reassure voters nervous of foreign intervention, saying that Germany had not been drawn into war against its will.
"The top line is: there will be no cooperation with Assad and no cooperation with troops under his command," she said, though she did not rule out including supporters of the current Syrian President in a long-term solution for the country.
PM: Bombing Syria is necessary
"We must avoid the collapse of the state of Syria," she said, to avoid a repeat of mistakes made in Iraq, when groups who had been loyal to Saddam Hussein were prevented from being part of the political system after his defeat.
The German foreign minister, Frank-Walter Steinmeier, told Bild that 1,200 was the upper limit for troops, deployed to allow the operation of aircraft and ships, and that they would not all be sent out at the same time.
"Bombs and rockets alone will not conquer terror, that will only happen though politics," the Social Democrat told the newspaper, stressing the need for a long-term diplomatic solution.
In pictures: Syria air strikes (2014)

Show all 20
The mission would reportedly cost around €134 million over the coming year.
Politicians from the Left party argued that the Government is making Germany a target for terrorists by joining the mission and vowed to vote against the proposals, and launch a legal challenge if they are supported by the Bundestag.
Some members of the opposition Greens also have reservations, with member Hans-Christian Ströbele calling it "politically and militarily wrong", but the motion is expected to be passed by Ms Merkel's "grand coalition" of conservatives and Social Democrats.

Additional reporting by Reuters
Join our new commenting forum
Join thought-provoking conversations, follow other Independent readers and see their replies