Syrian refugee 'dies after being hit by police van' in Greece
The man was injured in disputed circumstances on Monday, sparking angry protests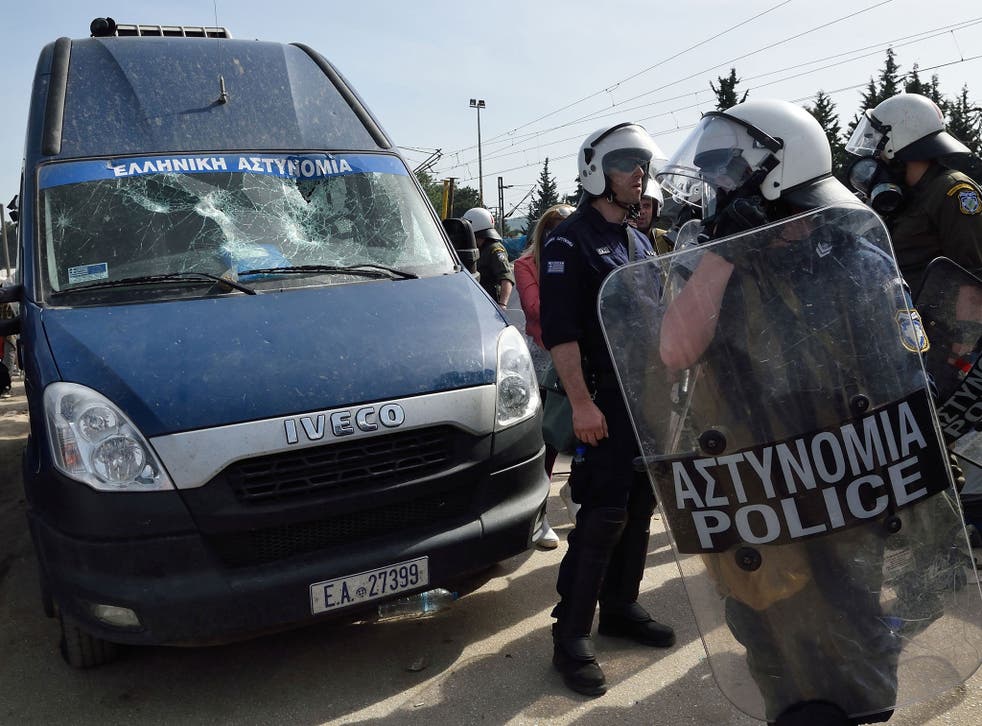 A Syrian refugee has reportedly died of his injuries after being hit by a police van in Greece.
The 40-year-old man died at hospital in the city of Thessaloniki on Thursday, according to the Voria newspaper.
He had been undergoing treatment since Monday, when he was injured in disputed circumstances at a refugee camp in Idomeni, sparking protests met with tear gas and riot police.
Footage from the scene showed migrants hurling stones at the stationary van, which was cordoned off and surrounded by officers. A pool of blood could be seen on the ground.
A Greek government source confirmed at the time that there had been a "serious accident" involving the man, who is believed to be Kurdish.
Photos showed him lying on the ground being treated by Doctors Without Borders (MSF) medics, with his face covered in blood.
Officials said he who suffered cranial injuries, to his scull, but gave no information on his condition.
It was not immediately clear how he had been hurt inside the teeming camp where vehicles are forced to move at low speeds.
Greek media said the man had fallen from scaffolding, while some refugees told Reuters news agency he had fainted after leaving his tent and was run over.
A police statement released to Voria said the refugee had "lost his balance" and fallen into the path of the passing van.
The camp lies the Macedonian border, which has seen regular clashes as it remains shut to many of the refugees journeying up from Greek islands in an attempt to reach other parts of Europe.
Refugee crisis - in pictures

Show all 27
More than 10,000 people are believed to be trapped in Idomeni as crossings remain shut along the Balkans route previously used by more than a million refugees.
Earlier on Monday, Greek police had tried to persuade asylum seekers to leave as they protested on the railway tracks that pass Macedonia.
Most refused and the lines continue to be blocked, with goods trains stationary on the tracks.
Greek police did not immediately reply to The Independent's request for information.
Additional reporting by agencies
Join our new commenting forum
Join thought-provoking conversations, follow other Independent readers and see their replies