Syrian refugees 'drag paedophile to police' after he was allegedly found attacking 7-year-old at refugee camp
'We all heard the screams. People wanted to kill him but we said no, it's not our job to kill him'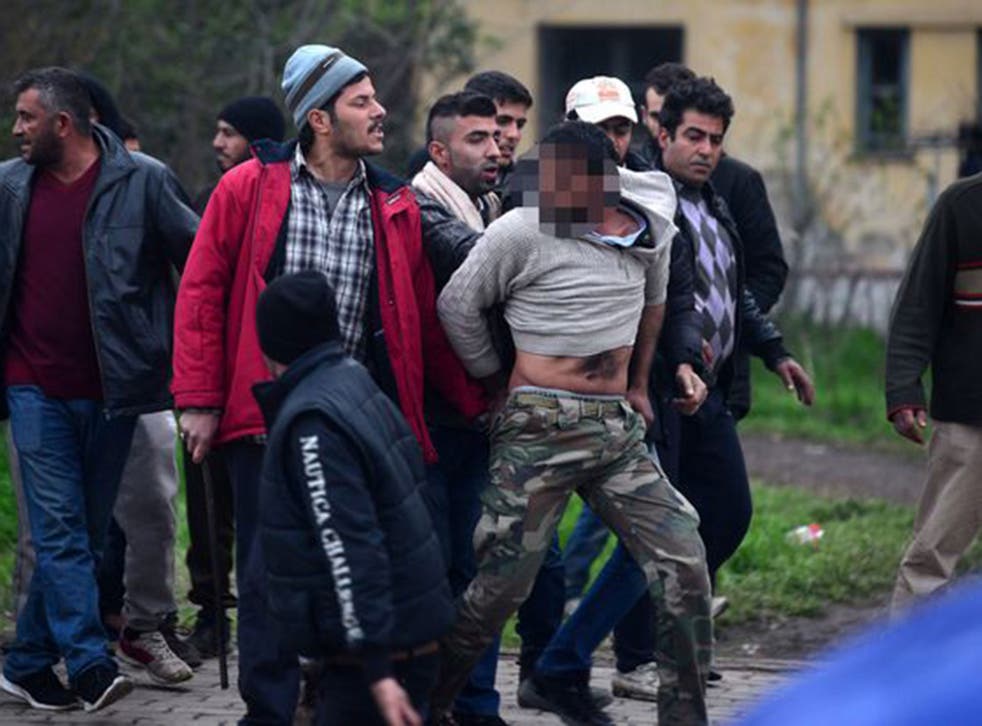 Two Syrian refugees have spoken about how they handed over a suspected paedophile to police officers, after they allegedly caught him trying to rape a seven-year-old girl.
Bashar Al-Ali, 29, from Deir ez-Zor, and Dlar Sedo, 24, from Aleppo, told the Daily Mail they were in the Idomeni camp in Greece when they heard the girl's father shout: "He's trying to rape my daughter."
They rushed towards the woodland to find the Afghan refugee allegedly trying to undress the girl behind a row of temporary toilets.
After grabbing the man, they marched him to the police, who arrested him.
In an interview with the Daily Mail, Mr al-Ali said: "The Afghan man took her behind the toilets and then she started to scream.
"I ran over and saw that he was trying to remove her t-shirt and trousers. I grabbed him and started kicking him."
The men were pictured leading the alleged paedophile a mile through the camp, while other refugees tried to hit him.
Mr Sedo said: "We all heard the screams. People wanted to kill him but we said no, it's not our job to kill him.
"We are in a civilised country and we need to let the police take care of this."
Refugee crisis - in pictures

Show all 27
Mr Sedo added: "To tell you the truth, we didn't see it happen. We couldn't be sure whether it was a real crime or if it was invented by her father to get revenge on someone, for example.
"So we took control and protected the man from being beaten up, but at the same time we didn't let him go. We wanted the police to deal with it."
Migrants form human chain
The Greek interior minister said refugees are living in conditions comparable to Nazi concentration camps when he visited the Idomeni camp, which sits on Greece's border with Macedonia.
Despite being planned for just 2,500 people, the camp hosts around 12,000 refugees in wet, cold and muddy conditions.
Join our new commenting forum
Join thought-provoking conversations, follow other Independent readers and see their replies