Big-screen debut for Pacific Island tribe who regard Prince Philip as a god
The Venice Film Festival's red carpet had seen nothing like it, but islanders take it in their stride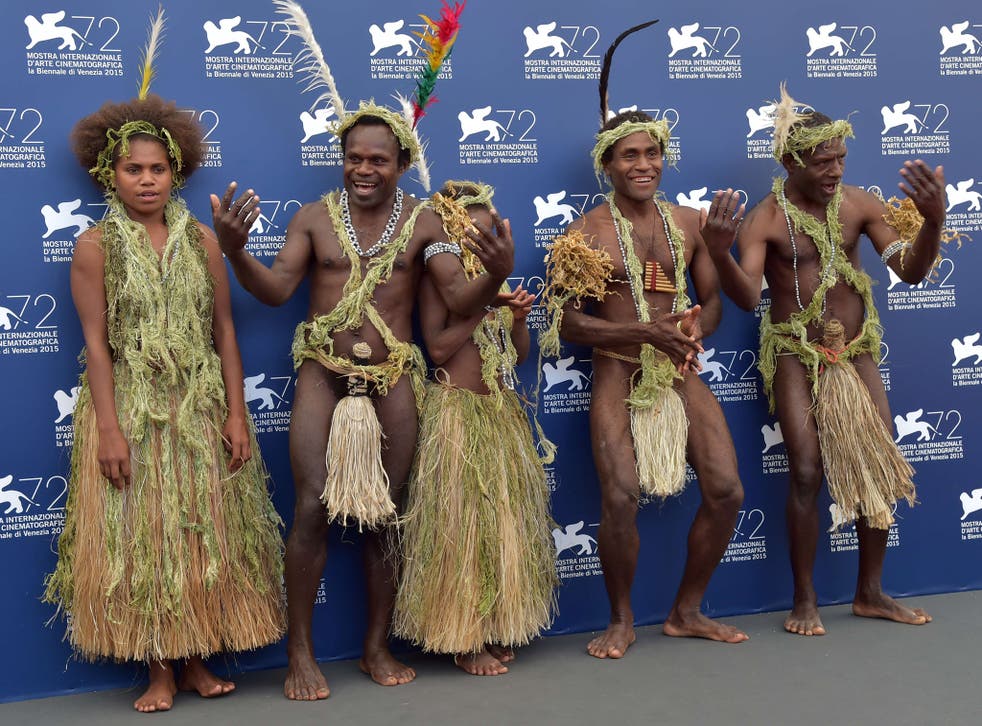 They wear penis sheaths and grass skirts, hunt for food with bamboo bows and arrows and revere Prince Philip as a living god. Now villagers from Vanuatu's remote Tanna island in the South Pacific are starring in their own film, wowing audiences at the Venice Film Festival this week and picking up two prestigious awards.
Tanna, made by two Australian film-makers, is based on the true story of Wawa and Dain, star-crossed lovers who sparked an inter-tribal war on the island in the 1980s after Wawa rejected a traditional arranged marriage.
Shot entirely on location, in the shadow of the island's highly active volcano, and with a cast which had never seen a film before, let alone acted in one, the movie had its world premiere in Venice. And on 11 September it won the Critics' Week Award, on top of an award for best cinematography.
However, it is not just the film creating a buzz at the festival; the five villagers who travelled to Venice – the four lead actors, together with Tanna's cultural director, Jimmy Joseph Nako – turned plenty of heads as they strode around the city in traditional costume.
"I dare say the red carpet has never seen the likes of you guys before," one of the film-makers, Bentley Dean, told Mr Nako during a call with The Independent.
And there has been plenty in Venice – and in Sydney, where the villagers stopped en route – to turn the heads of the four leads, none of whom had left Tanna before. Things like traffic, tall buildings, pizzas and lifts. "This is a completely new experience for them," said Mr Nako. "It's quite a cultural shock."
The film's focus is Yakel, one of a string of jungle-shrouded villages in Tanna's mountainous interior. There, people live as they have for thousands of years, with no money, no electricity and no running water. And there, for reasons not entirely clear, locals have for decades worshipped the Duke of Edinburgh, considering him one of their spirit ancestors.
The Queen's husband actually has a cameo role in Tanna, Mr Dean revealed. Wawa's grandfather brandishes one of the village's most prized possessions, a framed photograph of Prince Philip, sent out by Buckingham Palace in 2000 – "to explain to her that arranged marriage is not unique to Tanna, it happens around the world, including in royal families ... It's the stuff of cohesion between different groups of people".
The real Wawa, played by Marie Wawa, was betrothed as part of a peace deal between warring tribes. She and Dain, played by Mungau Dain, ran away, pursued by enemy warriors. It all ended tragically, but the affair transformed traditional Tanna society, convincing the village chiefs to condone marriage for love. "It has changed our way of life and also secured it for the future, because young people were killing themselves," said Mr Nako, who narrated and starred in the 2007 British documentary series Meet The Natives, in which villagers from Tanna travelled to England and met Prince Philip at Buckingham Palace.
Tanna, he added, is "our film, our story", and the villagers "exploded with excitement" when Mr Dean and his co-director, Martin Butler, screened it in Yakel in April, just weeks after Vanuatu was devastated by a cyclone. "We projected it on to two bedsheets strung up on one of the remaining banyan trees," Mr Dean recalled. Along with his partner and their two small children, he spent seven months living in Yakel, while Mr Butler flew in regularly for weeks at a time.
Casting was straightforward. "The chief played the chief, the medicine man played the medicine man, the warriors played the warriors," explained Mr Nako.
When it came to casting Dain, the villagers were unanimous: it had to be Mr Mungau, Yakel's most handsome man. According to Mr Dean: "He was a bit reluctant, but the chief said he had to do it."
Describing how the film was edited in a bamboo hut, he added: "I doubt there's ever been a production like it."
The Prince Philip cult is believed to date from 1974, when he and the Queen visited Vanuatu on the Royal yacht Britannia. In Yakel, locals are hoping the Duke will see the movie, which will screen at the London Film Festival next month. Since meeting him in 2007, "we still write to each other and keep up a very strong relationship and connection", said Mr Nako.
Join our new commenting forum
Join thought-provoking conversations, follow other Independent readers and see their replies